We've spent a lifetime enjoying Sydney's hiking trails and believe the best natural beauty can only be accessed on foot. So come with us as we share the best Sydney walks near the city and surrounds.
Best Walks in Sydney
It's possible to walk from Barrenjoey Headland at the very northern tip of Sydney all the way down through the city centre to the eastern beaches of Bondi and on to Cronulla and Royal National Park in the south.
The entire Sydney Great Coastal Walk – or the newly launched Bondi to Manly Walk – from north to south is a challenge deserving to be on your wish-list, but we won't overwhelm you with every single Sydney walking track.
We've selected only the best Sydney walks ranging from several kilometres, to overnight hikes.
To make it easier for you to find the best walks in Sydney, they are divided into walking styles, location and distance.
While we're adding to these lists of Sydney hiking trails all the time, be assured that each featured is one of the best Sydney walks, absolutely worth your time.
Start exploring…
All Featured Walks in Sydney
Keeping it simple, here are all the best walks in Sydney in alphabetical order. Or read on to find a walk sorted by category or style.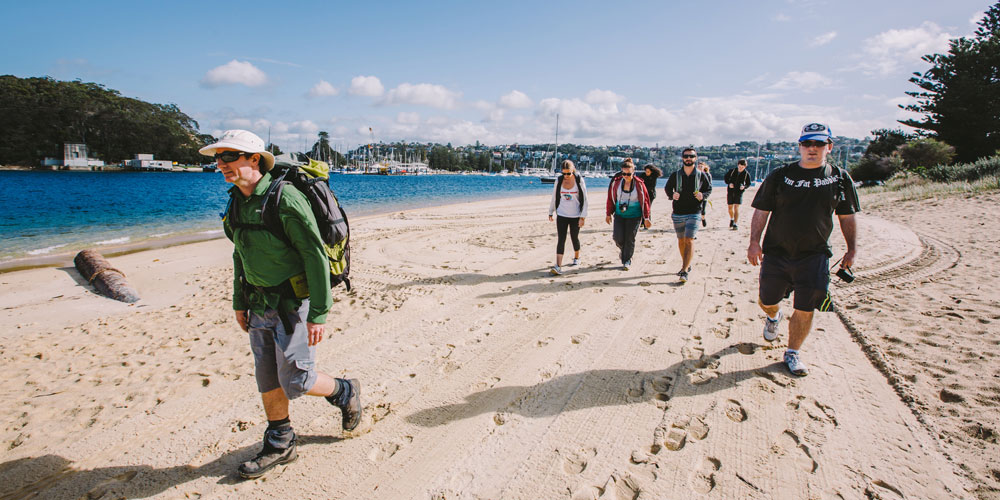 Beach Walks Sydney
With more than 100 beaches in Sydney, including surf beaches and sandy harbour coves, there are many beach walks to choose from. Here are some Sydney beach walks to get started.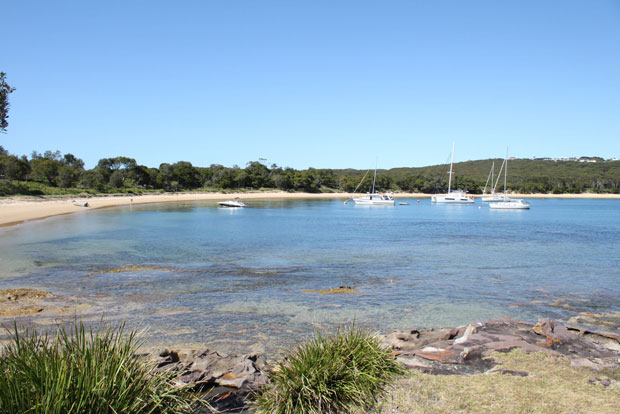 Short Walks in Sydney
Short Walks less than 2 hours
Short Walks less than 4 hours
Sydney Harbour Walks
For Sydney Harbour walks, see also 24 Hours in Sydney's Outdoors for itinerary suggestions.
Bush Walks Sydney
Royal National Park Sydney Walks
Some of Sydney's best walks are in Royal National Park on Sydney's southern border. It's Australia's oldest national park, with more than 100km of walking tracks to explore.
The Best Royal National Park Walks includes a list of walks in Australia's oldest national park, as well as general information about the park, such as getting there, costs and parking.
If you're interested in doing a few Royal National Park walks, see also Royal National Park Accommodation.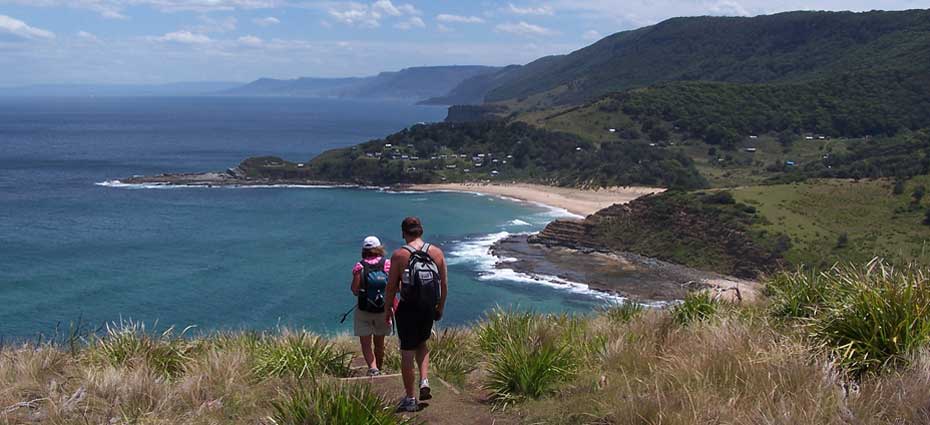 Self-Guided Sydney Walking Tours
Guidebook – including walking tour commentary and map – available for the Spit to Manly Walk (buy the guidebook now $5.99).
Map only available for:
See availability of all self-guided walking tours in Sydney.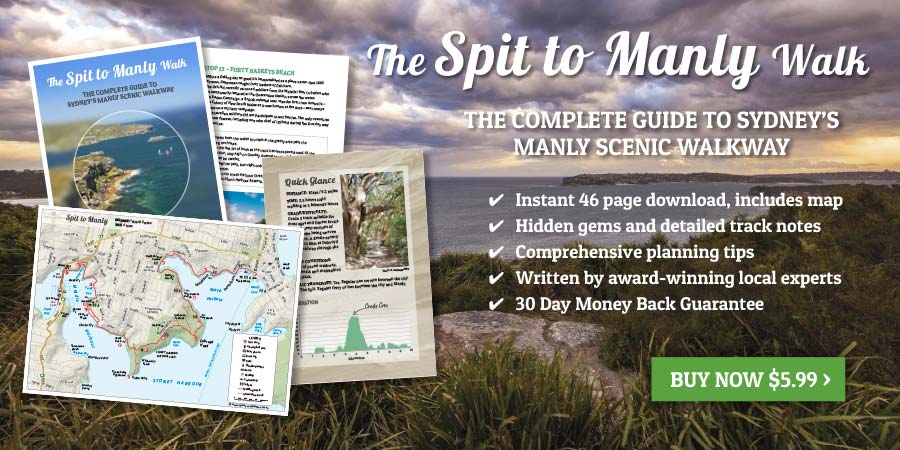 Cliff Walk Sydney
You'll learn in our tips for whale watching season that the high vantage points from cliff walks also makes these some of the best whale watching places in Sydney.
Hiking Sydney (Long Day Walks or Overnight Walks)
Rather than list hiking places in Sydney in alphabetical order, we've listed these overnight Sydney hiking trails in order of time to complete. Starting with the two day or long one day hikes, through to the hiking tracks that will take you a couple of weeks to complete.
2 day Coastal Track, Royal National Park, camping at North Era. See also The Coast Track One Day or Two? if you'd prefer one full, challenging day walk. If you love bushwalking (that's what Aussies call hiking) this is hiking Sydney at it's best. 27km (16 miles) of near pristine bush and coastal walking.
2 day Karloo Pools circuit. An easy day walk becomes an even easier overnight loop.
2 or 3 day Palm Beach to Manly Walk. Walk the full length of Sydney's northern beaches from Barrenjoey Headland to North Head. Although it can be walked in one long day, two or three days is much more chilled.
2 or 3 day Six Foot Track (Katoomba to Jenolan Caves)
2, 3 or 4 day The 'must-do' Sydney Harbour walk. If you only have time for one harbour walk, make it this one (also ref.
10 days Sydney's Great Coastal Walk Walk the length of Sydney's coastline over ten days – no camping required! Itinerary suggestions from as short as five days up to a leisurely fourteen days.
Walks to See Aboriginal Sites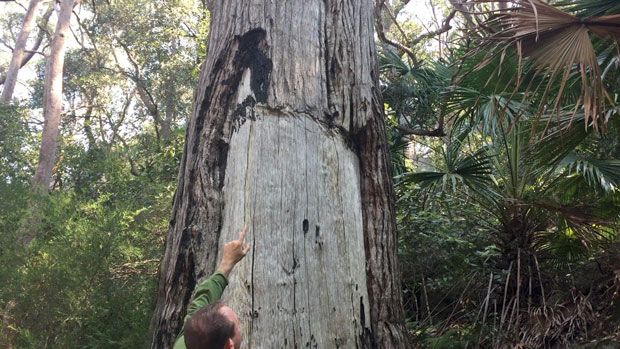 Walks with a Difference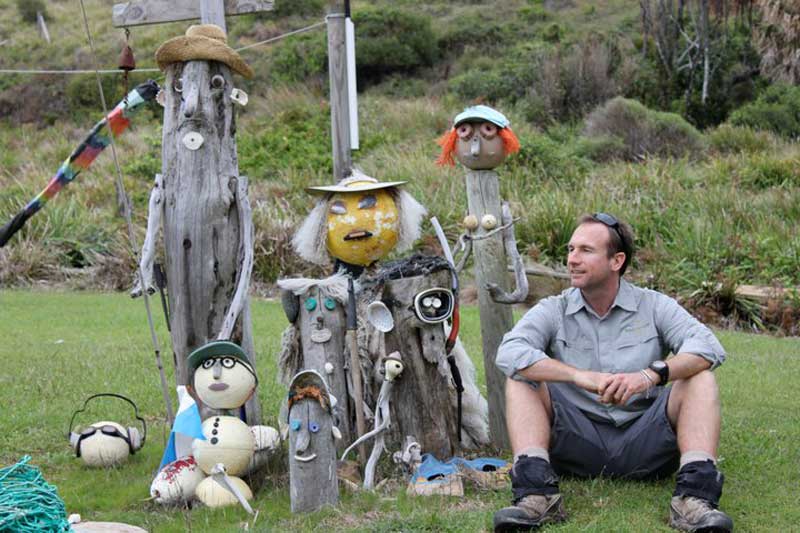 Best Sydney Walks for Nature Lovers
Which walk is the best of the best Sydney walks?
Judging the best Sydney walks in is tricky because everyone has different views on what makes a great walk.
Sydney bush walks vary from a short stroll through the local patch of eucalypt to multi day walks through the Blue Mountains. Sydney coastal walks are equally varied; the Bondi to Coogee Walk is easily accessible and more crowded but the Barrenjoey Lighthouse Walk is more challenging and therefore more quiet.
Let's just say Royal National Park Coastal Walk is our favourite because it has everything that every other Sydney coastal walk has combined … except the crowds and other signs of human development. This stretch of coastline is nearly the same as it was for thousands of years before European arrival.
Sure there are day trippers at Wedding Cake Rock, Wattamolla, Garie Beach and Figure Eight Pools on sunny weekends, but the tracks between them are deserted. There are still some pristine beaches that you will have to yourself even after reading this blog post.
What Else You Need to Know About Sydney Walks