The bleached stark white of Wedding Cake Rock is a rare natural phenomena found in Royal National Park. Discover it for yourself on a two hour round trip hike on the Wedding Cake Rock trail.
So where is Wedding Cake Rock and how do you get there? And why is it so white?
What Is Wedding Cake Rock Sydney?
Sydney's foundations are sandstone. It's everywhere. Under our feet, along the coast and in all the old buildings. It's full of distinctive rusty-coloured tones and patterns.
Wedding Cake Rock is sandstone too, but what makes it unique is a complete lack of iron particles in the sand that makes up the rock. No iron means no rust (literally) and no colour. Just white.
This is typical Hawkesbury Sandstone you find throughout Sydney and Royal National Park. Look at those beautiful orange colours – that's rust!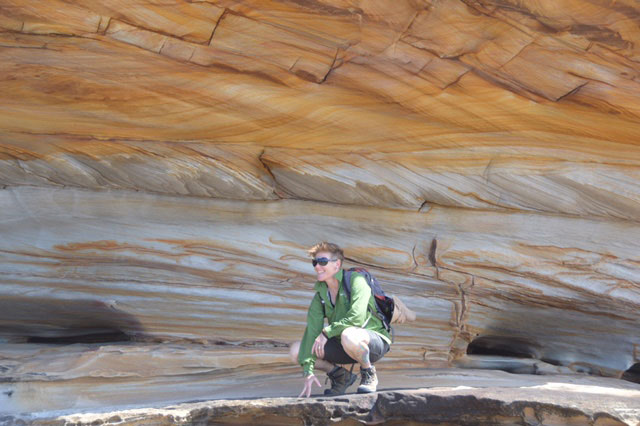 And this is Wedding Cake Rock. Beautiful in it's white-ness.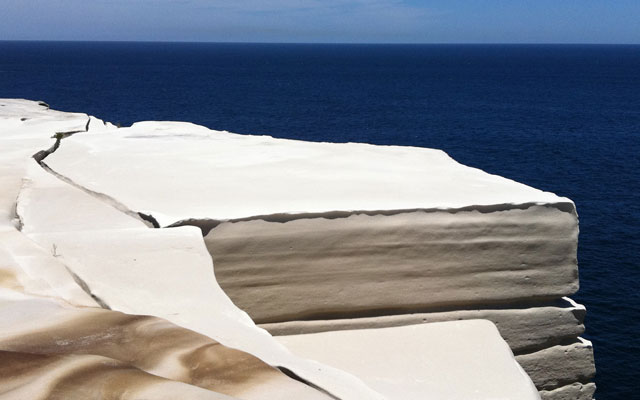 How to Get to Wedding Cake Rock
Wedding Cake Rock is just north of Marley Beach in Royal National Park, Sydney.
The nearest access is via a 3km (1.8 mile) walk along the Coast Track from Bundeena to Wedding Cake Rock. (It is Stop 3 on the Royal National Park Coastal Walk Map).
The one hour walk to get there is challenging in parts but extraordinary views make up for it.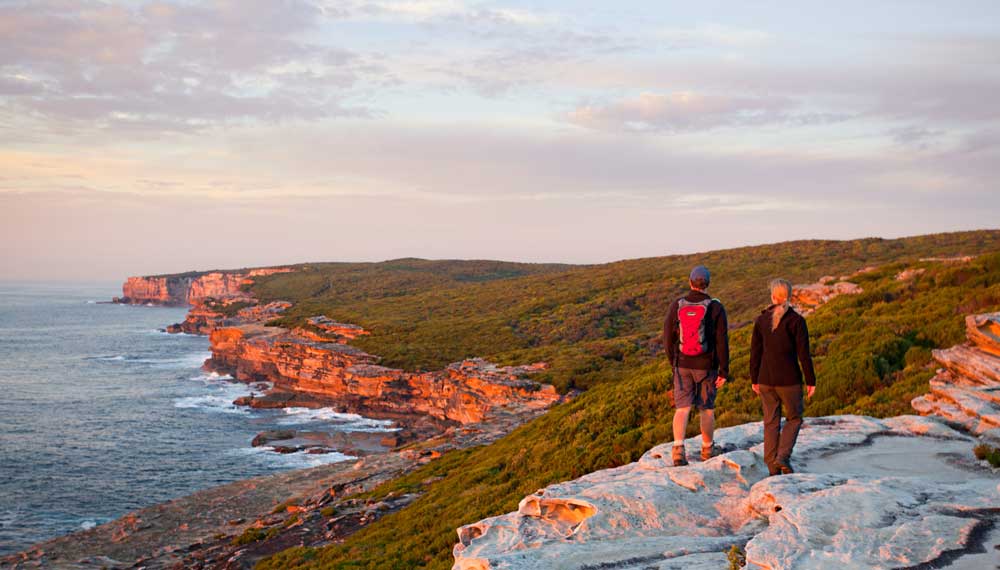 National Parks and Wildlife Service (NPWS) have fenced off the actual rock so you can't walk (or sit, or star jump, or do a spot of yoga) on top of it.
All those #weddingcakerock people perched precariously near the edge have jumped the fence. They don't remember, like we do, that a 23 year old died here while taking a selfie, and two more have had to be rescued. Seriously guys… now they're going to build a bigger fence.
You can still get a great photo by walking a little bit further south up the hill. This gives a great perspective looking back down over the top of it.
Look, a photo taken from the safe side of the fence!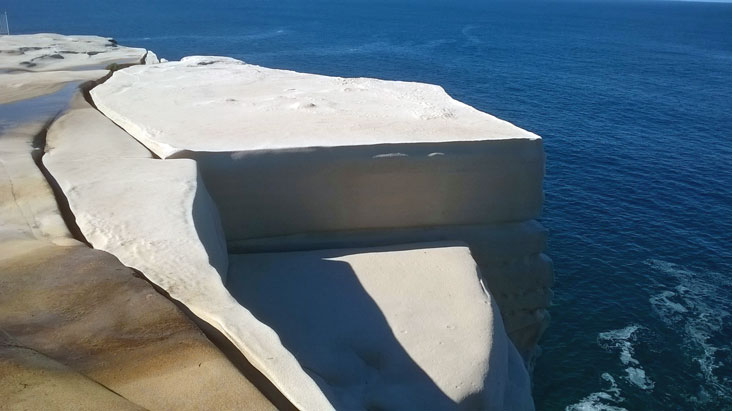 I've walked past Wedding Cake Rock hundreds of times since founding Sydney Coast Walks in 2009. I've seen the gap widening and white cake rock's surface change dramatically in that time. What I couldn't see was the erosion from underneath.
The fence is ugly, but it's there for a reason. Use your head and stay on this side.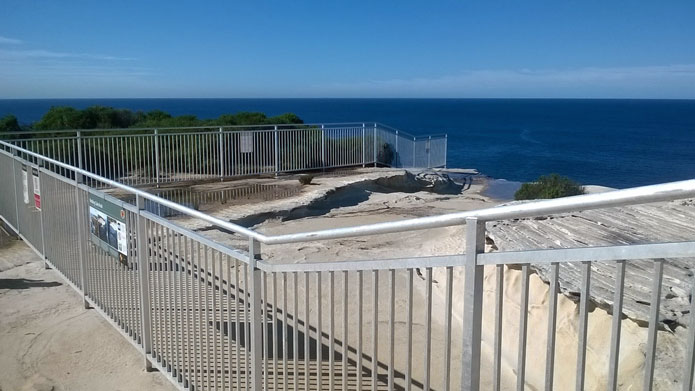 Wedding Cake Rock Parking
Drive through the Royal National Park until you see the sign to Bundeena. It's about a one hour drive south from the city.
The nearest parking is at the start of the Royal National Park Coastal walk. Enter "71 Beachcomber Ave, Bundeena" in Google Maps, which is a residential address directly opposite the handful of designated parking spaces.
Given its popularity though, Wedding Cake Rock parking is more likely in the surrounding streets: Eric Street and Beachcomber Ave.
Street parking is free.
How To Get To Wedding Cake Rock By Train and Bus
There are two steps to get to Wedding Cake Rock by public transport.
The first is to catch a train from the city to Cronulla… takes about 50 minutes. Cronulla is a beachside suburb of Sydney, but when you get off the train head to the bay side. Exit the station and turn left. Walk through the pedestrian tunnel underpass, across the park, and down to the ferry wharf.
Then catch the ferry from Cronulla to Bundeena, a village in Royal National Park. Ferries depart every half hour and are not part of the Opal card system (bring cash – not credit card – for the ticket).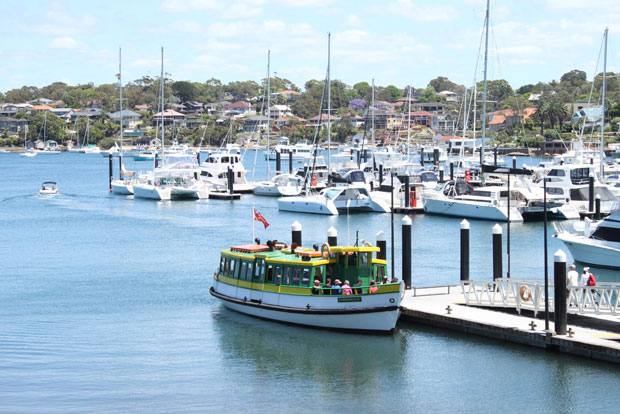 It's a scenic 25 minute trip across the Hacking River (sometimes they even spot dolphins!).
Allow another 30 minutes to walk from Bundeena wharf to get to Beachcomber Avenue, start of the Wedding Cake Rock hike. Or there's a new shuttle bus which you could get from Bundeena to the start of the walking track… a 5 minute trip – look at the "Bundeena Loop" timetable.
From early 2020, there's another public transport option to get to Wedding Cake Rock. You could get a train to Sutherland station, then meet the shuttle bus doing the "Bundeena Loop" and get off at "Coast Trackhead (North)". Here's the timetable. The bus is run by a private operator, which means the Opal Card is not valid. Single journeys start from $9.
How Do You Get To Wedding Cake Rock Trail?
The Wedding Cake Rock hike is a 6.8 kilometre (4.2 miles) walk. Allow 2 hours return (there and back).
There is a locked gate at the end of Beachcomber Ave, Bundeena. This is the start of the Coast Track.
Follow the sealed road (fire trail) until the second turn on your left – about 100 metres – marked 'Royal Coast Track'. This sandy track will take you to the coast. When it opens out a bit, take a look to your left (north) for great city views on a clear day.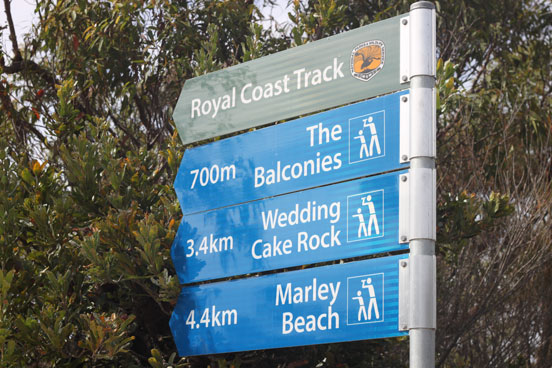 When you reach the coast, there is another sign marked 'The Balconies'. If you look south from here – to your right as you face the sign – the nearest headland you can see is Marley.
You might also be able to see a sandy track winding up the hill through the bushes in the distance. Wedding Cake Rock is at the top of that hill.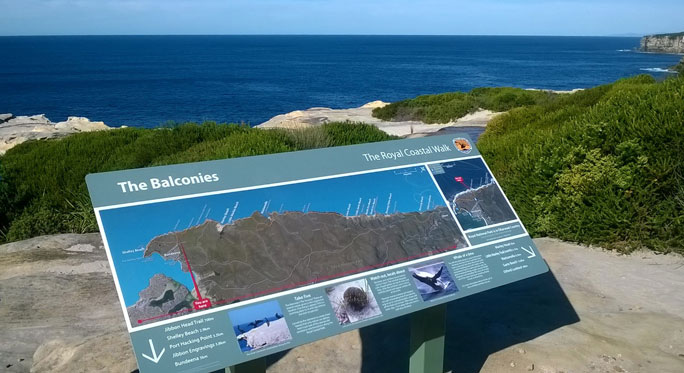 So, turn south, keep the ocean on your left and follow the track to Wedding Cake Rock.
When you go down a steep section of sandstone stairs, cross a small creek and start climbing a hill, you're nearly there. This is the hill you saw from The Balconies.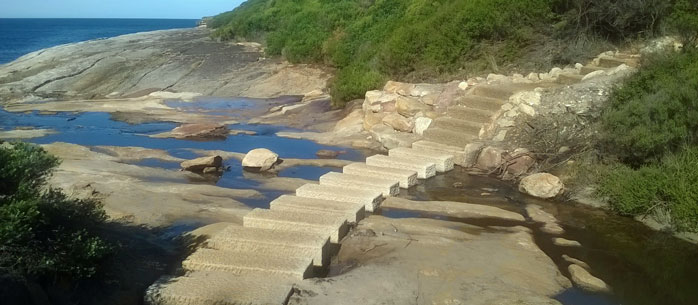 Most of this track is now boardwalk, with some sections over rock. You'll see the not-very-nice fence ahead of you, and that's when you know you're at Wedding Cake Rock (before the fence, I used to see people walk right past, not realising it was there).
Remember what I said about grabbing the best photo? Just walk a little past it to get a great shot looking back north. You could stop here to enjoy the view before heading back along the same path, or….
… Keep Going
Another leisurely 20 minutes (about 1km / 0.6 miles), will get you to Marley headland, with sweeping views of Big and Little Marley Beaches below.

It's one of the best whale watching spots in Sydney too, so consider planning this as your turn-around point instead of Wedding Cake Rock.
Walking from The Balconies to Marley Beach will put the full length of the Royal National Park Coastal Walk on your wish list as you see the trail stretching out before you.
Tips For A Great Day Out
Remember you need to walk a few hours through the bush, so wear comfortable, covered shoes (no thongs/flip-flops or sandals).
There are no shops in the national park. Take plenty of water and whatever food you need.
No rubbish bins either. Carry out what you carry in.
Toilets are near the ferry wharf and at the start of the walking track at the end of Beachcomber Ave, Bundeena. There are no toilets on the track to Wedding Cake Rock.
There is no mobile phone reception along this section of the track.
Remember to wear a hat and sunscreen, even in winter: the track's pretty exposed.
Insta-famous walks like #weddingcakerock mean the track can get busy on weekends and public holidays with nice weather. Try weekdays or early mornings to beat the crowds.
Enjoy your trip to Wedding Cake Rock Royal National Park, one of Sydney's most dramatic coastal walks. It's a unique coastal formation that won't last forever, so see it while you can.
Wedding Cake Rock Map
Buy the Wedding Cake Rock Map here ($2.99). The downloadable PDF map includes the full length of the Coast Walk for more adventures.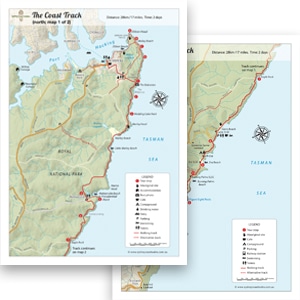 Coast Track Map Information Points
Alternative Stop A: Jibbon Head (Aboriginal Carvings)
Alternative Stop B: Shelley Beach coming soon
Alternative Stop C: Wave Rock coming soon
Alternative Stop D: Canadian cave coming soon
Stop 1: The Balconies coming soon
Stop 2: The Waterrun coming soon
Stop 3: Wedding Cake Rock You are here
Stop 4: Wattamolla coming soon
Stop 5: Providential Point coming soon
Stop 6: Curracurrang coming soon
Stop 7: Eagle Rock
Stop 8: Little Garie Shack Community
Stop 9: Era Shack Community
Stop 10: Burning Palms coming soon
Alternative Stop E: Figure 8 Pools
Stop 11: Palm Jungle coming soon
Stop 12: Werrong Lookout coming soon
Now that you've found Wedding Cake Rock, you may also like…