The Watsons Bay walk on the South Head Heritage Trail is the southern gateway to Sydney Harbour.
Rich in early settler and forgotten military history, the Watsons Bay walk is home to the historic Hornby Lighthouse, one of Australia's first lighthouses.
It's the easiest way to escape the city and yet still enjoy city and harbour vistas.
Highlights of the Watsons Bay Coastal Walk
Stroll along Sydney's famous Watsons Bay
Experience Camp Cove where the Birrabirragal mob met the First Fleet
Look into a sandstone chasm and enjoy endless harbour and ocean views from Gap Bluff
Discover Sydney's wartime history
See two of Australia's first lighthouses, including red and white striped Hornby Lighthouse
Spot whales during migration season
Watsons Bay Lighthouse Walk
(South Head Heritage Trail)
Distance
4.5km (3 miles)
Time
2 hours
Track Conditions
Mainly paved walkway. Some soft sand walking across Camp Cove beach. A couple of sections with stairs.
Relatively flat. Slight incline to 20m elevation at South Head itself. Steep climb up to 40m up stairs at Gap Bluff (optional).
Water
Regular refill places
Toilets
Regular intervals
Mobile phone reception
Yes
Swimming
Camp Cove beach is a calm, family-friendly beach but is not patrolled by lifesavers.
Route Map
We're working on a Watsons Bay Walk map as fancy as our other walking maps, but this will have to do for now.
Watsons Bay Walk
The Birrabirragal mob had fished, hunted and harvested shellfish at Kutti-kutti (Watsons Bay) for at least ten thousand years before European arrival.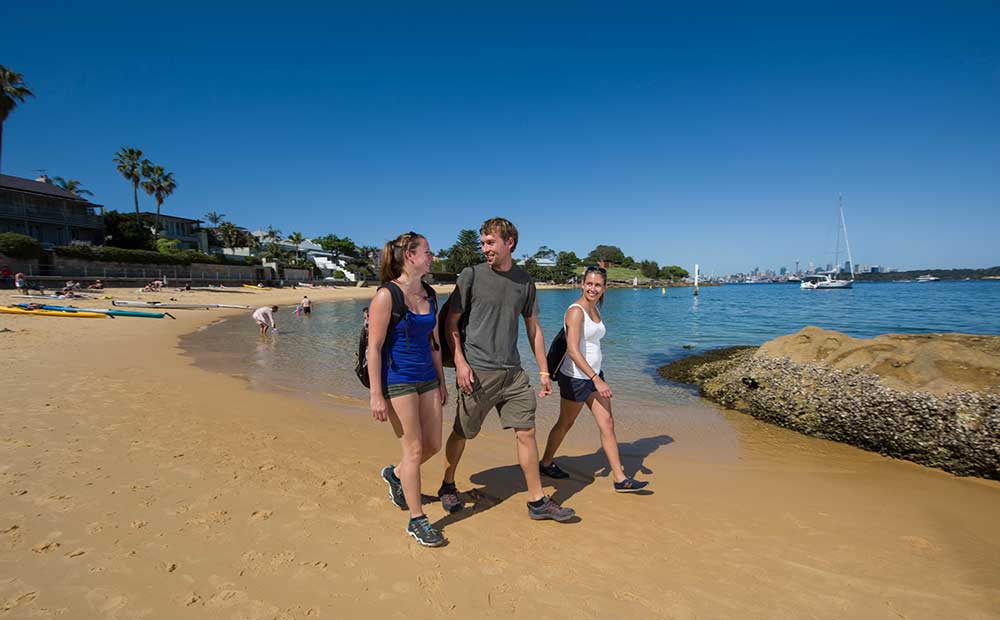 On Camp Cove, now a sheltered harbour beach popular with families, Europeans first set foot inside Sydney Harbour.
Today, Watsons Bay is home to some of Sydney's oldest remaining houses… and a median house price of $7 million.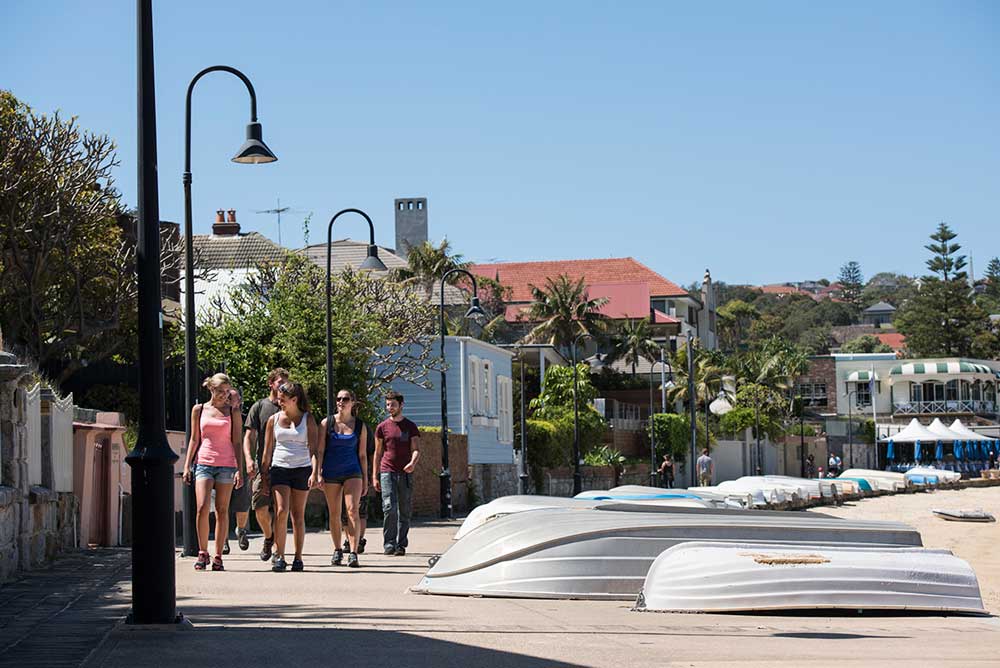 Sydney at War
On the night of 31 May 1942, Japan brought World War II to Sydney's doorstep. Three miniature submarines, launched from larger mother ships offshore, secretly entered Sydney Harbour.
The subs torpedoed navy ships at Garden Island as the Manly ferry transported passengers to and from Circular Quay.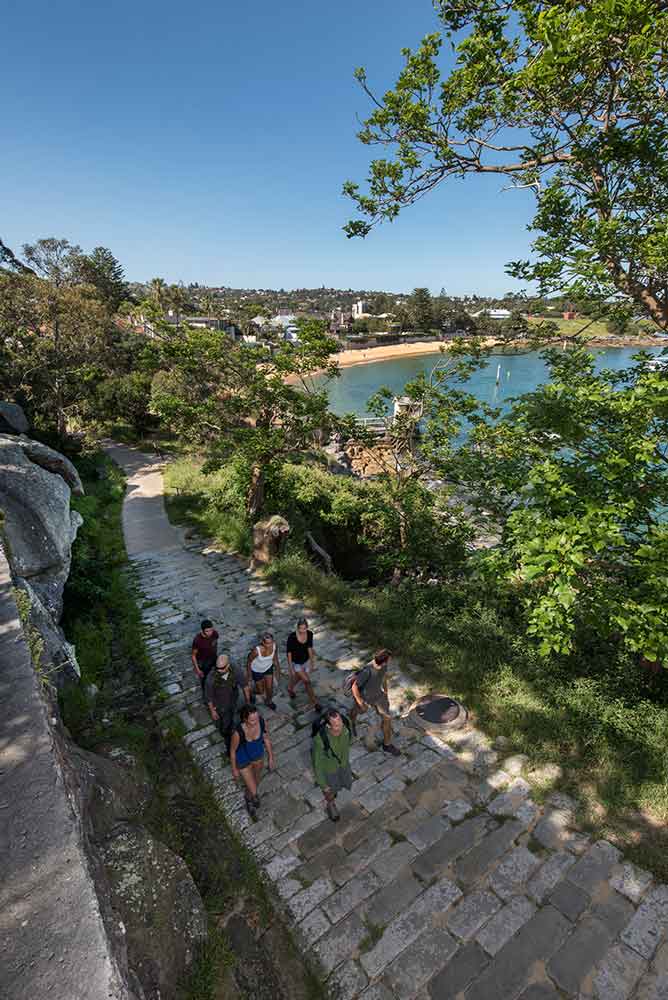 One of the three Japanese submarines struck the anti-submarine defences and sank just offshore between Watsons Bay and Camp Cove. You can still see the concrete remains of the pump house that operated the boom gate.
Hornby Lighthouse
With its northern sister, South Head is the gateway to Port Jackson (better known as Sydney Harbour).
With shipping, comes shipwrecks. If you were to walk from Watsons Bay to Bondi, you'd see Macquarie Lighthouse built in 1817
But two tragedies at Sydney Heads 40 years later showed Macquarie was insufficient, and Hornby Lighthouse was built. It's a distinctive red and white striped lighthouse, still in operation.
Hornby Lighthouse is not open to the public but walkers on the Watsons Bay Lighthouse Walk can go right up to its door.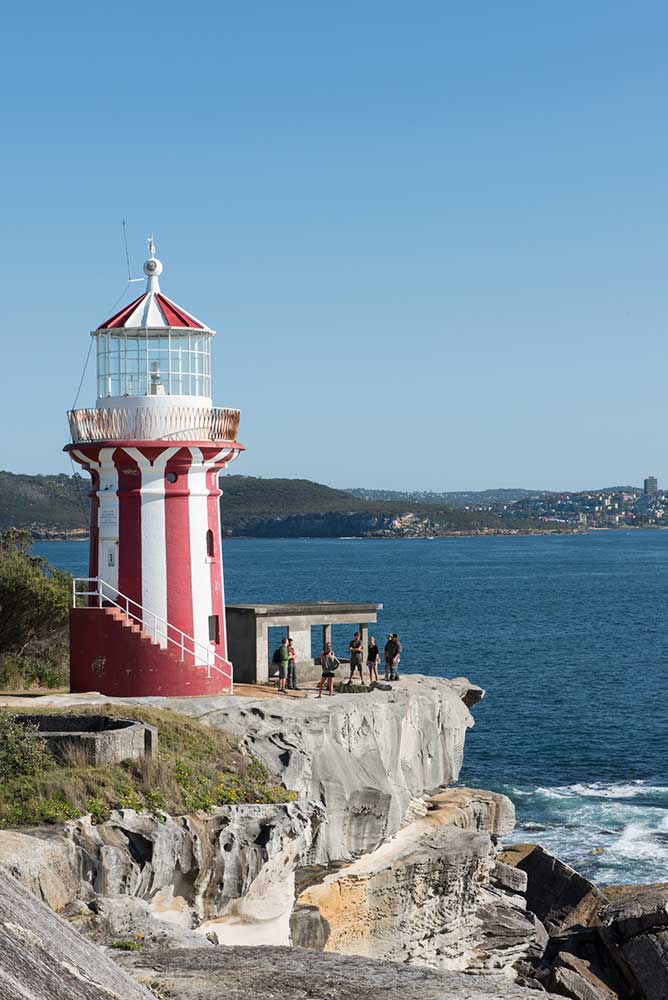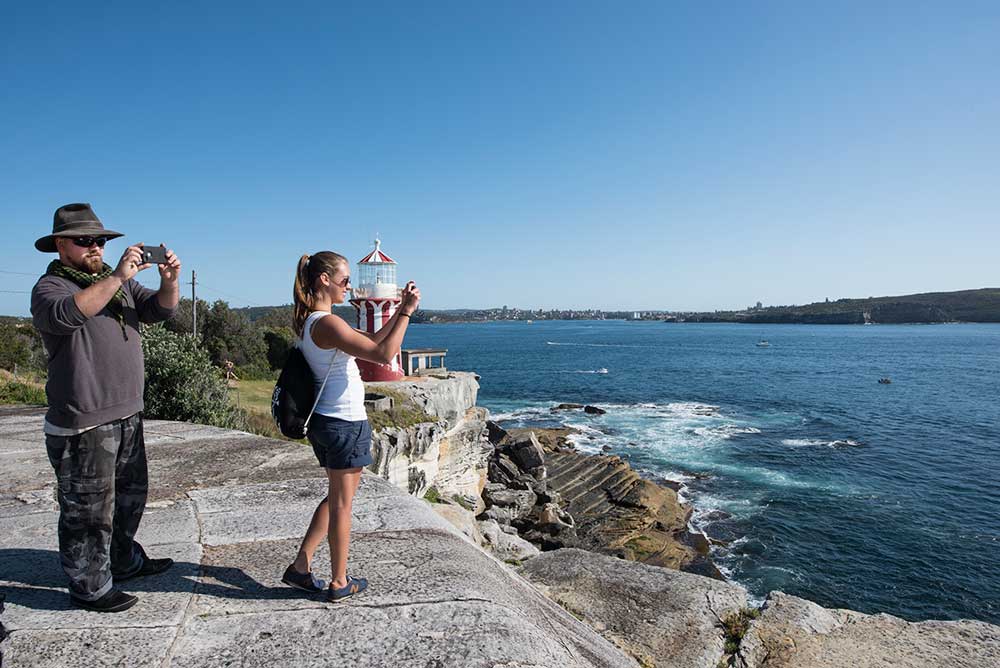 Gap Bluff
The 360 city and harbour views from Gap Bluff is worth the steep stair and boardwalk path to the top of the cliffs… if your knees agree.
This is an optional add-on to the South Head Heritage Trail.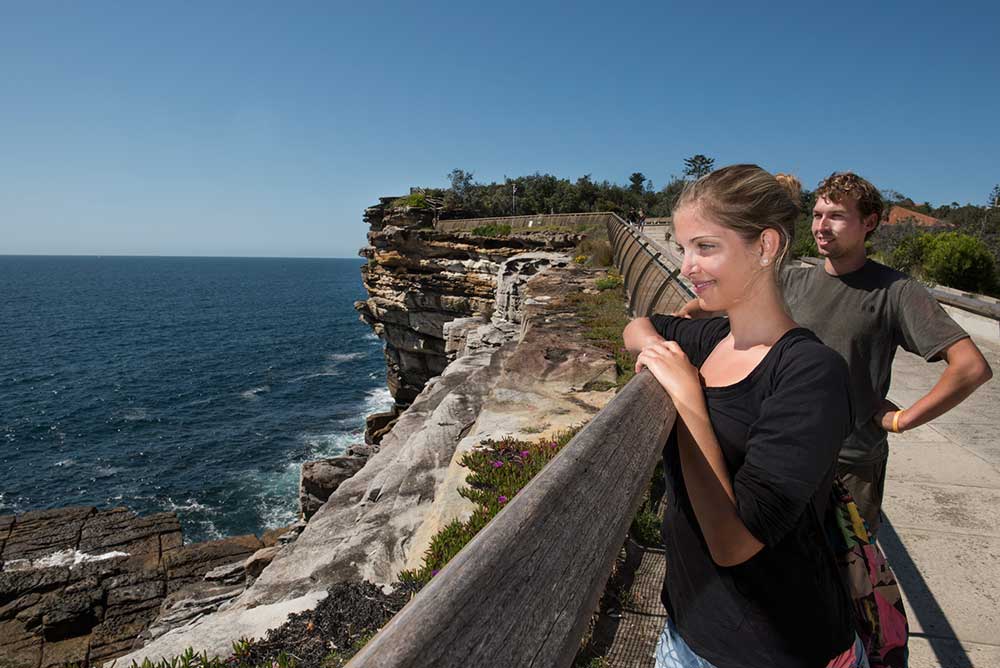 How to Get to the Watsons Bay Coastal Walk
Watsons Bay is such a great day's outing that it can get busy on weekends, making parking difficult to find. The short ferry trip is a highlight, so well worth considering.
Public Transport
Hands-down, the best way to get to Watsons Bay is by ferry across Sydney's glistening harbour.
Public ferries are clean and offer just as scenic views as the private sightseeing ferries (Captain Cook Cruises and Sydney Harbour EcoHopper). You can now use OpalPay on the private ferries which have commentary and bar service.
The ferry from Circular Quay to Watsons Bay takes 15-25 minutes (depending on stops) and runs regularly.
There's also a ferry from Rose Bay.
It's a 700m walk from Watsons Bay ferry wharf to Gap Bluff, crossing the road and heading across Robertson Park.
If you're coming from Bondi Junction or the eastern suburbs, then the not-very-scenic bus is best: a half hour trip on bus # 380, 387 and more. The bus stops at Military Road, right at Gap Bluff.
Check Transport NSW for timetables and trip routes from your departure point.
Driving and Parking at Watsons Bay
It's about a half hour drive from the city centre to Watsons Bay, or about 20 minutes from Bondi Junction.
Watsons Bay could be described as a village, with the equivalent-sized parking. There's time-limited street parking wherever you can find it, and two small car parks.
Park either in the carpark opposite Watsons Bay Hotel at 1 Cliff Street – close to Robertson Park and Gap Bluff, or at Camp Cove carpark at the far end of Cliff Street, near Camp Cove and South Head.
Best Places to Eat Near the Watsons Bay Walk
There are plenty of options in Watsons Bay at the start or the end of your walk. There are no cafes or eateries out on South Head.
Try the outdoor beer garden at the Watsons Bay Hotel, historic Dunbar House for high tea, or gelato on Military Road.
The iconic Watsons Bay experience is fish and chips from Doyles on the Beach.
Both Watsons Bay Hotel and Doyles have kiosks for takeaway catering to picnickers in Robertson Park.