The Bali Memorial at Dolphins Point, Coogee, is Stop 3 on the Bondi to Coogee Walk as marked on the Coogee to Bondi Walk Map.
This towering bronze statue, weighing nearly one tonne, honours everyone who died in the Bali bombings.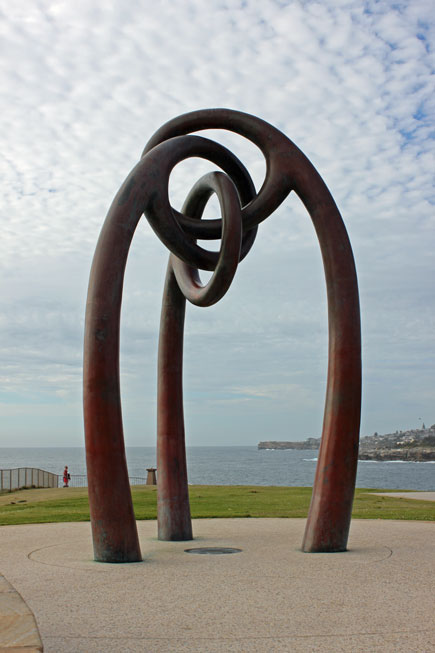 "It is a tribute to the Australian spirit of courage and endurance. The three linked figures in this sculpture signify family, friends and community. Bowed in sorrow and remembrance, they comfort, support and protect each other.
The figures also symbolise life, growth, hope and our strength in unity. Individually, each figure could be easily toppled, but joined together they form a strong and supported whole structure."
Quoted text from Randwick City Council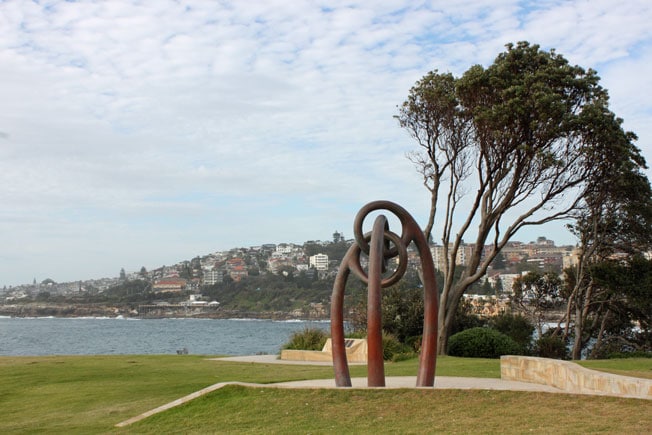 Stop 1: Coogee Beach
Stop 2: Shrine to Virgin Mary
Stop 3: Bali Memorial – you are currently on this page
Stop 4: Dunningham Reserve Sandstone Cliffs
Stop 5: Gordons Bay
Stop 6: Gordons Bay Underwater Nature Trail – this page is on its way
Stop 7: Clovelly – this page is on its way
Stop 8: Waverley Cemetery – this page is on its way
Stop 9: Bronte Beach – this page is on its way
Stop 10: Bronte SLSC – this page is on its way
Stop 11: Tamarama – this page is on its way
Stop 12: Aboriginal engraving site – this page is on its way
Stop 13: Mackenzies Point – this page is on its way
Stop 14: Monument to Black Sunday – this page is on its way
Stop 15: Bondi SLSC – this page is on its way