The Coogee Virgin Mary Shrine is Stop 2 on the Bondi to Coogee Walk as marked on the Coogee to Bondi Walk Map. As the map indicates, these information points start at Coogee as you walk towards Bondi.
In December 2002 a local who runs the Beach Street Gallery Laundrette, Christine Cherry, noticed what appeared to be an apparition of the Virgin Mary on the fence near Dolphins Point in Coogee. It appeared to her again the next day at the same time, between 3pm and 4:30pm when the sun's rays hit the fence at a particular angle.
She provided a photo to the local paper and in January 2003 the legend of "Our Lady of the Fence Post" was born.
Devotees travelled from all corners of the globe to witness the apparition and leave blessings at the shrine.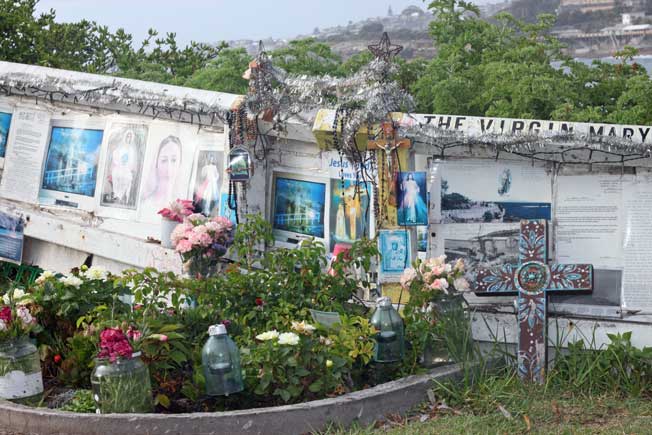 Mrs Cherry freely admits it's an optical illusion but "what are the odds it take the form of the Virgin Mary?" she asks.
She thinks it's symbolic that she first noticed Mary in the months after the Bali Bombings, in October 2002. Six members of the Coogee Dolphins Rugby League Club were killed in the attack and Dolphins Point was renamed in their honour.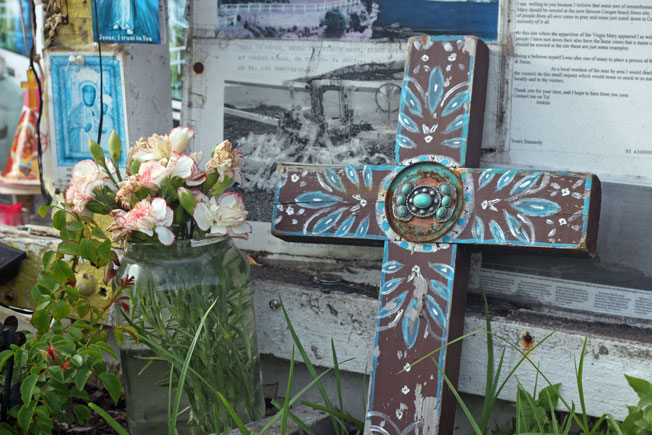 After the Coogee Virgin Mary shrine was vandalised in early 2003, six dolphins were seen frolicking just offshore from the site. It was restored by locals in mere hours.
Stop 1: Coogee Beach
Stop 2: Shrine to Virgin Mary – you are currently on this page
Stop 3: Bali Memorial
Stop 4: Dunningham Reserve Sandstone Cliffs
Stop 5: Gordons Bay
Stop 6: Gordons Bay Underwater Nature Trail – this page is on its way
Stop 7: Clovelly – this page is on its way
Stop 8: Waverley Cemetery – this page is on its way
Stop 9: Bronte Beach – this page is on its way
Stop 10: Bronte SLSC – this page is on its way
Stop 11: Tamarama – this page is on its way
Stop 12: Aboriginal engraving-site – this page is on its way
Stop 13: Mackenzies Point – this page is on its way
Stop 14: Monument Black Sunday – this page is on its way
Stop 15: Bondi SLSC – this page is on its way