Figure 8 Pools is a natural wonder you have to see for yourself. The photos are great (yeah, it's a hashtag: #figure8pools, check out the pics below) but nothing compares to submerging yourself in that figure 8 pool.
Figure 8 pool? Yes, there is just one figure 8 pool, not a whole lot of Figure 8 Pools. There are another 8 pools to swim in and you'll be surrounded by the bush, cliffs and infinite sea so it's still one of the best things to do in Sydney.
Where are Figure 8 Pools?
Figure Eight Pools are on a rock ledge south of Burning Palms Beach in Royal National Park, Sydney. You can't drive directly to the pools.
The shortest walk is a steep 3.5km track that winds down more than 100m of elevation to the ocean. Even with the new boardwalk National Parks built, it will take over one hour to walk there.
The Figure 8 Pools walk includes about 15 minutes of rock-hopping over basketball-sized rocks (shown at 1:17 in the video) and a challenging walk across wet, slippery rock ledges.
It's not an easy walk so give yourself plenty of time.
After a swim, you'll need to walk back up that steep track to your car, so maximise your time in the 8 pools to make the walk worth it.
And if you remember only one thing, it's to visit Figure Eight Pools at low tide.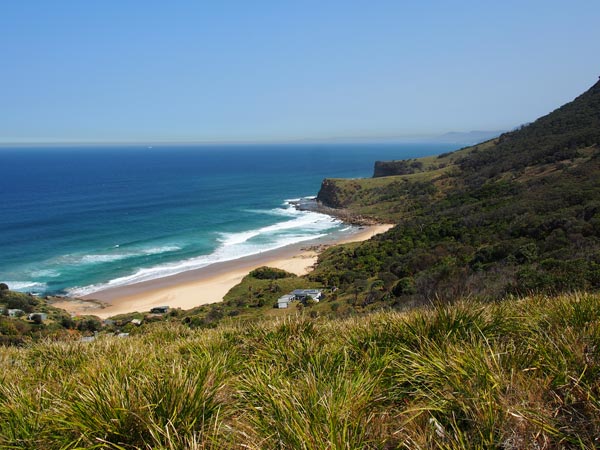 Why Low Tide?
At high tide the entire rock ledge is underwater. You can only access Figure 8 Pools when the tide is less than 1m. This is at low tide or perhaps an hour or two each side of low tide depending on the swell.
I've met many disappointed people trudging back up the track with no hashtag-able photo. Sad but true. Like the Grand Old Duke of York in reverse, they walked right down to the bottom of the hill and walked back up again.
Save yourself the heartache; check the tides before you go. And even if it is low tide, check there are no dangerous surf conditions forecast, like a big swell.
If the Bureau of Meteorology says "hazardous surf conditions", don't go. You simply won't see them and could also get into a world of trouble.
How Hard is the walk to Figure Eight Pools?
Difficulty
Grade 4 – bushwalking experience recommended. Track is long, rough and very steep. Signs may be limited. (Walking geek note: because this walk is untracked along the beach and over slippery rocks, it could be classified Grade 5)
Track Conditions
A mix of rough bush track, beach, small boulders and slippery rock ledges.
Quick Start Guide
Public Transport
The closest train station is at Otford, a three hour walk away from Figure 8 Pool (jump to more details in How to Get To Figure 8 Pools by Train below).
Water
There are no places to refill your water along this walk. Take as much water as you need, at least 1 litre each.
Toilets
There are toilets at the carpark at Garawarra Farm. There are no other toilets along this walk.
Mobile phone reception
There is no mobile phone reception once you leave the top of the hill.
Where to Park Near Figure 8 Pools Sydney
The nearest carpark to get to Figure Eight Pools is at Garawarra Farm, off Garie Road. (See Garawarra Farm Carpark in Google Maps.)
Garawarra Farm Road is unsealed dirt with a few potholes but don't worry, there's no need for a 4WD. When you reach the end of the road, you'll see a locked gate in front of you. The carpark is to your right and the walk to Figure Eight Pools starts on the other side of the gate, down to the left.
You could also park near Otford Lookout, at the start, or end, of Royal National Park Coastal Walk. This means a longer and steeper walk through the Palm Jungle, but it's totally worth it if you have more time and want to do one of the best hikes in Sydney. (See Coast Track Carpark in Google Maps.)
Directions to Figure 8 Pools from Garawarra Farm
Distance: 7km round trip
Time: 3-4 hours return
On the other side of the gate is a big sign at the start of the track saying "Garawarra Farm" with arrows pointing to Figure Eight Pools, Burning Palms Beach and Era Beach. They all follow the same track to start: east, down the hill towards the ocean.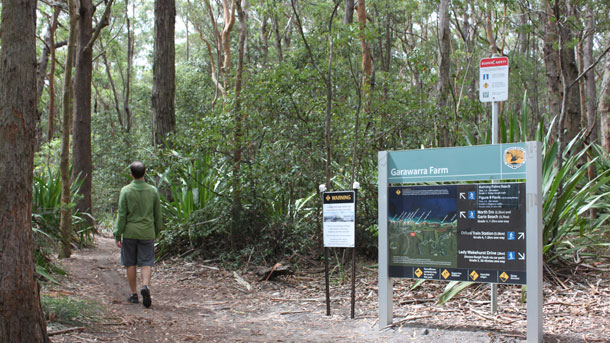 While you're coming down from the carpark, through the typical Australian bush, keep an eye out for this amazing tree used to make an Aboriginal canoe. It's right next to the track but you need to know what to look for, or you'll miss it.
Halfway down the hill as you exit the bush you are treated to an awesome view south along the coastline. Burning Palms Beach is the first beach you can see. Figure Eight Pools is at the base of the second headland around from Burning Palms Beach.
A little further along the track are NPWS signs showing pictures of waves crashing over the rock ledge where Figure Eight Pools are. If the sea looks the same as the 'dangerous' photo, enjoy the Burning Palms walk or the Palm Jungle Loop Track instead, but it's best to avoid Figure Eight Pool.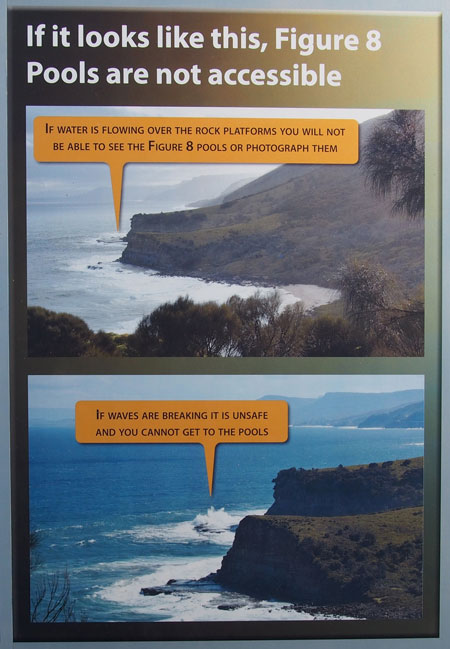 Keep going straight down the track until you meet the boardwalk that takes you down to the Coast Track. Turn right, south, through the shack community and past the Burning Palms Surf Club until you cross a small bridge. The track to Burning Palms Beach and Figure Eight Pools is just after this bridge on the left.
When you are on Burning Palms Beach, turn right (south) and continue to the end of the beach where the sand disappears and it becomes rocky.
You need to walk through the first section of rocks then look for a track worn into the grassy bank on the right. This track takes you around some of the slower, trickier sections of rocks but it's only a short detour.
There is no avoiding the scramble over rocky boulders followed by some very slippery rock surfaces to reach Figure 8 Pools.
The actual Figure 8 Pool is on the rock ledge beneath the second headland, right near the water's edge.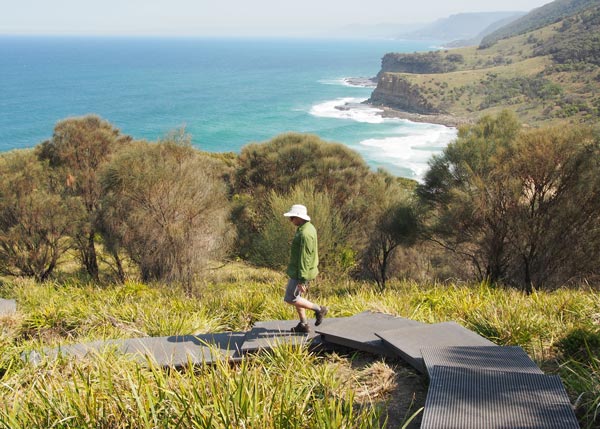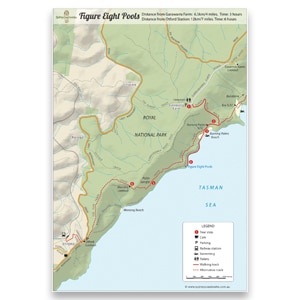 Directions to Figure 8 Pools from Otford Lookout
Distance: 14km round trip
Time: 5-6 hours return
From Otford Lookout carpark, walk north along the Royal National Park Coastal Walk.
After walking for about 2km through the gum trees you need to turn right, east, off the fire trail onto a walking track. Enjoy the view from Werrong Lookout a little way down on your right then follow this track all the way down the hill through Palm Jungle.
As you exit the trees at the bottom you might see an unmarked track on your right leading down a gully towards the coast. Someone might even have scratched Figure 8 Pools with an arrow into a track marker beside the track. Don't take this 'shortcut'. It's steep, slippery and many have people have hurt themselves trying to save time. It's not worth it; continue to Burning Palms Beach instead.
When you are on Burning Palms Beach, turn right (south) and continue on the rocks around the first headland. Figure 8 Pools are on a rock ledge beneath the second headland, right near the water's edge. You will need to scramble over rocky boulders and carefully cross some very slippery flat rock surfaces to reach them.

How to Get To Figure 8 Pools by Train
Distance: 16km round trip
Time: 6-7 hours return
For Figure 8 Pools Sydney, catch the train to Otford on the Illawarra and South Coast line. Check train times here. Exit the station on the eastern side.
If you are travelling from Sydney you get off the train on the correct side. Turn right out the door. If you are travelling from Wollongong, walk up the stairs and across the bridge to the southbound platform.
Walk up the stairs on the southern end of the station and turn left after you walk through the gate. Walk up the hill for 50m and take the first left into Station Rd, an unsigned dirt road.
After 200m follow the road right into Fanshawe Rd, another unsigned dirt road.
At the end of Fanshawe Rd you come to the intersection with Lady Wakehurst Drive. This is the main road through Royal National Park; please be careful of traffic. Cross the road and turn left to Otford Lookout. Follow directions from Otford Lookout, shown above.
Swimming in Figure Eight Pools
To make you day trip to Figure Eight Pools as memorable as it should be, please remember these important points:
don't dive into the pools.
when you're walking over wet, slippery rocks; walk low to the ground, keep your hands out wide for balance and place your feet carefully.
sunscreen washes off in water despite how 'waterproof' it is. Please don't wear sunscreen in Figure Eight Pools. We don't want to harm this delicate ecosystem.
remove all your rubbish.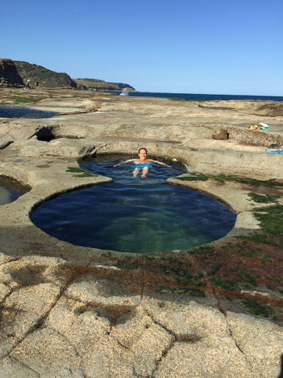 How to Actually Find Figure 8 Pools Australia
Unless you're there on a guided tour (check prices and availability of a guided walking tour), the Figure Eight Pools are a bit tricky to spot.
It is like a little circular sinkhole in the rock. Over time, two of the sinkholes have grown and merged to make a large figure of 8 eight shaped pool.
You may spot other smaller figure eight pools, but there's only one main one. It is nearly 4 metres long and over 1 metre across.
It's close to the sea, kind of in line with the 'point' of the headland. This position allows awesome views to the north and south. See Figure Eight Pools Sydney on Google Maps
2019 Update
Most people leave the city behind to escape the crowds but the continuing popularity of #figure8pools means it's still crazy busy.
The Burning Palms cabin community have sometimes counted 1000 visitors in one day and say even mid-week can be a problem.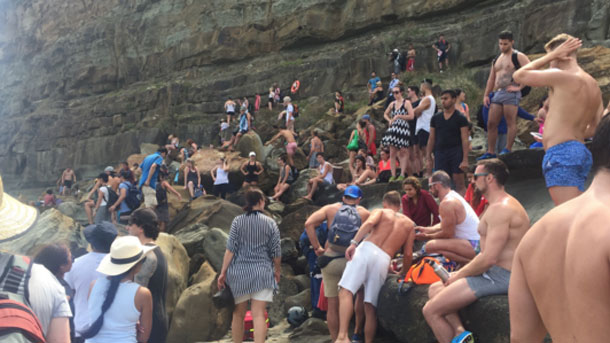 National Parks have upped safety warnings, given the number of people ignoring basic advice. For now, Figure 8 Pools is not the serene, soul-refreshing experience you may be hoping for.
At least grab a map (only $2.49).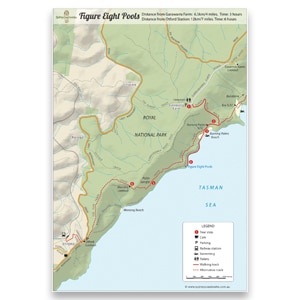 You know, there are other wildly beautiful places in Sydney to explore (including this bigger natural swimming hole, also in Royal National Park)…
What to Take
A day trip to Figure 8 Pools is one of the best ways to spend a summer day in Sydney. Remember you have a steep bush walk and rocky scramble to reach it, so wear shoes and take your thongs or sandals in a bag.
There are no shops down on the beach so take plenty of water and whatever food you need.
You might be lucky and get mobile phone reception when you are down by the water, but don't rely on it. You won't have reception on the walk down or up.
Remember to wear a hat and sun-safe clothing and enjoy your adventure.
Check out more tips for what to take on a day hike with this hiking checklist.
If you want to chill out for a few days in the area, here's where to stay near Royal National Park. Another walk to check out – especially during whale watching season – (no rock scrambling on this one!) is Wedding Cake Rock.
Are There Guided Tours to Figure 8 Pools?
Yes. National Parks has licensed only one tour operator to guide tours down to Figure 8 Pools.
This Figure 8 Pools tour by Barefoot Downunder consistently gets 4-5 star reviews from their guests. Be aware that this guided tour is tide-dependant.
Tours to Figure 8 Pools operate September – May only, and are closed during June-August.