Royal National Park Coastal Walk is one of the best walks in Sydney; a bush walk along one of the most pristine stretches of Sydney coastline. The Coast Track can be done as a long day walk or a more leisurely but still challenging overnighter.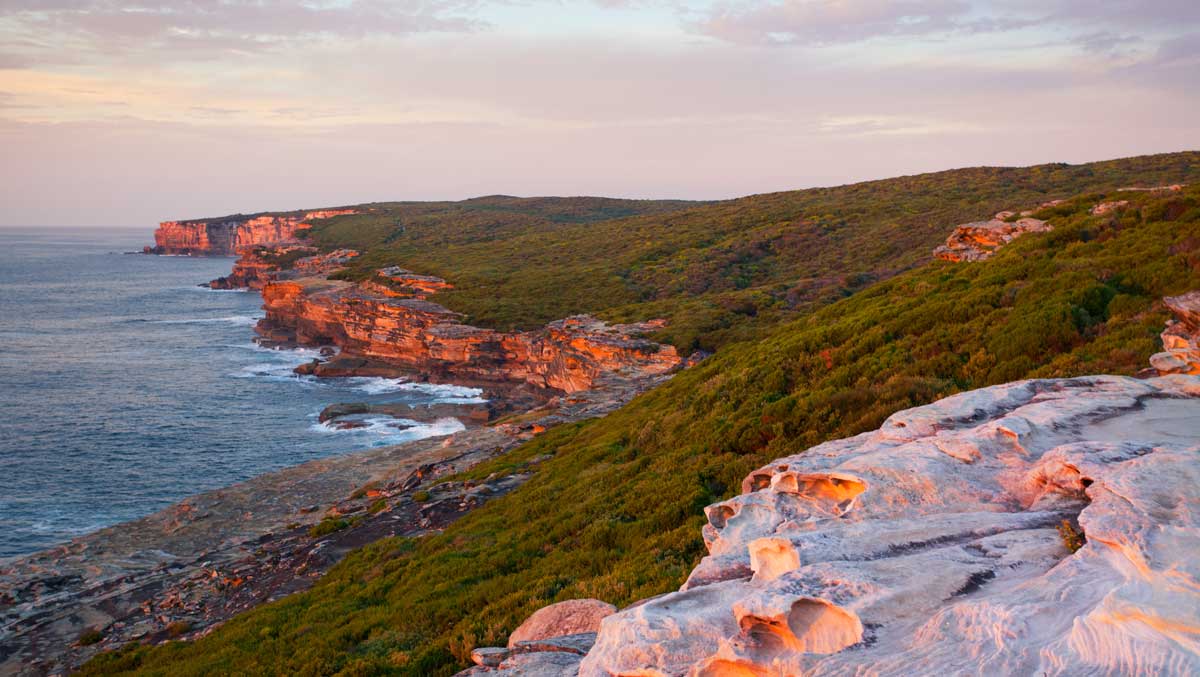 You've heard about the Instagram sensations of Wedding Cake Rock and Figure 8 Pools. Those places are around 5km from either end of the Coast Track and are separated by 20km of sandstone cliffs, scrubby headlands and sandy beaches. Along the entire length native bushland meets the cliff tops and the beaches. Royal National Park Coastal Walk, often called The Coast Track or Royal Coastal Walk, passes through that bushland.
A lot of it now is on raised boardwalk too. You are still walking in the bush, you just don't need to watch your feet so closely. Some people like the boardwalk, others don't, but it does make Royal Coastal Walk a bit easier and quicker.
The northern end of Royal National Park Coastal Walk, near Bundeena ("noise like thunder" in the Dharawal Aboriginal language), is characterised by coastal scrub growing right to the edge of towering sandstone cliffs. Here, The Coast Track is a small walking track winding through the banksia and wattle to emerge on sandstone ledges with breathtaking coastal views. Wedding Cake Rock is on this part of the coast walk.
Marley has two pristine ocean beaches and a large lagoon behind the sand dunes providing water for all the swamp wallaby and echidna that call this place home. A fire trail heads west from the coast to wrap around behind Wattamolla Lagoon where the Royal Coastal Walk emerges from the bush to a popular picnic area.
Wattamolla ("place of running water" in Dharawal) is a huge freshwater lagoon fed by two waterfalls that flows into a protected ocean cove. It is idyllic and popular for a reason. Still, midweek outside school holidays you can have it to yourself.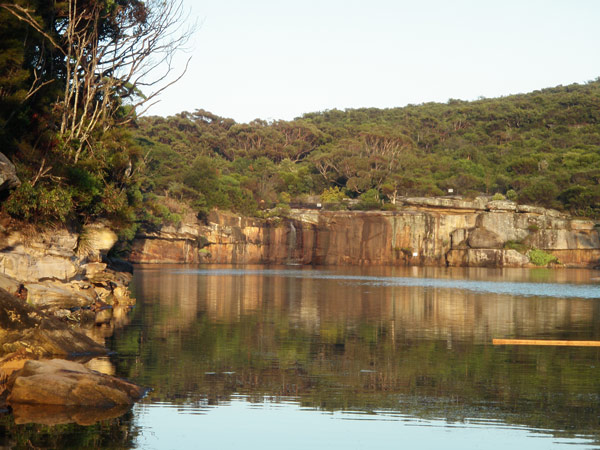 The middle section of the coastal walk is where Curracurrang and Curracurrong ("protected from the wind" and "exposed to the wind" in Dharawal) creeks carve through the sandstone.
Curracurrang has a hidden swimming pool upstream and feeds into the Pacific Ocean at sea level.
Curracurrong (Eagle Rock) has some cascades and flows off a 40 metre cliff into the ocean. You might hear and feel the 'boom' of waves crashing into the cave at sea level below the waterfall. There is a huge rock overhang (you're standing on it!) that provides shelter from the heat and a superb view of the falls and this cliff-base cave.
The southern part of the Royal Coast Walk is headlands with endless views, and the steep climbs that accompany them, divided by long sandy surf beaches.
Garie Beach and Era Beach represent a couple of kilometres of beach walking but they're pristine except for a surf club and some shacks.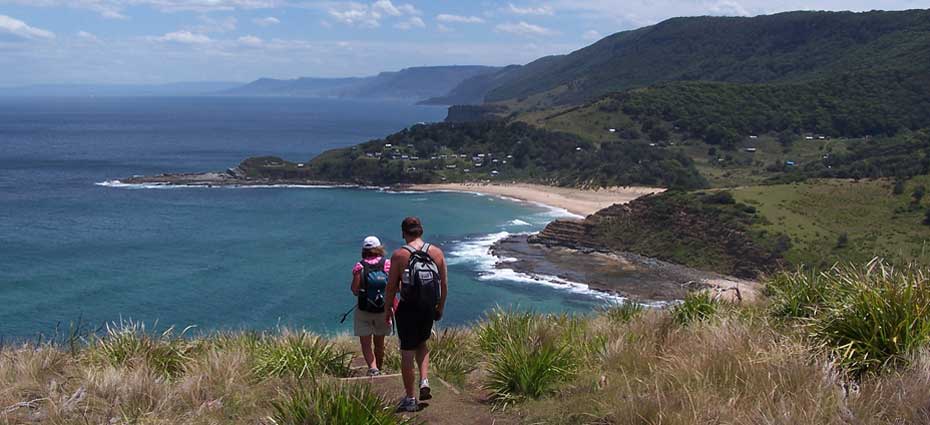 Some parts of the Coast Track have changed from a completely deserted pilgrimage to weekend hashtag phenomenons – think Wedding Cake Rock and Figure 8 Pools – but the popularity of the whole coastal walk hasn't increased by the same ratio. Visitors to these popular places are not generally interested in doing a longer bushwalk, so you can still walk Royal Coastal Walk and not see another soul if you time it right.
Royal National Park Coastal Walk Distance
30 km / 18.5 miles
Royal National Park Coastal Walk Time
Two days, comfortable pace. Experienced hikers can walk it in one day. There are numerous vehicle access points to walk it over several days doing comfortable day walks. (Choose whether one or two days is right for you.)
How hard is the Royal National Park Coastal Track?
Difficulty
Grade 4 Several steep climbs between 50m and 200m. The Royal Coastal Walk is typical Sydney coastal walking with beautiful sandy beaches divided by high sandstone headlands. The northern end between Bundeena and Garie North Head has more gradual hills, the southern end from Garie Beach to Otford is much steeper.
Track Conditions
NPWS have recently laid boardwalk along some of the more eroded sections of the Coast Track and repaired staircases on some headlands. The Coast Track is now more accessible and easier to walk than ever before but it's still a challenging bushwalk. The track is not always marked. Be smart, tell someone where you are walking, when you expect to be back and buy a Royal National Park Coastal Walk Map.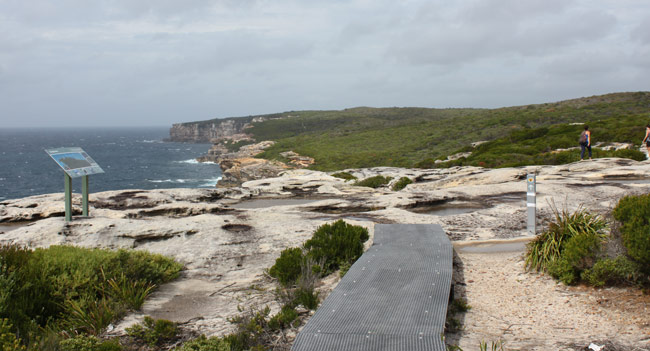 Quick Start Guide
Public transport
Yes. Train to Otford, ferry to Bundeena. More about how to get to Royal National Park by train and ferry on best Royal National Park Walks.
Water
Creek water at various places along the track. Tank water at Wattamolla and Garie Beach. None at North Era campsite. All water should be treated before drinking, Here's how to purify water while hiking.
Toilets
Flush toilets at the end of the Coast Track at Bundeena, Wattamolla and Garie Beach. There are pit toilets at North Era Campground.
Mobile Phone
There is patchy mobile phone reception from the top of the headlands but should not be relied upon. There is no reception at other points along the Coast Track.
Bundeena to Otford or Otford to Bundeena?
Like all Sydney coastal walks, walking from north to south means the sun is on your back and not in your face. On a summer day, you'll appreciate this. Therefore north to south, Bundeena to Otford, is our preferred way to walk it.
However, it depends on whether you are walking the The Coast Walk in One Day or Two. Yes, it has its own page because it's a big question! Decide how long you want to take before deciding which way to walk.
Walking from Bundeena to Otford, north to south, is probably more difficult because you end with the long steep walk up through the Palm Jungle but the views over the entire walk are more dramatic and revealing this way.
It's easier to walk down the headland at the northern end of Garie Beach, Garie North Head, and up the smaller headland at the southern end, Thelma Head. It's also nice to be in the shade on a hot afternoon and the walk up from Burning Palms Beach to Otford Lookout is all shaded.
Walking from Otford to Bundeena, south to north, means you start downhill through the Palm Jungle and finish with the relatively flat exit to Bundeena.
However the last section over the sandstone to Bundeena can be very hot on a summer afternoon. It also means you do the Garie Beach section the hard way; down the 80 metres of Thelma Head and up the 120m of Garie North Head, with the 1.5km beachwalk in between.
Whichever way walk the Royal Coastal Walk, remember to stop and turn around every now and then. It's a completely different perspective when you look back on what you've just walked.
If you decide to walk the Royal National Park coastal track on two days, the official coastal campground is at North Era, 8km from Otford and 22km from Bundeena (Bookings essential). Either way you will have one longer, and one shorter day.
Why is the Royal National Park Coastal Walk different to other Sydney coastal walks?
Towering sandstone cliffs and sandy beaches typify Sydney coastal walks from Palm Beach to Cronulla, including the most popular one, the Bondi to Coogee walk. A couple of Sydney Harbour walks, like the Bradleys Head Walk and the Spit to Manly Walk have shaded angophora forests. North Head near Manly has some coastal banksia scrub that dates from pre-European times.
Now combine them all, add in some subtropical rainforest, a few echidna, wallaby and wedge-tailed eagles and remove all the people. While you're there, remove all signs of human development too. That's what makes Royal National Park Coastal Walk the pick of all Sydney coastal walks.
Swimming on the Royal National Park Coastal Walk
There are 14 beaches along The Royal Coast Track but not all of them are safe for swimming. There are also a few natural bush swimming holes that we absolutely recommend cooling down in.
From north to south, Bundeena to Otford, here are the best places to swim on the Royal Coastal Walk.
Jibbon Beach is a long north facing beach protected from most swells if you are doing the Jibbon Head Loop (Aboriginal Carvings),
Marley Lagoon – depending on the amount of freshwater in the lagoon, the tides and whether the sandbar between the ocean and the lagoon has washed away, you might be able to swim where the lagoon runs into the ocean at the northern end of Marley Beach.
Little Marley Beach is our favourite beach along the entire coastal walk. Secluded, protected and deserted. Don't swim at Marley Beach (sometimes called Big Marley Beach), the northern of the two Marley beaches. It gets more swell and has bigger rips than Little Marley.
Wattamolla Dam is a little dam where the Coast Track crosses Wattamolla Creek about 500 metres before you reach the carpark at Wattamolla. It's perfect for a swim without the crowds of Wattamolla.
Wattamolla Lagoon and Wattamolla Beach is a popular picnic spot for a reason. A spectacular place to swim in either the freshwater lagoon or the ocean beach. It's a long way inside a cove so there are no waves.
Curracurrang Waterhole is our favourite spot in the entire Royal National Park. Before you cross Curracurrang Creek, turn right up a small bush track and follow it for several hundred metres to one of the best natural swimming holes Sydney has to offer. We prefer this to Karloo Pools, on the other side of Royal National Park which is also pretty amazing.
Curracurrang Creek (Eagle Rock) has some awesome little cascades that you can sit underneath to cool down on a hot day.
Garie Beach is a great surf spot but not always ideal for swimmers. Garie Beach faces south so picks up the southerly swell. The surf is patrolled in the summer months so swim between the red and yellow flags when they're up and maybe don't swim at all if they're not.
Era Beach is protected from the southerly swell that makes Garie Beach and North Era so popular with surfers. Era Surf Club members patrol the beach in summer. These surf club volunteers are all "Shackies", the lucky people whose families own Royal National Park cabins, or shacks. Don't swim at North Era. Like Garie Beach and Marley Beach it gets more swell and has bigger rips than Era. If you are camping at North Era campground, it's worth the short walk around the headland.
Burning Palms Beach also has a surf club patrolled by 'Shackies' so swim between the flags if they're up and don't swim if they're not.
Figure 8 Pools – we couldn't leave this off the list could we?
When swimming at any of these places on the Royal National Park Coastal Walk please remember these important points:
don't dive into pools or shallow water at the beach
when you're walking over wet, slippery rocks; walk low to the ground, keep your hands out wide for balance and place your feet carefully.
sunscreen washes off in water despite how 'waterproof' it is. Please don't wear sunscreen in the freshwater pools. We don't want to harm these delicate ecosystems.
remove all your rubbish. Everything you drop on the coast ends up in the ocean or washed back up on the beach
Royal National Park Coast Track Map
Buy the two-page downloadable PDF of the Coast Track, covering both the northern and southern sections of Royal National Park for only $2.99 AUD. Buy now.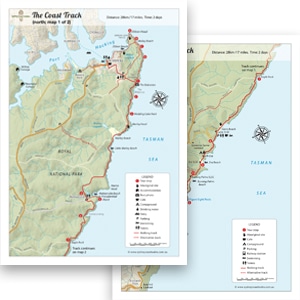 Coast Track Map Information Points
Alternative Stop A: Jibbon Head (Aboriginal Carvings)
Alternative Stop B: Shelley Beach coming soon
Alternative Stop C: Wave Rock coming soon
Alternative Stop D: Canadian cave coming soon
Stop 1: The Balconies coming soon
Stop 2: The Waterrun coming soon
Stop 3: Wedding Cake Rock
Stop 4: Wattamolla coming soon
Stop 5: Providential Point coming soon
Stop 6: Curracurrang coming soon
Stop 7: Eagle Rock
Stop 8: Little Garie Shack Community
Stop 9: Era Shack Community
Stop 10: Burning Palms coming soon
Alternative Stop E: Figure 8 Pools
Stop 11: Palm Jungle coming soon
Stop 12: Werrong Lookout coming soon
Where to Stay
If you're hiking the Royal Coast Track over two days, there is only one place to stay: North Era campground. It's a prime beachside location but also very basic: no vehicle access, no water source and long-drop toilets that are often at the mercy of other less-considerate campers. Check out our hiking checklist for what to take with you.
But where should you stay the night before or after the hike? Or what if you're only walking a section of the Coast Track as a day hike (like Wedding Cake Rock)?
There are so many options that we've gone into detail to answer everything about accommodation near Royal National Park. Everything. Whether you want a hotel or campsite, whether you have a car or relying on public transport, and whether you're with a big group or want a quiet weekend retreat, check out all the hotels (and more) near Royal.