The Bradleys Head walk – either the short walk around the headland or longer on to Chowder Bay – deserves to be more popular.
It's an easy walk with unrivalled Opera House, Harbour Bridge and city views from the grassy expanse of Bradleys Head. Just a short ferry ride from the city's business district takes you through an old Angophora forest – towering Sydney Red Gums – along the harbour foreshore.
And once you understand the stories of Bradleys Head, the walk near Taronga Zoo takes on another, more rewarding dimension.
Quick Start Guide
Distance: 8.2km (5 miles) to/from Taronga Zoo Wharf
Time: 2 and a half hours there and back. Allow extra time to enjoy Chowder Bay.
Difficulty: Clearly defined track, often footpath or timber walkway. Some stairs.
Water: Refill at Bradleys Head
Public transport: Regular ferries and busses to Taronga Zoo (see below)
Coffee: Bacino Kiosk at the turn-around point at Chowder Bay.
Toilets: At Bradleys Head Amphitheatre and at Chowder Bay, Clifton Gardens.
Mobile phone reception: Yes.
Swimming: Unpatrolled sheltered harbour beach at Chowder Bay, Clifton Gardens.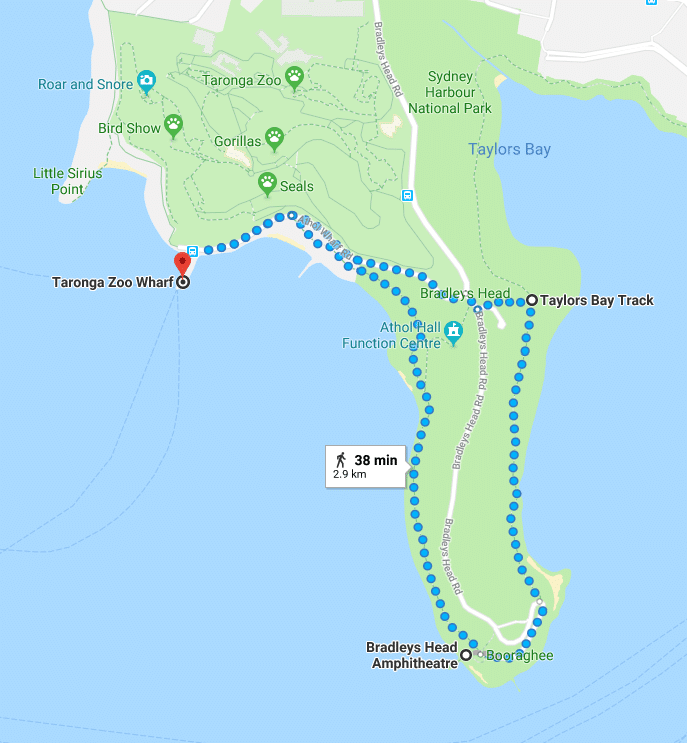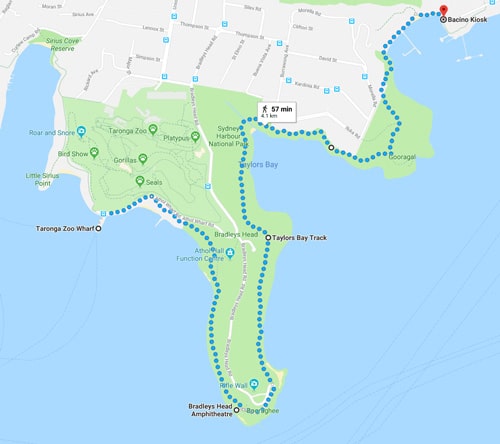 Getting to Bradleys Head
By Car
There are less than 20 car parking spaces at Bradleys Head and you'll pay $8 NPWS park entry fee.
There is much more parking at Taronga Zoo, where you'll pay $18 for the day and have to walk down a fairly steep hill.
Public Transport
Regular ferries from Circular Quay service Taronga Zoo. It's a 12 minute ride across the harbour. The route is frequented by public ferries where an Opal Card is valid, as well as ferries with tour commentary and Taronga Zoo ticket inclusions.
The M30 bus from the city will take you directly to the Zoo in 30 – 45 minutes, although it's far less scenic (and longer) than the ferry across Sydney Harbour. Check Transport NSW for public transport information.
It's a far better experience catching the Taronga Zoo ferry from Circular Quay. The Bradleys Head to Chowder Bay walk is a loop track to/from the ferry.
What to See on the Bradleys Head to Chowder Bay Walk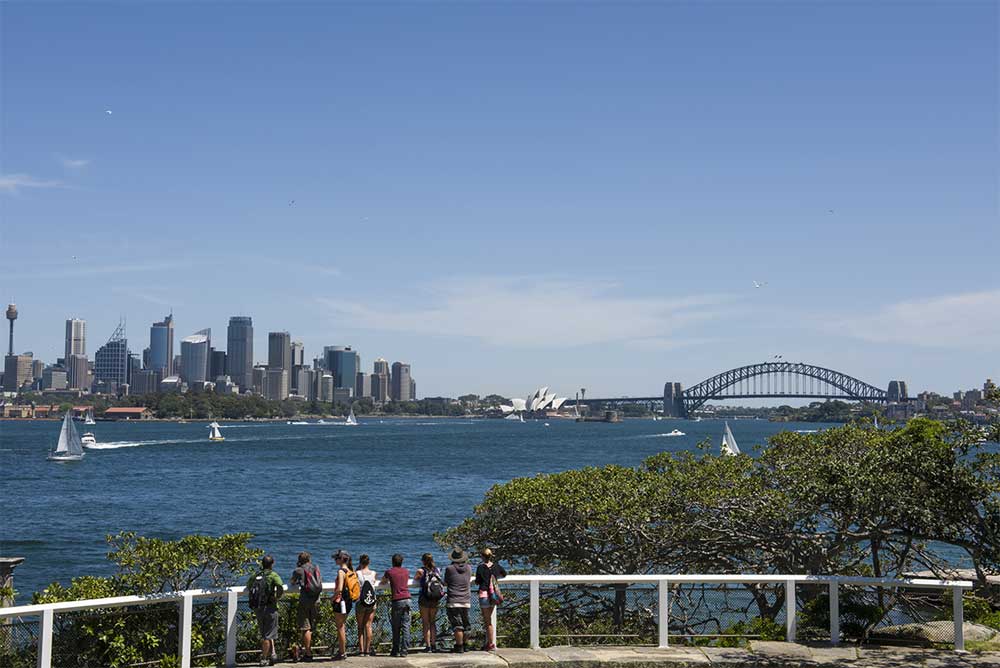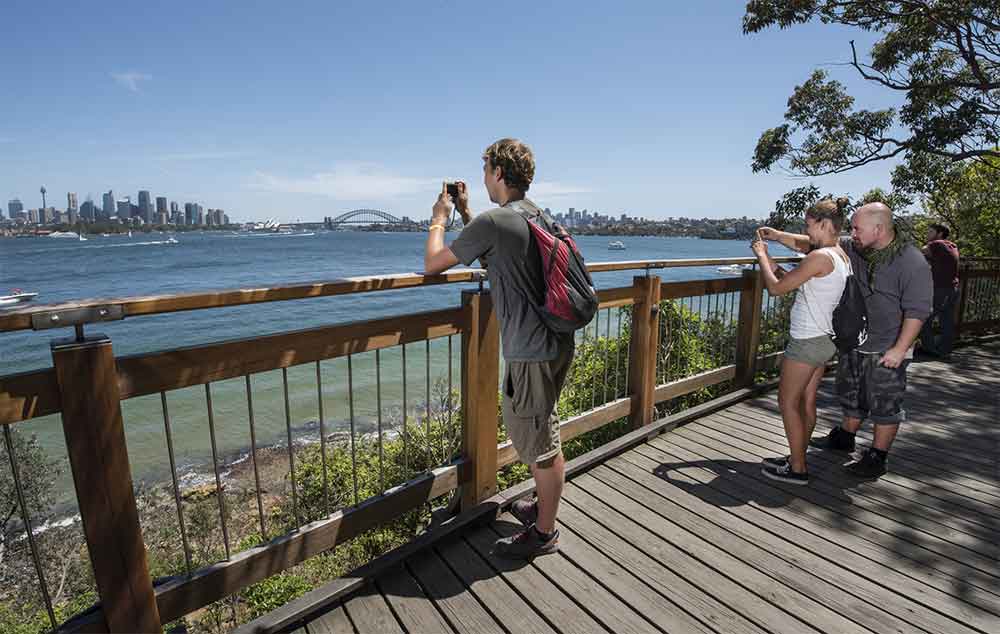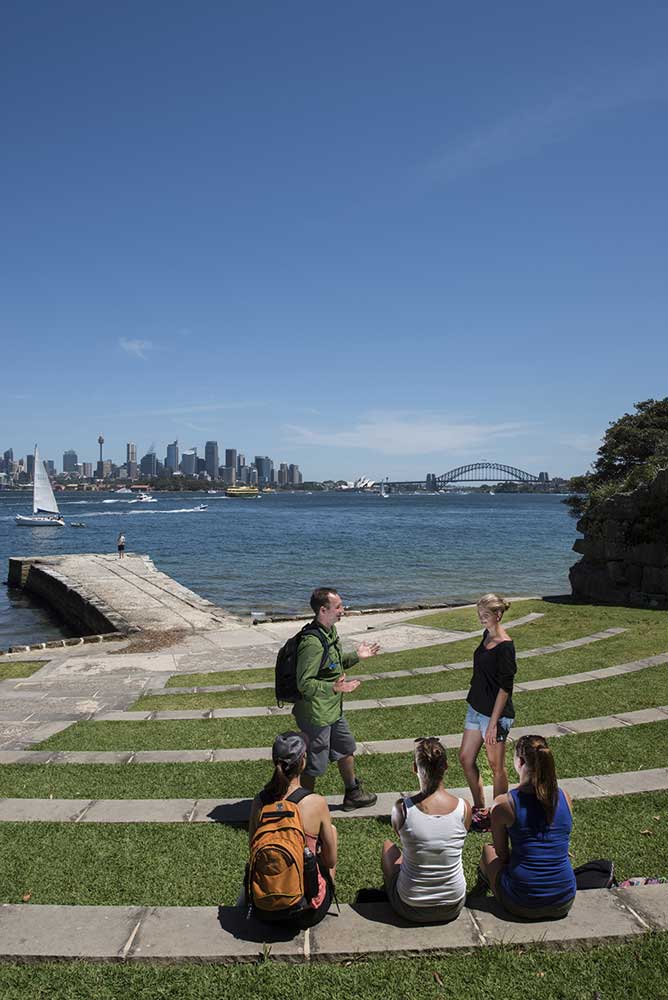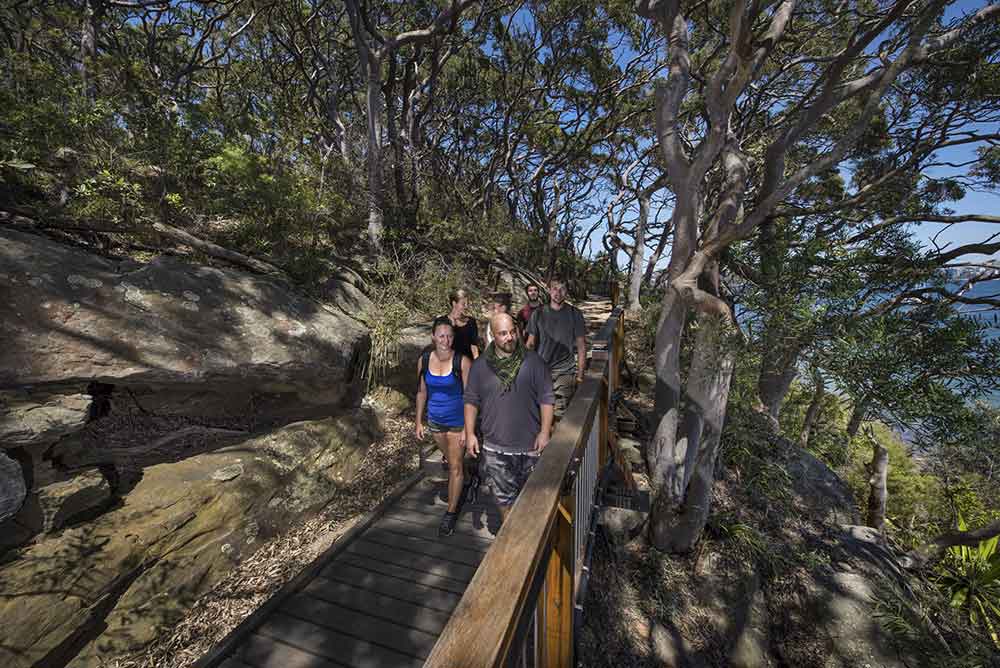 Taylors Bay and Chowder Bay
After leaving the cityscape views from Bradleys Head, you'll enter a grove of angophora trees, their twisting limbs framing the harbour.
From here, you're following the Taylors Bay track winding along the protected foreshore in Sydney Harbour National Park.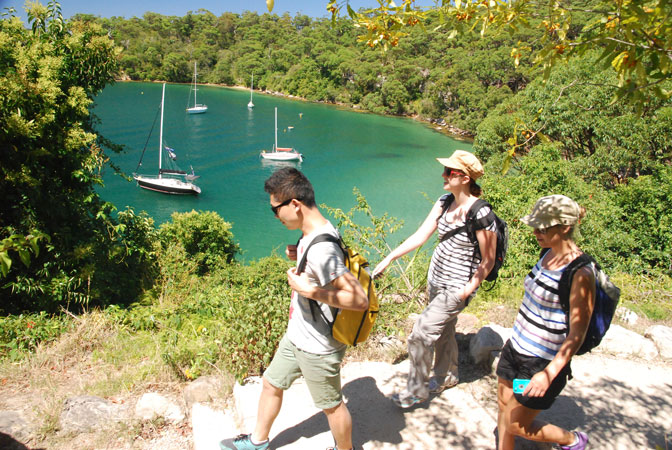 The easy-to-follow track eventually opens up to Chowder Bay and the former pleasure grounds of Clifton Gardens.
If coffee and cannoli is your idea of a reward, make your walk's turn-around point the Bacino Kiosk at the far end of Chowder Bay.
That said, walking a bit further on up the hill to Georges Head will offer rewarding views from the next headland. There's a reason for those old canon placements: the view over Middle Harbour is expansive.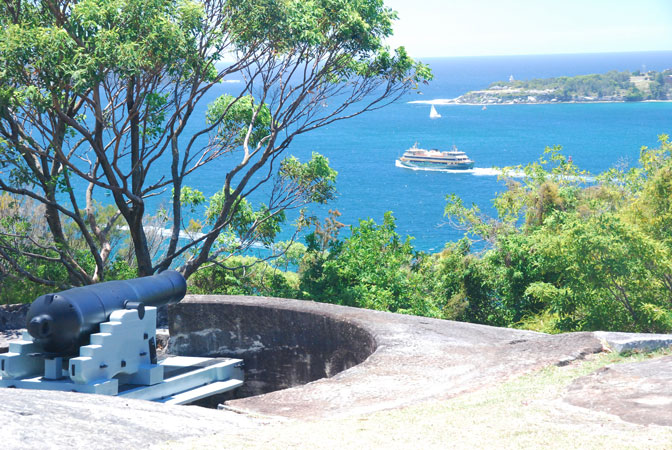 If you were to continue on, eventually you'd get to Balmoral Beach… but that may be an adventure for another day.
How Did Bradleys Head Get Its Name?
This headland was called Booraghee by the native Cammeraigal people for thousands of years before European arrival.
When the First Fleet of convicts arrived with the Royal Navy in 1788, Lieutenant William Bradley was second-in-command of the fleet. He landed here with Captain Hunter in January 1788, the first non-Aboriginal people to do so.
In 1814, after forced retirement from the navy suffering mental illness, he was caught posing as a 'Captain Johnson' of a non-existent ship, the Mary and Jane. He had presented hundreds of bogus letters to shore post offices to be sent to the Admiralty, and was paid 2 shillings per letter, as per regulations.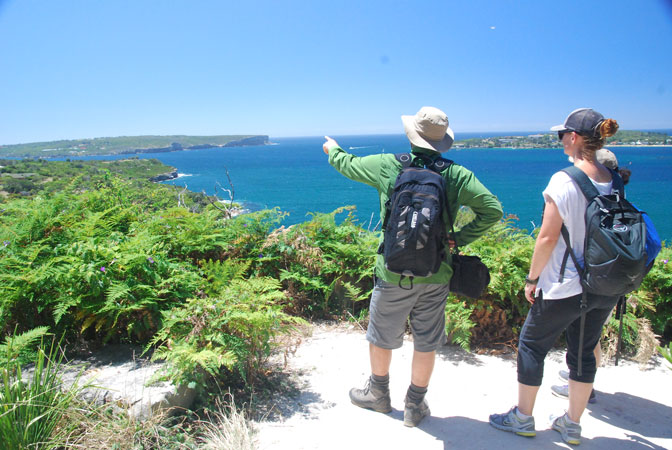 Bradley was eventually caught and sentenced to death. This sentence was commuted to transportation for life to Australia. However after pleas from his family (he was related to James Bradley – Astronomer Royal) he was exiled to France. Thereby escaping the ultimate irony of being 2nd in command of the First Fleet and later being transported as a convict to the colony he helped found.
Where to Stay Near Bradleys Head
Bradleys Head is right next to Taronga Zoo. Taronga's immersive "Roar and Snore" glamping experience has been popular for years. They've also recently launched an on-site luxury wildlife retreat, which is on our wish-list! See Taronga's accommodation options (book well ahead in school holiday periods and weekends).
This post contains affiliate links which means we may earn a small commission if you make a purchase. It helps keep this site running, so thank you.
Otherwise just stay around Circular Quay and The Rocks to be near the ferry across to Taronga Zoo where the Bradleys Head Walk starts. Read all our Sydney accommodation reviews or check prices of accommodation around Circular Quay and The Rocks.
What To Do Near the Bradleys Head Walk
Taronga Zoo, of course! It's Sydney's oldest zoo but thoroughly modernised. Admire prime harbourside views alongside Australian and international animal displays. Be sure to catch the bird show. (Oh, and you can eat at the zoo's cafe without paying for zoo entry.)
You May Also Like…
The Bradleys Head walk is small section of the new 80km Bondi to Manly Walk. It can be broken down into leisurely sections or tackled as a longer challenge.
For more walks accessible by harbour ferry, check out the Watsons Bay walk, or the longer Spit to Manly walk.