Explore one of Sydney Harbour's most beautiful walking tracks, the Spit Bridge to Manly Walk, otherwise known as the Manly Scenic Walkway.
The route hugs the coastline, offering expansive harbour views while juxtaposing harbour-side homes with Aboriginal sites.
Finishing at one of Sydney's most loved beaches, this is the walk to insist on for visitors, yet still offers surprises for even the most familiar local.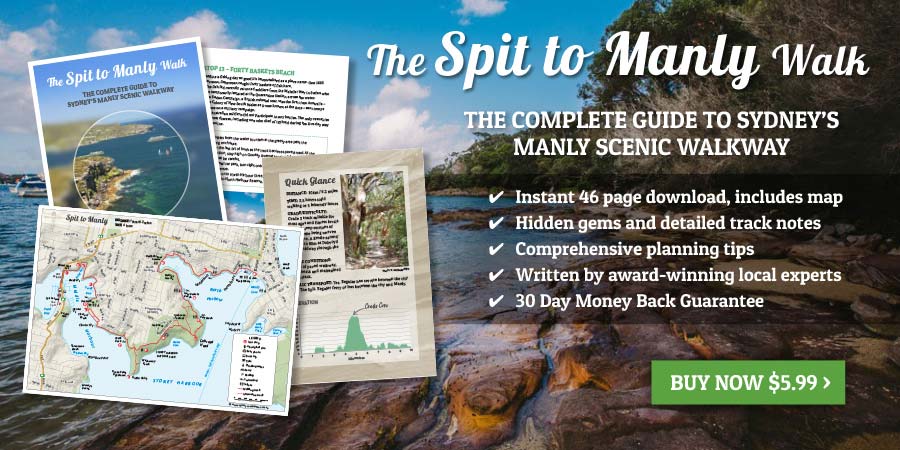 Highlights of the Spit Bridge to Manly Coastal Walk
Discover 1,000 year old Aboriginal rock engravings
Enjoy spectacular harbour, bush and ocean views
Walk through sub-tropical, coastal heathland and beach habitats
Marvel at multi-million dollar harbourside mansions
Spit to Manly Walk Distance
10km or 6.2 miles
Spit to Manly Walk Time
3.5 hours solid walking or 5 leisurely hours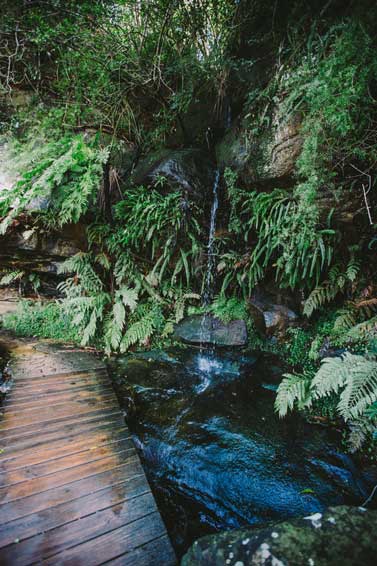 How Hard is the Manly Scenic Walkway?
Difficulty
Grade 3 track suitable for most ages and fitness levels. Several steep sections of stairs, some being uneven sandstone. A gentle ascent/descent to 80m at Dobroyd Head, midway through the walk.
Track Conditions
A mix of paved walkway, boardwalk and maintained bush track. A few short sections of soft sandy beach walking (jump to our detailed track notes below).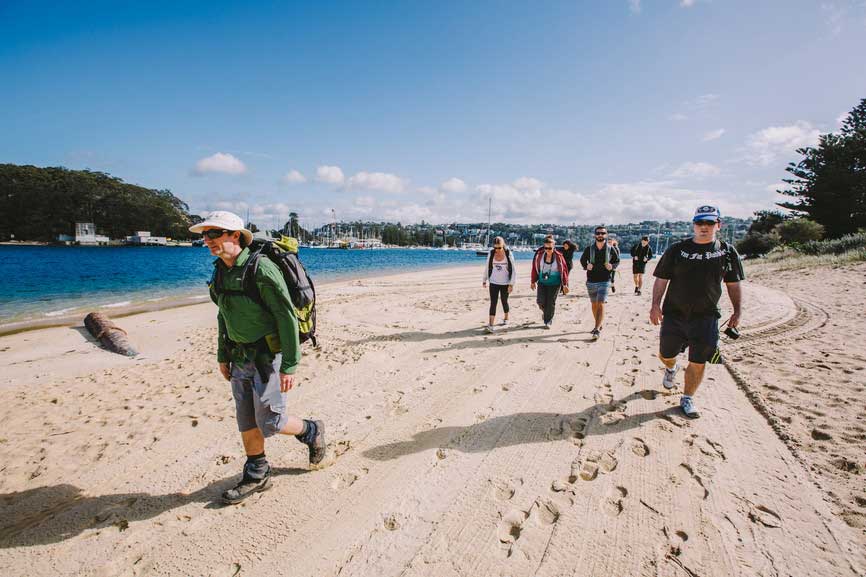 Quick Start Guide
Public Transport
Regular bus service between the city and The Spit Bridge. Regular ferry or bus between the city and Manly (jump to more details in Getting There below).
Water
Refill water bottles at drinking fountains at Clontarf Reserve and Forty Baskets Beach (at either end of Sydney Harbour National Park). No water access in 'the bush'.
Drinking water fountains also at Fairlight Beach and Manly Corso.
Toilets
Toilets can be found at regular intervals throughout the walk. Locations include at The Spit, Clontarf Reserve, near Reef Beach, Forty Baskets Beach, North Harbour Reserve, Fairlight Beach, West Esplanade near Manly Sea Life, and Manly Wharf.
Also refer to map for locations (buy guidebook with map for $5.99, or buy just the map for $2.49).
Mobile phone reception
There is generally reliable mobile phone reception along the track.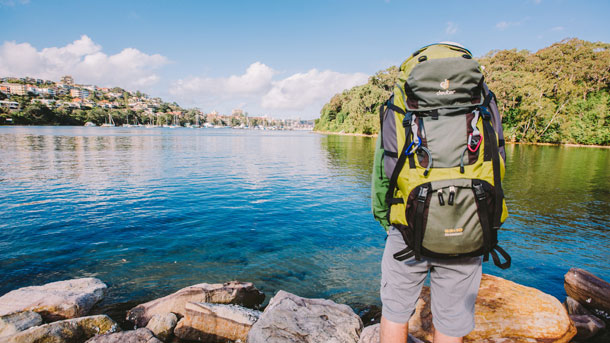 Spit Bridge to Manly Walk Route
The Spit Bridge to Manly walk is the most well-known section of the Manly Scenic Walkway, opened in 1988. It passes through Sydney Harbour National Park, bushland reserves and local streets.
Manly Scenic Walkway is a one way track. It can be walked in either direction, although these track notes are written from The Spit to Manly, walking west to east.
(Prefer to walk from Manly to Spit Bridge? – see below.)
Where to Start the Spit Bridge to Manly Walk?
The track begins at the northern end of the Spit Bridge, on the eastern side of the road.
If approaching from the car parks or bus stops at the southern end (see Getting to the Manly Scenic Walkway below), it's easier to walk across the left side, following the looped path under the bridge. The right side's footpath ends at a small car park with poor visibility of oncoming cars.
Emerging from under the bridge, you are in Ellery's Punt Reserve. See each of the Stops in Walking Route Track Notes below to follow the entire route.
Note that much of this walk will be signposted either "Manly Scenic Walkway", "MSW", or "To Manly". As you get closer to Manly, signposts may also point towards the ferry.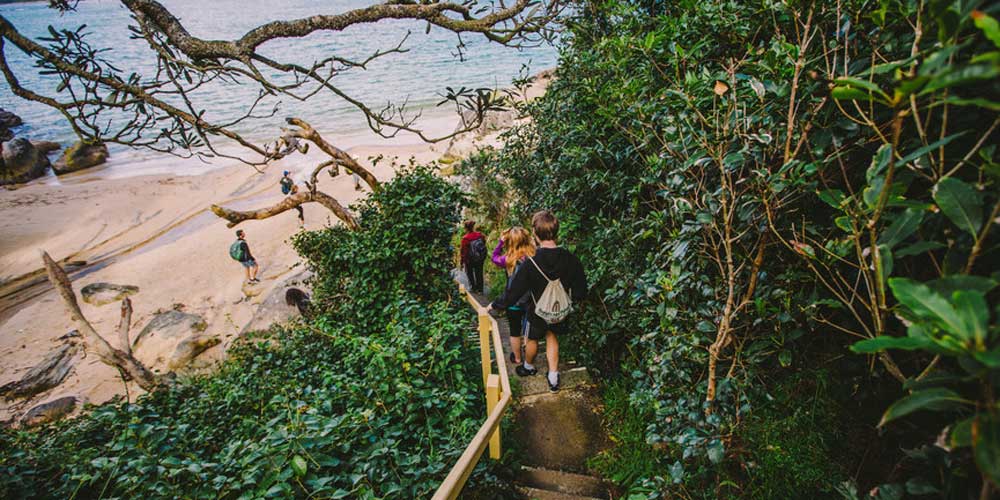 There are 16 places of interest along the walk worth pausing for the view or to learn more about Sydney's living history.
[You've probably noticed this is a huge blog post (you're not even halfway yet), plus there are another 16 posts with track notes and places of interest! Grab everything – including the map! – in one 46-page travel guide with The Spit to Manly Walk: The Complete Guide and Map to Sydney's Manly Scenic Walkway $5.99.]
Walking Route Track Notes
Click through each stop to read more about each point of interest on the Spit Bridge to Manly Walk.
Stop 1: Ellery's Punt Reserve
Stop 2: Fisher Bay 'Midden'
Stop 3: Fisher Bay Houseboat
Stop 4: Sandy Bay, Hawkesbury Sandstone
Stop 5: Clontarf Reserve
Stop 6: Clontarf Pumping Station
Stop 7: Castle Rock Beach
Stop 8: Grotto Point Lighthouse
Stop 9: Grotto Point Aboriginal Engraving Site
Stop 10: Crater Cove
Stop 11: Dobroyd Head
Stop 12: Reef Beach
Stop 13: Forty Baskets Beach
Stop 14: North Harbour Reserve
Stop 15: Fairlight House
Stop 16: Manly Wharf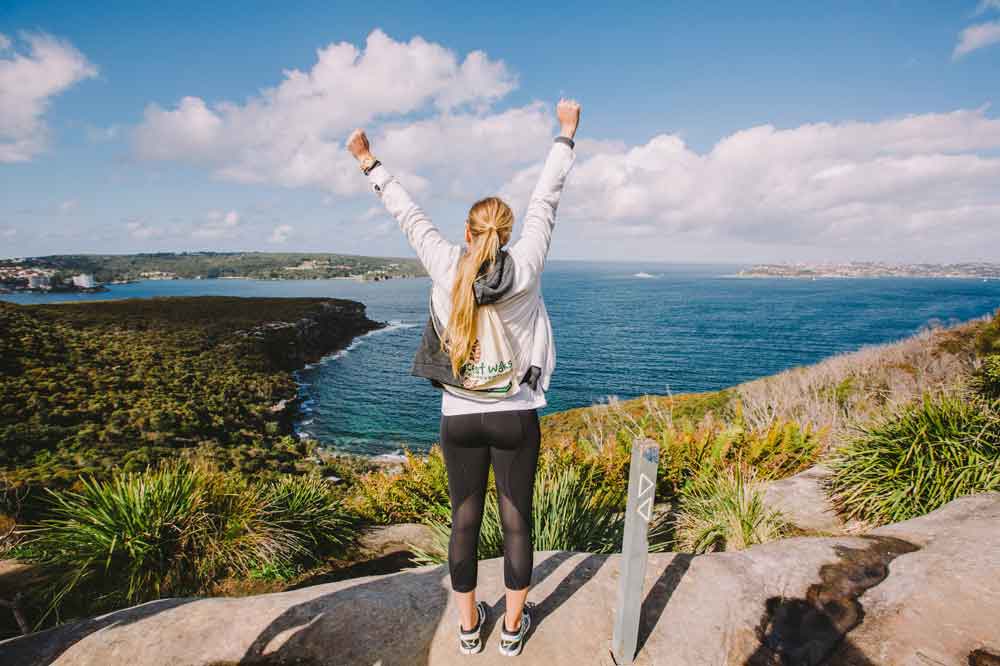 Buy the $2.49 Spit Bridge to Manly Coastal Walk Map for all 16 locations, or grab it all in one inspiring 46-page travel guide (includes map) for $5.99 with The Spit to Manly Walk: The Complete Guide and Map to Sydney's Manly Scenic Walkway.
Getting to the Manly Scenic Walkway
The track starts at the northern end of Spit Bridge, and can be approached from either side of the road.
There is parking and bus stops on both sides; if you come from the city you will be on the western side. If approaching from Manly, the eastern side.
The walk finishes at Manly Wharf.
(Prefer to walk from Manly to Spit Bridge? – see below.)
Public Transport
We always recommend catching public transport but for this walk, you'd be mad not to.
From the city, buses depart regularly from Wynyard Station (Carrington Street, Stand A). Look for bus numbers including 178, 180 that take less than 30 minutes for a direct service to The Spit.
(For comparison, if departing from Central Station, you could catch a mix of trains and buses to The Spit for an average trip time of 45 minutes.)
Catch the ferry back from Manly. It's a delightful 30 minute ferry ride across the harbour to Circular Quay. Or 20 minutes if you pay slightly more for the privately operated Manly Fast Ferry (now accepting OpalPay… and you can buy a drink on board).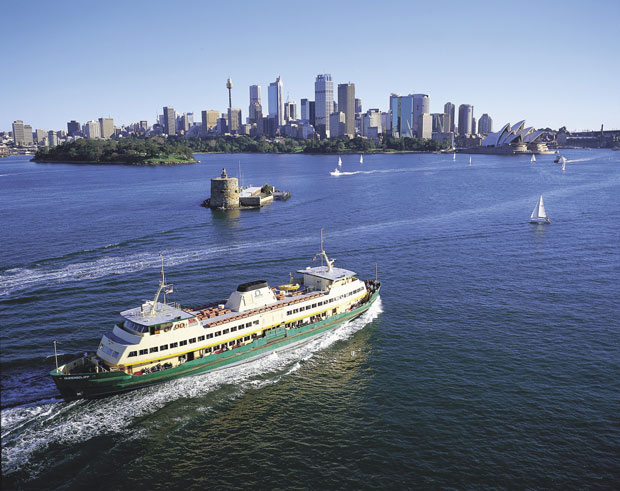 A ferry trip is the perfect way to end your walk. Sit on the starboard (right) side for views of the route you've just walked, Middle Head and Taronga Zoo, or port (left) for views of North and South Heads and the eastern suburbs.
Check Transport NSW for detailed trip itineraries and latest public transport information.
Avoiding the Traffic
A private water taxi simultaneously whisks you past the Harbour Bridge on the glittering harbour, and avoids dealing with some of Sydney's busiest roads.
It's possible to catch a private water taxi from Circular Quay (at the Commissioner's Steps, near the Museum of Contemporary Art), requesting drop off at the eastern side of Spit Bridge, near Sydney Harbour Kayaks. This is a private marina but they have allowed previous landings.
It's significantly more expensive than a bus or ferry. It's an amazing way to start the walk if you're after something special, or can share the cost amongst a group. Call ahead to make a booking.
Spit Bridge to Manly Walk Parking
Let's assume you're driving from Central Station near the city's central business district. In theory, it'll take about 25 minutes heading north over the Harbour Bridge to drive to The Spit Bridge (13km), or 35 minutes to get to Manly (17km – go over Spit Bridge and turn right at the top of the hill).
Sydney traffic can be hell – Military Rd is a killer – so in peak times it may take much longer. Refer to Google Maps for exact details from your address.
Parking at The Spit Bridge
While there is plenty of parking at The Spit – 206 spaces on the west side, 42 spaces on the east – it's all pre-paid by the hour.
Council inspectors enforce the 'Pay and Display' system where you purchase a ticket from machines at the carpark, displaying it on your dashboard. Keep a close watch on the time!
A 25 minute bus ride will get you back to The Spit from Manly. Lots of bus routes go via Spit Bridge from Manly (including 143, 144 and more), leaving from Belgrave Street, Stand D (just up from the ferry wharf).
Parking at Manly
If you want to park at Manly and catch a bus to The Spit to start your walk, the trick is finding free or even low-cost all-day parking.
Private company, Secure Parking, operate the carpark right at Manly Wharf, underneath Aldi. It can be expensive – $59 for more than three hours (weekdays and weekends) – so take advantage of "Early Bird Parking" on weekdays only. This will cost $35 ($25 if booked ahead online), as long as you arrive between 7:00am – 9:30am and leave between 4:00pm – 7:00pm.
There's another Secure Parking at 25 Darley Road, maximum $30 weekdays and weekends. Find more here.
The four council-run car parks are free for the first two hours but you'll definitely be longer than that, so risk spending up to $41 for the full day. Those car parks are in Central Avenue, Whistler Street and Wentworth Street. Check Northern Beaches Council carpark information.
While Spit Bridge is less than 5km from Manly by road, heavy traffic could see the 9 minute drive becoming much longer – not great for a taxi fare but okay if you're carpooling.
Spit Bridge Opening Times
Spit Bridge is the essential link between Sydney's northern beaches and the city. But due to its height, many boats can't pass underneath unless the bridge is open. Whether you're on foot or driving, expect a delay during opening times.
Weekday openings are 10:15am, 11:15am, 1:15pm and 2:15pm.
On weekends and public holidays, the bridge opens 8:30am, 10:00am, 11:30am, 2:30pm and 4:30pm, with more openings both weekday and weekend evenings.
For the latest, check with Roads & Maritime.
Manly to Spit Bridge Walk
We believe walking from The Spit to Manly is better because public transport is more efficient, the reveal of Manly Cove is more exciting, and there are more places to relax at the end of your walk. BUT…!
It's still an awesome walk no matter which way you do it! So starting from Manly to The Spit Bridge is completely fine.
In fact, if you don't have all day to walk, then starting from Manly and just doing a section is better than none at all.
It'd be great to make it all the way to Crater Cove, because then you get a taste of the national park. But even getting to Reef Beach will feel like a worthy exploration of North Harbour.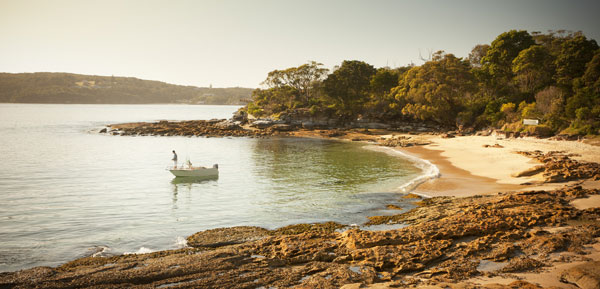 Just read our track notes in reverse for the Manly to Spit Walk.
There are bus routes near each of the 16 points of interest, so check Transport NSW to plan your return trip to Manly if you don't want to walk back. See Getting to the Manly Scenic Walkway, for suggested bus routes and ferry options.
Swimming on the Manly Scenic Walkway
There are six swimmable beaches along the walk: Clontarf, Castle Rock, Reef Beach, Forty Baskets, Fairlight (also has a tidal pool), and Manly Cove.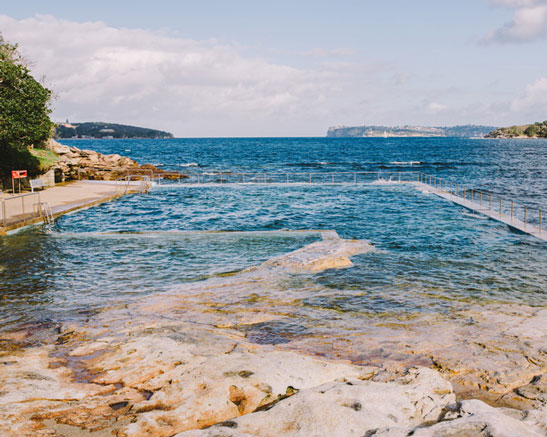 Sydney Harbour – while blessed with golden sand beaches – is also home to bull sharks that swim in its deep-water pockets, particularly around Middle Harbour (including The Spit). Many harbour beaches have netted swimming enclosures for this reason.
None of the beaches along the Manly Scenic Walkway have a lifeguard service. The nearest patrolled beach is Manly – the surf beach a short walk from the ferry wharf via The Corso.
Looking to make a day of your Spit Bridge to Manly Walk? Check out our guide for things to do in Manly for people who love the outdoors.
Best Places to Eat along the Spit to Manly Walkway
With this walk weaving in and out of urban areas, you're spoiled for choice with cafes.
Grab a pre-walk brunch at The Spit Bridge, Mosman from Plonk! Beach Cafe, or takeaway coffee from Sydney Harbour Kayaks.
Enjoy delicious food in the park from Clonny's (renovated in early 2020). This is our insider tip because even though you haven't been walking long when you get to Clontarf Beach, it's a lovely picnic spot.
Manly has plenty of coffee, gelato, takeaway eateries and restaurants.
Chic Hugos Manly has great pizza and views from the end of the wharf. Try 4 Pines Brewing Company for local craft beer and gourmet pub food (just past Manly wharf). Grab quality fish and chips dine-in or takeaway from Fishmongers Manly. Banana Blossum has huge, healthy salads made fresh to order, eat-in or grab-to-go.
Spit Bridge to Manly Accommodation
This section contains affiliate links which means we may earn a small commission (at no cost to you) to help offset the costs of running this website.
The Rocks is a historic and charming area conveniently close to Circular Quay ferries. Prepare to pay for the fabulous location from the seriously good Park Hyatt Sydney, or go cheap(er) with the dorms and private rooms of Sydney Harbour YHA. Check prices and see all accommodation near The Rocks.
If you'd prefer a beach experience, Manly is ideal. A few hotels – Novotel Manly Pacific and The Sebel Manly Beach – give way to holiday apartments, B&Bs and hostels. Check prices and see all Manly accommodation.

Of special mention is Q Station at Manly, meticulously converted from the original Quarantine Station. Situated in Sydney Harbour National Park, it has harbour views, its own sandy beach, good food and a feeling of getting away from it all. We've stayed here a few times and loved it – read our review of Q Station and see a video. (You don't have to be a hotel guest to explore the historic property).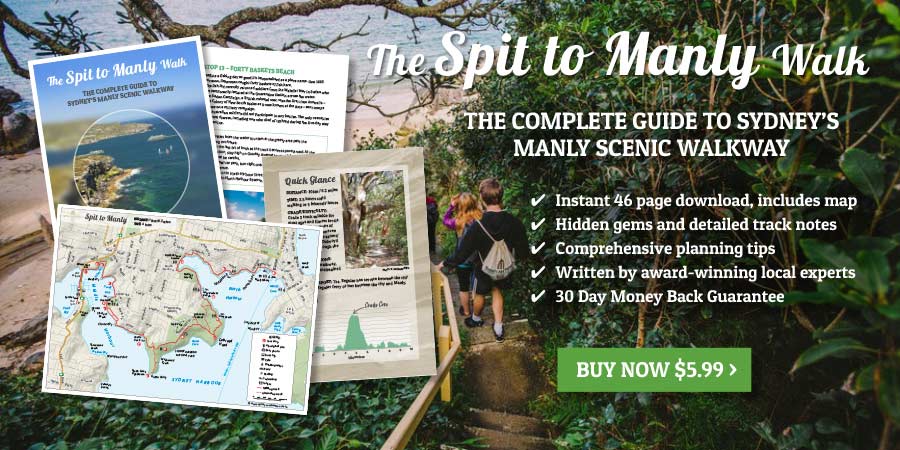 Now that you've done the Spit Bridge to Manly Walk, you may also be interested in…