North Harbour Reserve at Balgowlah is Stop 14 on the Spit to Manly Walk, as seen in the downloadable Spit to Manly Complete Guide and Map.
How to get to North Harbour Reserve
If walking from The Spit to Manly, approaching from Forty Baskets Beach… the track becomes paved road. At the Y intersection, stay high on Gourlay Avenue to your left. This is a public road; please be careful.
Past a small car park, turn right onto a signed path between 8 and 9 Gourlay Avenue.
Turn right onto North Harbour Street. At the end of the street, take the stairs down to North Harbour Reserve.
About North Harbour Reserve
Governor Phillip had orders from the British King George III to "endeavour by every possible means to open an Intercourse with the Natives and to conciliate their affections". The Eora, however, stayed away from the new Sydney Town. So Phillip decided to kidnap someone to act as a cultural go-between.
It was here in present-day North Harbour Reserve that Captain Phillip had encountered the "manly behaviour" of local Aboriginal men, so it was here that Phillip decided to target.
Arabanoo's Capture
Arabanoo's capture was difficult and distressing. However, when his manacles were removed months later, Arabanoo stayed to share his people's language and customs.
A few months later, Arabanoo was dead; killed by smallpox. He was one of an estimated 2000 Aboriginal people killed by the 1879 epidemic. With no immunity against European disease, half of Sydney's Aboriginal population were wiped out within 15 months of the First Fleet's arrival.
Bennelong's Capture
Governor Phillip tried again. He ordered the capture of two more Aboriginal men from Manly. As in Arabanoo's kidnapping, the soldiers used fish as a bribe. "It was by far the most unpleasant service I ever was ordered to execute," noted Lieutenant William Bradley. (see the Bradleys Head Walk in Sydney Harbour for more on Lieutenant Bradley)
Colbee escaped soon after but Bennelong became friendly with Governor Phillip during the nearly six months he was detained.
Bennelong escaped a few weeks after his leg iron was removed.
Four months later, on 7 September 1790, Bennelong sent whale meat inviting Governor Phillip to join his kin feasting on a beached whale here at North Harbour.
Phillip and Bennelong exchanged pleasantries when suddenly a koradjee ('priest' or 'medicine man') speared Phillip through the shoulder. It was most likely ritual payback for Bennelong and Colbee's forced capture.
Phillip recovered and Bennelong subsequently chose to visit him weekly for lunch.
On Bennelong's request, Governor Philip built him a brick hut where the Sydney Opera House now sits. This area became known as Bennelong Point. (Discover this area on the Sydney City Walk.)
A Long Journey
Remarkably for a semi-nomadic hunter gatherer who had had no contact with Europeans until four years earlier, Bennelong accompanied Phillip on his return trip to England in 1792.
Like many first-time visitors to London, Bennelong saw St Paul's Cathedral, the Tower of London and went to the theatre. After nearly three years away from home – half of which was spent at sea – he returned to Sydney, continuing to act as an interlocutor with the new Governor.
In a letter to Philip he later wrote "Not me go to England no more. I am at home now."
Facilities at North Harbour Reserve, Balgowlah
If you weren't so spoiled for choice along the Spit to Manly Walk, then here would be a great spot for a picnic (our preference is actually Clontarf Beach because it has safe and accessible swimming).
North Harbour Reserve in Condamine Street, Balgowlah has free street parking (if you haven't walked!), an open grassed area, electric barbecues with seating, and a shaded children's playground. There are also public toilets.
A short detour from the waterside walking track – but situated conveniently at the southern end of the reserve in Beach Lane – is a delicious-looking cafe Forty Beans, if you need a caffeine (or cake) fix.
Where to go next on the Spit to Manly Walk
Exit via the steps at the far end of the reserve, up into King Avenue, following it to the T intersection. Turn right on to Lauderdale Avenue. After 50m, a concrete path on your right continues all the way to Manly along the water's edge.
Stop at the old stone fence and towering Norfolk Island Pines just before Fairlight Beach.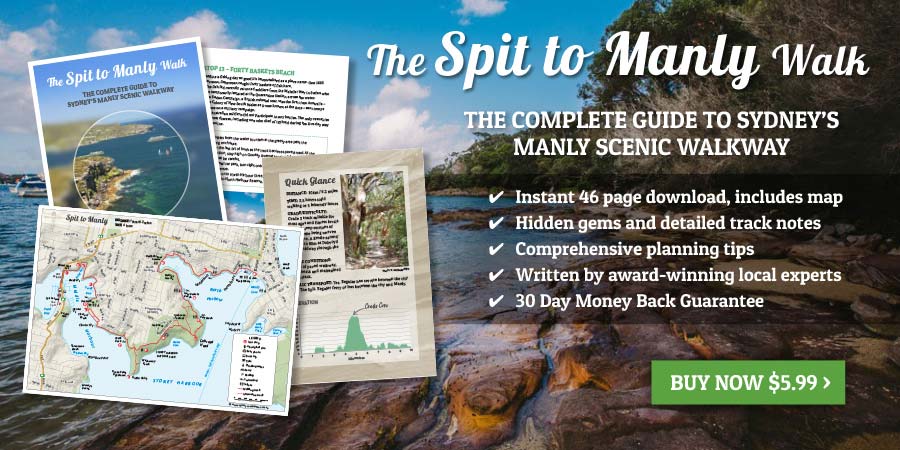 Read more about the Spit to Manly Walk.
Get everything about the walk (track notes, stories, map, getting there, and more) by downloading the Spit to Manly Complete Guide (includes map). Or just grab the Spit to Manly Coastal Walk Map.
Jump to any stop by clicking on the name below.
Stop 1: Ellery's Punt Reserve
Stop 2: Fisher Bay 'Midden'
Stop 3: Fisher Bay Houseboat
Stop 4: Sandy Bay, Hawkesbury Sandstone
Stop 5: Clontarf Reserve
Stop 6: Clontarf Pumping Station
Stop 7: Castle Rock Beach
Stop 8: Grotto Point Lighthouse
Stop 9: Grotto Point Aboriginal Engraving Site
Stop 10: Crater Cove
Stop 11: Dobroyd Head
Stop 12: Reef Beach
Stop 13: Forty Baskets Beach
Stop 14: North Harbour Reserve – you are currently on this page
Stop 15: Fairlight House
Stop 16: Manly Wharf
Image courtesy of Tourism Australia