Fairlight Beach is Stop 15 on the Spit to Manly Walk, as seen in the downloadable Spit to Manly Complete Guide and Map.
How to get to Fairlight Beach
If walking from The Spit to Manly, approaching from North Harbour Reserve… a concrete path ontinues all the way to Manly along the water's edge.
Stop at the old stone fence and towering Norfolk Island Pines just before Fairlight Beach.
If driving, access to Fairlight Beach is via a pedestrian laneway off Fairlight Crescent (opposite Arlington Drive), or  via  another small pedestrian laneway between 9 and 11 Lauderdale Avenue, Fairlight. Limited street parking will be in demand on sunny weekends.
Manly's Beginnings
A retired English merchant, Henry Gilbert Smith, is responsible for Manly's emergence as we know it today.
In the 1850s, Smith envisioned his considerable land-holdings being developed as an English-style seaside resort town.
To attract Sydneysiders, he began the first ferry service from town and built the Pier Hotel opposite the wharf. Residential blocks sold slowly while Smith developed infrastructure. He donated land for parks, schools, churches, a school of arts and a police station. The third iteration of Smith's original Steyne Hotel still stands on The Corso.
About Fairlight House
The sandstone fence is all that remains of a beautiful two-storey 1850s Georgian mansion built by Smith as his family's residence. The huge Norfolk Island Pines, not native to mainland Australia, were planted by the succeeding owner.
Ironically, a developer bought historic Fairlight House in 1939, demolishing it to make way for a block of flats.
While a person is responsible for the area's development, a short-lived law is to thank for this waterside greenspace.
For eleven years from 1831, NSW land sales were governed by a 100-foot wide foreshore reservation, irrevocably excluding the waterside from private ownership.
All the waterfront properties between Manly Wharf and Balgowlah and Reef Beach, as well as along the Manly beachfront, were first sold by the government while this clause was in place.
Facilities at Fairlight Beach
There is an ocean rock pool and public toilets. Look out for the water fountain to refill drink bottles.
Where to go next on the Spit to Manly Walk
After passing the former Sea Life Sanctuary and Manly art gallery at the western end of Manly's harbourside beach (the iconic ocean beach is on the other side of the peninsula), you're walking along the Pathway of Olympians. This walkway ends at Manly Wharf.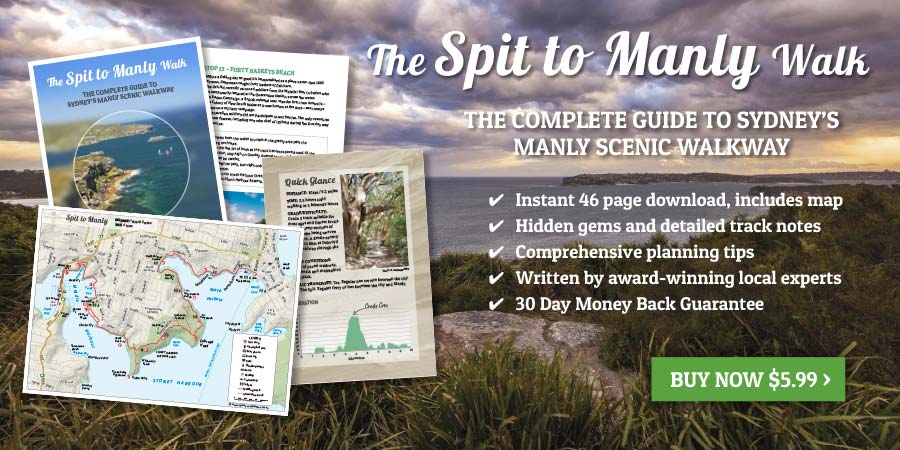 Read more about the Spit to Manly Walk.
Get everything about the walk (track notes, stories, map, getting there, and more) by downloading the Spit to Manly Complete Guide (includes map). Or just grab the Spit to Manly Coastal Walk Map.
Jump to any stop by clicking on the name below.
Stop 1: Ellery's Punt Reserve
Stop 2: Fisher Bay 'Midden'
Stop 3: Fisher Bay Houseboat
Stop 4: Sandy Bay, Hawkesbury Sandstone
Stop 5: Clontarf Reserve
Stop 6: Clontarf Pumping Station
Stop 7: Castle Rock Beach
Stop 8: Grotto Point Lighthouse
Stop 9: Grotto Point Aboriginal Engraving Site
Stop 10: Crater Cove
Stop 11: Dobroyd Head
Stop 12: Reef Beach
Stop 13: Forty Baskets Beach
Stop 14: North Harbour Reserve
Stop 15: Fairlight House – you are currently on this page
Stop 16: Manly Wharf