Dobroyd Head is Stop 11 on the Spit to Manly Walk, as seen in the downloadable Spit to Manly Complete Guide and Map.
How to get to Dobroyd Head
If walking from Crater Cove… Go past the turn-off to Arabanoo Lookout, continuing on the track to Manly.
Your first reveal of Manly comes 100m past this track junction. Pause to enjoy it before passing another track junction (to Beatty Street).
Go straight until you see a steel handrail and lookout on the right, just off the track. This is Dobroyd Head Lookout.
Dobroyd Head
The first known non-Aboriginal person to see Sydney Harbour was Lieutenant (later Captain) Cook of the Royal Navy. Sailing past in 1770 he noted in his log that it "appear'd to provide safe Anchorage, which I called Port Jackson."
Eighteen years later, Captain Phillip landed at Botany Bay, 20km south of here, with the eleven ships of the First Fleet.
Within days he found Botany Bay unsuitable for the new British penal colony as it had poor soil, no secure anchorage and no reliable water source.
On 21 January 1788 Captain Phillip set out from Botany Bay in three long boats to explore Port Jackson's potential.
After rowing into a stiff nor'easter all morning, they reached the heads and sailed down Middle Harbour, on your right, towards the Spit.
Still scouting, they returned around this headland to North Harbour, with Captain Phillip naming Manly due to the "confident and manly behaviour" of the local Aboriginal people.
Before dusk they sailed back across "the finest Harbour in the world" to the beach inside South Head, calling it Camp Cove, at present day Watsons Bay (explore this area on the Watsons Bay Walk). Here they stayed the night: the first Europeans to call Sydney home.
Five days later – on 26 January 1788, what is now Australia Day – the rest of the Fleet followed to Sydney Cove.
View of the Quarantine Station
The old Quarantine Station sits across the water on the shoreline of North Head. Selected as the first safe anchorage inside the heads and for its isolation from Camp Cove, it was built in the 1830s to prevent smallpox, Spanish flu and bubonic plague from entering the colony.
The heritage buildings now house boutique hotel Q Station, a restaurant and ghost tours (bookable directly through Q Station).
Where to go next on the Spit to Manly Walk
The track to Reef Beach is typical coastal sandstone heath, where banksia, grevillea and grass trees abound.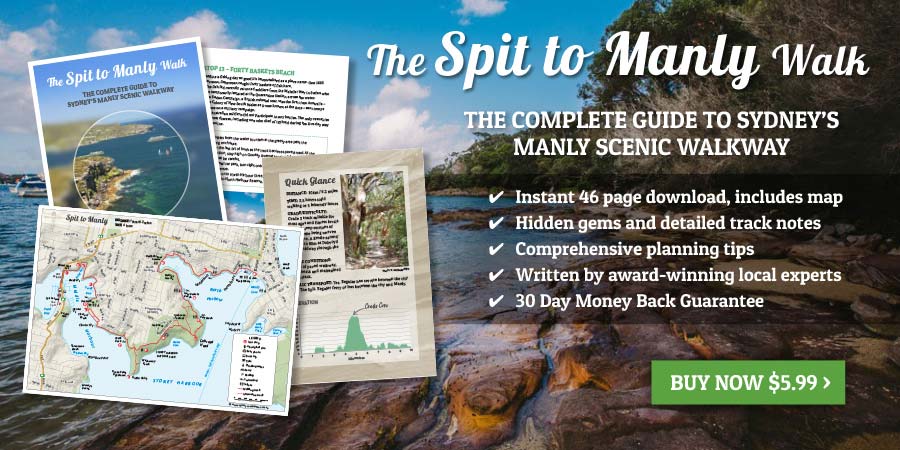 Read more about the Spit to Manly Walk.
Get everything about the walk (track notes, stories, map, getting there, and more) by downloading the Spit to Manly Complete Guide (includes map). Or just grab the Spit to Manly Coastal Walk Map.
Jump to any stop by clicking on the name below.
Stop 1: Ellery's Punt Reserve
Stop 2: Fisher Bay 'Midden'
Stop 3: Fisher Bay Houseboat
Stop 4: Sandy Bay, Hawkesbury Sandstone
Stop 5: Clontarf Reserve
Stop 6: Clontarf Pumping Station
Stop 7: Castle Rock Beach
Stop 8: Grotto Point Lighthouse
Stop 9: Grotto Point Aboriginal Engraving Site
Stop 10: Crater Cove
Stop 11: Dobroyd Head – you are currently on this page
Stop 12: Reef Beach
Stop 13: Forty Baskets Beach
Stop 14: North Harbour Reserve
Stop 15: Fairlight House
Stop 16: Manly Wharf
Image courtesy of Hamilton Lund, Destination NSW