Fisher Bay is Stop 2 on the Spit to Manly Walk, as seen in the downloadable Spit to Manly Complete Guide and Map.
If walking from Ellery's Punt Reserve… after the rocky overhang, pause on the raised timber walkway. Look to your left to notice oyster shells piled at the foot of the rock face.
Fisher Bay
Long before the Brits plonked a penal colony in "terra nullius" (latin meaning "nobody's land" or "uninhabited land"), Australia's landscape showed evidence of at least 50,000 years of occupation.
Like all coastal Aboriginal people, the diet of the Gai-mariagal people of this area was largely seafood and shellfish. It's the evidence of this diet which we see in middens today.
A midden is the remains from generations of feasting, containing piles of shells, stone tools, bones and ash from cooking fires.
As you walk around Sydney's foreshore, keep an eye out for middens; they are the most common and most visible type of Aboriginal site along the coast.
A midden's telltale signs are sun-bleached white shells – usually oysters or cockles – often fragmented, in areas near freshwater. Middens can range from a few scattered shells to metres-thick deposits buried beneath vegetation.
The shells you can see at the base of this rock face however, have most likely been washed in by tides and storms rather than a midden site.
There are concealed middens in this area, higher up in the landscape on the point between Fisher Bay and Sandy Bay.
Sydney's middens are a fraction of the size they would have been prior to European arrival. Colonialists of the late 18th century needed lime to make mortar for stone buildings. Burning shells – of which middens were an abundant source – was a time-proven way of extracting lime.
For more Sydney middens, see the Jibbon midden in Royal National Park, and the one stretching along the rear of Reef Beach.
For a well-preserved example of shell lime mortar, see Reynolds' Cottages on our Sydney City Walk.
Where to go next on the Spit to Manly Walk?
Continue along the water's edge and up the timber stairs.
Stop on the bridge to see the subtropical vegetation thriving here. South facing gullies like this are glimpses into Sydney's ancient past when rainforests proliferated in the cooler, wetter climate.
Follow the track until you see the houseboat moored ten metres out in the bay.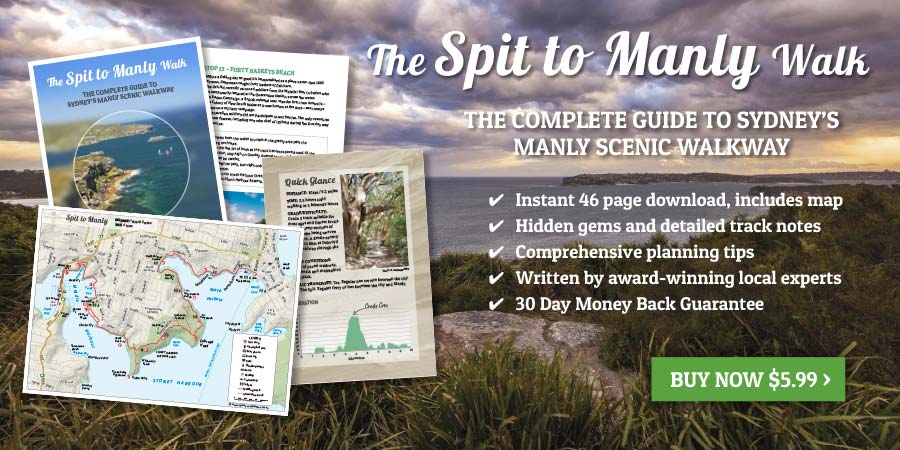 Read more about the Spit to Manly Walk.
Get everything about the walk (track notes, stories, map, getting there, and more) by downloading the Spit to Manly Complete Guide (includes map). Or just grab the Spit to Manly Coastal Walk Map.
Jump to any stop by clicking on the name below.
Stop 1: Ellery's Punt Reserve
Stop 2: Fisher Bay 'Midden' – you are currently on this page
Stop 3: Fisher Bay Houseboat
Stop 4: Sandy Bay, Hawkesbury Sandstone
Stop 5: Clontarf Reserve
Stop 6: Clontarf Pumping Station
Stop 7: Castle Rock Beach
Stop 8: Grotto Point Lighthouse
Stop 9: Grotto Point Aboriginal Engraving Site
Stop 10: Crater Cove
Stop 11: Dobroyd Head
Stop 12: Reef Beach
Stop 13: Forty Baskets Beach
Stop 14: North Harbour Reserve
Stop 15: Fairlight House
Stop 16: Manly Wharf