The houseboat at Fisher Bay is Stop 3 on the Spit to Manly Walk, as seen in the downloadable Spit to Manly Complete Guide and Map.
If walking from The Spit and Fisher Bay… Follow the track until you see the houseboat moored ten metres out in the bay.
Fisher Bay Houseboat
During the Depression there were up to 32 legal residential houseboats moored in Middle Harbour. Today only four remain; this one – which started life as a steel-hulled barge – and three others in Pearl Bay, on the other side of Spit Bridge.
In the late 1940s, this houseboat was briefly the childhood home of local resident Dennis Francis who recalls;
I was seven then, and Mum cooked on a Primus [gas stove] and we generated our own electricity.

Sometimes we walked around the bush track to catch the tram to school but ticks were a worry so mostly we rowed across to Mrs Ferguson's boatshed and then left our dinghy there till after school. I remember carrying big blocks of ice in our dinghy for our ice chest.

We regularly beached the houseboat and repainted the hull. My sister and I would often watch hundreds of dolphins playing from our bedroom window. We cooked and ate [mussels] from off the pylons of the old Spit Bridge.
Read more of Dennis Francis' memories in his oral history of Mosman.
Where to go next on the Spit to Manly Walk?
Follow the track around the headland. A sign refers to a nearby Aboriginal midden but the midden is difficult to see. Like all Aboriginal sites, middens are legally protected areas and the raised walkway was constructed to preserve it.
Continue on the track to Sandy Bay. Stay on the concrete footpath near the water, stopping when you see a large sandstone overhang on the other side of the road, facing across the bay.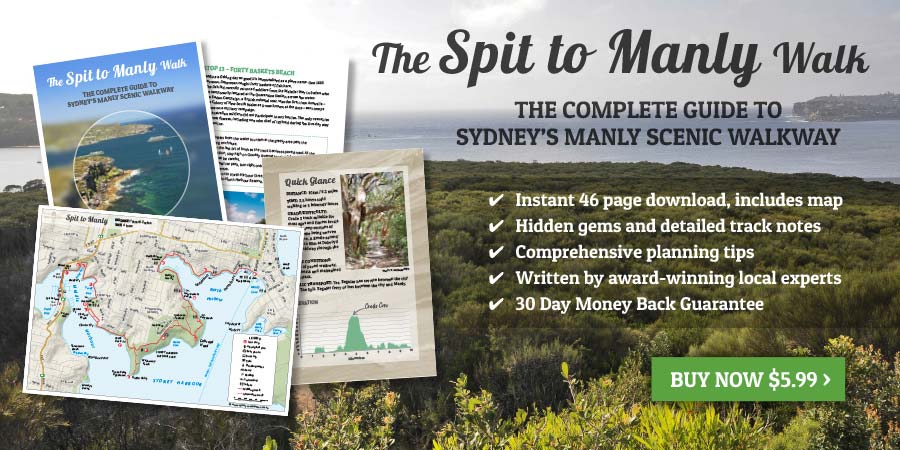 Read more about the Spit to Manly Walk.
Get everything about the walk (track notes, stories, map, getting there, and more) by downloading the Spit to Manly Complete Guide (includes map). Or just grab the Spit to Manly Coastal Walk Map.
Jump to any stop by clicking on the name below.
Stop 1: Ellery's Punt Reserve
Stop 2: Fisher Bay 'Midden'
Stop 3: Fisher Bay Houseboat – you are currently on this page
Stop 4: Sandy Bay, Hawkesbury Sandstone
Stop 5: Clontarf Reserve
Stop 6: Clontarf Pumping Station
Stop 7: Castle Rock Beach
Stop 8: Grotto Point Lighthouse
Stop 9: Grotto Point Aboriginal Engraving Site
Stop 10: Crater Cove
Stop 11: Dobroyd Head
Stop 12: Reef Beach
Stop 13: Forty Baskets Beach
Stop 14: North Harbour Reserve
Stop 15: Fairlight House
Stop 16: Manly Wharf