Sandy Bay Sydney (Clontarf) is Stop 4 on the Spit to Manly Walk, as seen in the downloadable Spit to Manly Complete Guide and Map.
If walking from the Fisher Bay houseboat… Continue on the track to Sandy Bay. Stay on the concrete footpath near the water, stopping when you see a large sandstone overhang on the other side of the road, facing across the bay.
Hawkesbury Sandstone at Sandy Bay Sydney
Around 250 million years ago when dinosaurs still roamed supercontinent Pangaea, this was a giant floodplain.
Ancient rivers flowing down into what is now the Sydney Basin carried sand and mineral deposits that eventually formed rock. That rock is Hawkesbury Sandstone.
Hawkesbury Sandstone is mainly quartz, cemented together with clay. But it's the one to three per cent iron oxide that make this rock so eye-catching.
When iron comes into contact with moisture and reacts with oxygen lingering between silica grains – slowly, slowly – it rusts, becoming iron oxide. These bands of brown, white and pink colouring – or Liesegang rings to geologists – gives the rock its distinctive colours.
Many of Sydney's early government buildings and wealthy Georgian-era houses were built with Hawkesbury Sandstone, including Customs House at Circular Quay, Government House on Macquarie Street, and the Art Gallery of New South Wales, as well as St Andrew's and St Mary's Cathedrals in the city, as seen on the Sydney City Walk.
A more well-known example of Hawkesbury Sandstone in nature is Wedding Cake Rock in Sydney's Royal National Park – unique in its whiteness.
Where to go next on the Spit to Manly Walk?
Follow the concrete footpath past Clontarf Marina (former base of Ben Lexcen, designer of the winged keel that helped Australia II win the 1983 America's Cup) and around to Clontarf Reserve, where it disappears near the playground.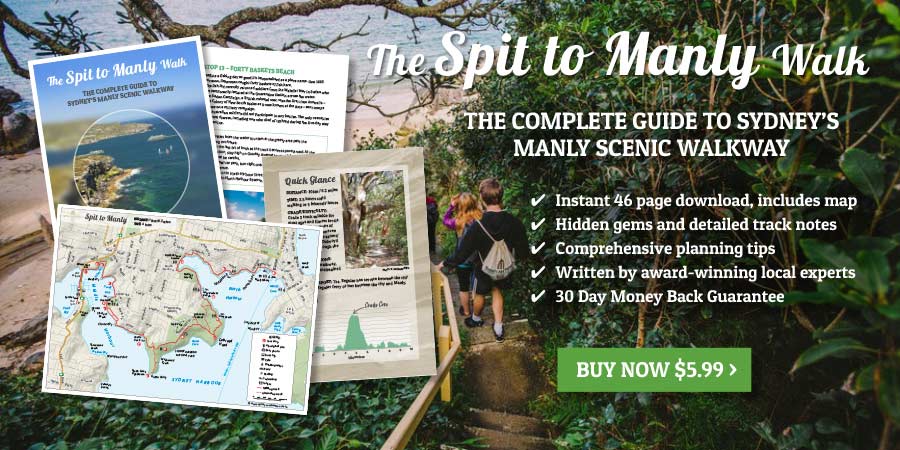 Read more about the Spit to Manly Walk.
Get everything about the walk (track notes, stories, map, getting there, and more) by downloading the Spit to Manly Complete Guide (includes map). Or just grab the Spit to Manly Coastal Walk Map.
Jump to any stop by clicking on the name below.
Stop 1: Ellery's Punt Reserve
Stop 2: Fisher Bay 'Midden'
Stop 3: Fisher Bay Houseboat
Stop 4: Sandy Bay, Hawkesbury Sandstone – you are currently on this page
Stop 5: Clontarf Reserve
Stop 6: Clontarf Pumping Station
Stop 7: Castle Rock Beach
Stop 8: Grotto Point Lighthouse
Stop 9: Grotto Point Aboriginal Engraving Site
Stop 10: Crater Cove
Stop 11: Dobroyd Head
Stop 12: Reef Beach
Stop 13: Forty Baskets Beach
Stop 14: North Harbour Reserve
Stop 15: Fairlight House
Stop 16: Manly Wharf