There are so many bush walks in Royal National Park that it can be hard to know where to begin. Sure, you've probably heard of The Coast Track, so let's explore more of the best walks in Royal National Park.
But first, a story…
About Royal National Park
Once upon a time, a long long time ago, there were no national parks. Not here, not anywhere. Then, the folks over in the United States stuck a National Park label on Yellowstone. And a few years later, Australia was next to get in on the act.
In April 1879, Royal National Park on Sydney's outskirts, became the second national park in the world. Back then, it was just The National Park (no need to be more specific with only one in the country).
It took until 1955 – a year after Queen Elizabeth II visited Sydney and travelled through the National Park – that it was re-named Royal National Park.
Scroll down to find out more, or skip straight to the section you need.
Best Royal National Park Hikes
Royal National Park has more than 100km of walking tracks to explore, nearly 300 species of birds within the parks' boundaries, wildlife such as rock wallabies and echidna, and the most pristine coastline of any major city.
How to Get to Royal National Park
We go into detail about how to get to the track's starting point for each specific walk (click through the links above), but generally speaking there are four access points to get into Royal National Park.
The park is in southern Sydney, so assuming you're coming from the city centre, you're heading to near Sutherland.
By Car
You can enter Royal National Park via Farnell Avenue, Loftus. Just past Sutherland.
Best for Audley, Bundeena and Wattamolla.
Good for Garie Beach and Garawarra Farm (entry point to Figure 8 Pools) too.
Also the best scenic drive through the whole park via a coffee stop at Audley.
Or via McKell Avenue, Waterfall. Keep driving south on the A1.
Best for Garie Beach, Garawarra Farm car park for Figure 8 Pools and Eagle Rock walks.
Good for Wattamolla and Lady Carrington Drive too.
Or take a scenic drive to Otford and onwards to Seacliff Bridge.
Or via Lady Wakehurst Drive, Otford.
Perfect for the southern end of The Coast Track including Palm Jungle and Figure 8 Pools.
Getting to Royal National Park by Public Transport
By Ferry
Catch the Bundeena ferry from Cronulla Ferry Wharf (Tonkin St, Cronulla) to Bundeena. It's a beautiful 20 minute trip across the Hacking River and worth a journey even if you're not planning to walk.
The wharf is a few minutes walk from Cronulla train station. Cronulla is on the blue Illawarra line, direct from most city train stations as well as Bondi and Kings Cross.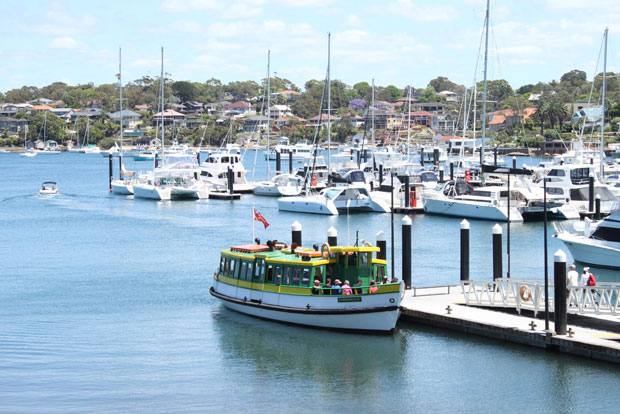 From Bundeena wharf, it's a 25 minute walk through the village (grab a coffee from a cafe first) up to the walking track entry points: best for the Jibbon walk or the northern start of the Coast Track, and Wedding Cake Rock.
By Bus
This year (2020) has seen the introduction of a shuttle bus for all those hard-to-reach places. The new Park Connections bus makes catching the train easier as the bus takes you right from numerous train stations to popular locations within the park. Or you could use the bus at the end of a walk to be dropped back at your car parked within the National Park.
Bus stops include:
Sutherland train station
Otford train station
Bundeena Wharf
Audley
North and south ends of The Coast Track
Wattamolla
Garie Beach
Garawarra Farm carpark (the start point for the walk to Figure Eight Pools)
With sectors starting from $9, or an all-day pass for $15, it's not especially cheap (check fares) but it is convenient and provides access to places that previously relied on having a car.
It is recommended to book in advance to guarantee a seat, although it is possible to pay the driver.
Opal cards (Sydney's pre-paid transport card) are not valid on this private bus service.
By Train
Regular train services run every half hour on weekends and far more often in peak times. There's free parking at Cronulla too.
Alternatively, catch the train to Otford Station. Then it's a 20 minute walk up a steep hill to get to the entry point to the National Park and the Coast Track, southern access point to Royal National Park.
Otford is on the South Coast line, with trains from Central Station running regularly but infrequently – usually once per hour or even once every two hours on a Sunday afternoon.
Loftus and Waterfall train stations provide access to walking tracks in the western part of the park, like Karloo Pools. But you can not – I repeat, can not – get to The Coast Track (or Wedding Cake Rock or Figure 8 Pools) from either of these train stations.
Royal National Park Maps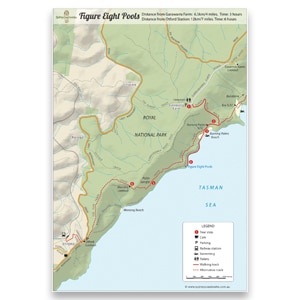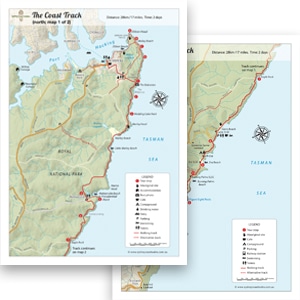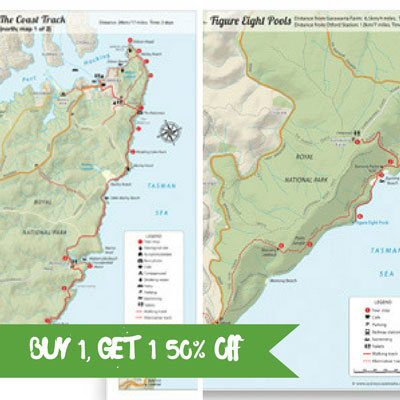 Tips From a Local
We love walking in Royal National Park – it's essentially where Ian and I grew up – but… I say this as a friend: there are some days it's best not to go at all. Or to get there really early.
Public holidays on a beautiful summer's day are the worst. So avoid Christmas and Boxing Days, New Year's Day and Australia Day. Car parks fill up, the one and only road through Royal is congested, and the picnickers descend.
That said, you're walking, right? So in theory you'll be far from the madding crowds. Choose a less popular walk that day, be prepared, and you'll be right mate.
Royal National Park Accommodation
Let's get this straight: Royal National Park is in Sydney… but it's right on the southern edge.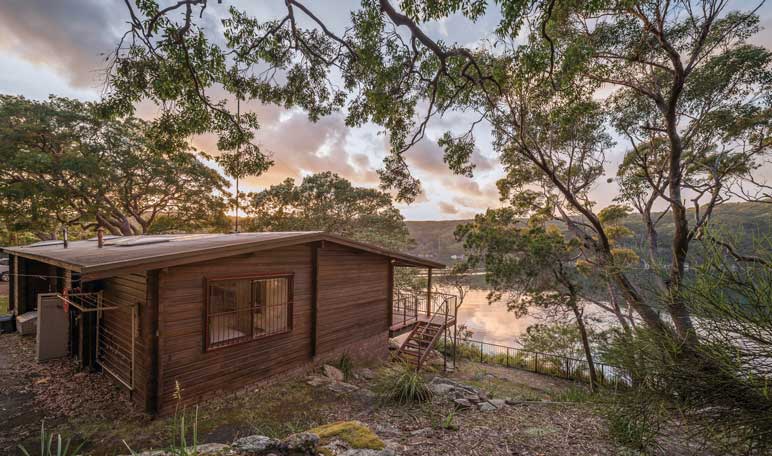 So we've detailed exactly where to stay, whether you're after a hotel, AirBnB, B&B, or even if you're camping or caravanning. Read more about Royal National Park accommodation.
Royal National Park Contacts
In busy times, follow @ROYALbusy on Twitter for regular, real-time updates on the amount of parking available in the park, and traffic info.
For more, contact the Royal National Park Visitor's Centre on (02) 9542 0648.
Royal National Park Tours
This section contains affiliate links, meaning we may receive a small commission if you make a purchase.
As the popularity of Australia's oldest national park has grown, so too have the options when it comes to joining a guided tour. These have the benefit of covering a lot of ground in a short amount of time, with a knowledgable guide who can skip straight to the good stuff.
The most popular of these is the guided walk to Figure 8 Pools, with transfers from the city centre.
There's also a bus/walking tour taking you to the Jibbon Aboriginal carvings and Garie Beach. Or a few that spend longer time in the vehicle but will get you further south to the fabulous Sea Cliff Bridge on the southern side of the park. Check out all the Royal National Park tours (they include TripAdvisor reviews so you can read others' experiences before booking).
So, that's the best of walking in Royal National Park!
With all these bushwalking options, it's no wonder Royal National Park is a favourite escape for Sydney-siders. It's a pleasure to share some of the best Royal National Park walks with you, after all, this park is where it all started for us. The only problem now is choosing which walk to tackle this weekend!