On the city's southern edge, footsteps of the people who walked before us echo across the land.
On the beach and in the bush, there's hidden evidence of a life well-lived… you simply need to know where to look.
Highlights of the Jibbon Aboriginal Carvings Walk
Leave the first footprints on a near deserted Sydney beach
See a 3000 year old Dharawal Aboriginal shell midden
Admire 1000 year old Aboriginal artwork engraved into stone
Smell and taste plants used as medicine and food for thousands of years
Quick Start Guide
Distance: 5km (3 miles) return from Bundeena ferry wharf.
Time: 3 hours return, comfortable pace.
Track conditions: Good, well marked bush track. No track marked along Jibbon Beach (soft sand walking).
Mountains to climb?: Relatively flat. Elevation approximately 10 metres.
Water: No
Public transport: Yes, train to Cronulla, then ferry to Bundeena.
Coffee: Yes. A few cafes to choose from in Bundeena. Our favourite is the Driftwood Cafe.
Toilets: Near Bundeena ferry wharf only.
Mobile phone reception: Yes
Swimming: Unpatrolled beaches at Bundeena and Jibbon.
What to see on this Royal National Park walk?
Only nine generations ago, before European colonisation, Jibbon headland in Royal National Park was home to the Dharawal people.
Standing on Jibbon beach you would have seen women coming ashore from bark canoes (nuwi) with their morning catch of fish (magura). Men returning from their morning hunt with banggarai, the swamp wallaby, and heard the sound of kids laughter (djanaba) at camp.
That was less than 250 years ago. What remains? You'll find a mostly deserted golden sand beach, possibly a sleek sailboat bobbing offshore, and a friendly nod from a local Bundeena resident enjoying the rare coastal seclusion of a place that's still geographically in Sydney.
Take a closer look and you'll discover an open air museum of Aboriginal Sydney, with a culture that still lives on today.
Aboriginal Rock Art in Sydney
Jibbon is home to one of the best preserved Aboriginal rock art sites in Sydney, while still being easily accessible. Now viewed from a steel walkway and viewing platform, the Aboriginal rock carvings on this site date back over a thousand years. There were probably rock carvings at this site even earlier but they've been eroded over time.
Traditional Aboriginal art depicts animals, people and spirits or Dreaming ancestors. Jibbon has all these and more. Biame, the Creator, is prominent. Marloo, the kangaroo and 'bringer of the rain' is also set in stone. However, this Aboriginal rock art site is all about Orca.
Orca and Dharawal hunters had a symbiotic relationship. During the annual humpback migration of winter and spring they worked together to feed the several hundred people who lived around the bay. It was known as the 'law of the tongue' and for this, Orca were sacred.
The same engravings can have varying meanings and stories depending on the age, gender and level of initiation of the listener.
"Meaning is for those who are ready for it, for those who are trained for it. The rest get pretty pictures".
– Les Bursill OAM, Dharawal historian and author.
We have chosen not to show clear images of the actual engravings due to sensitivities around publication of sacred images.
More Aboriginal Carving Sites in Sydney
The Jibbon site is in a typical rock engraving location: an elevated flat sandstone outcrop.
In this way, it is similar to the Grotto Point site on the Spit to Manly Walk, West Head in Ku-ring-gai Chase National Park, and a small site between Bondi and Tamarama Beach.
There are many more sites across Sydney, although not all are marked for public access.
A Rubbish Tip or Something More?
The first hint that Royal National Park is full of living history is behind Jibbon beach.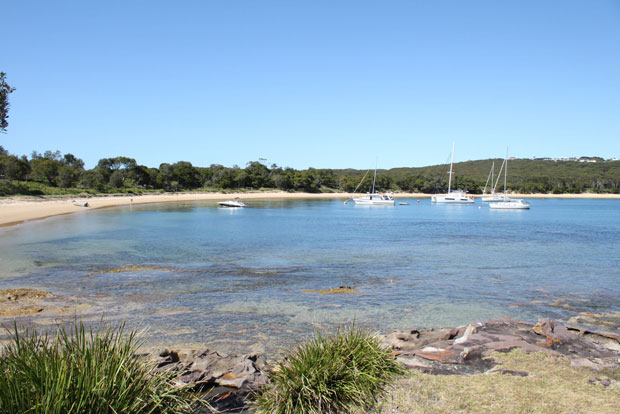 At first glance, and easily overlooked, you'll see a dune overgrown with plants stretching the entire length of the beach. Look closer and you'll see a three metre high pile of empty oyster, mussel and periwinkle shells. You might see discarded fish, wallaby and possum bones, and the remains of cooking fires. It's a Dharawal shell midden.
This midden is around 3000 years old. Sure, that's quite recent compared to the 20,000+ years that Aboriginal people have lived in the Sydney area, but look at it another way: it's 1000 years before the rise of the Roman Empire; it's the time that rice is first cultivated in ancient Japan; and it's the start of the Iron Age in Europe. Got it? Whoa.
An Ancient Aboriginal Campsite
From Jibbon Beach, climb a couple of stairs and walk along a short path to a clearing. There are now steel and stone sculptures representing the nearby Aboriginal rock carvings… but did you know this was a campsite?
Dharawal people created and maintained this campsite over thousands of years through the careful use of fire and plant management. They camped here in the winter months and created a habitat around the camp that attracted animals they wanted to hunt. They also ensured desired fruits and berries would grow in the area thereby creating a larder of food around their campsite.
Discover Traditional Native Plant Uses
Dharawal people, like all Aboriginal people used plants for food, shelter, medicine and tools. They had thorough knowledge of seasonality and practiced sustainability in all aspects of their lives. Every plant had a purpose and we still know quite a few of them today.
Lomandra longifolia may look like a simple spiky shrub. To Dharawal people various parts of the plant were fruit, bread and an energy snack. The leaves were used to make fish traps and weave dilly bags to collect fruits and nuts. They were also used as bandages and in the sacred female initiation ceremony of malgun. All this from one plant.
Getting to Jibbon's Aboriginal Carvings
It's an easy two to three hour walk to explore Jibbon headland in Royal National Park. Read our track notes on how to get to Jibbon's aboriginal carvings.
Australia's oldest national park is not just near Sydney; it's in Sydney. You can catch a train to Cronulla, ferry to Bundeena and enjoy one of the easiest Royal National Park walks only an hour from the city centre.
The Aboriginal carvings walk near Jibbon Beach is a teaser of what you can expect to see if you continue walking south on the full Royal Coastal Track.
Jibbon Map
Download the Jibbon Map ($2.99), includes the full Coast Track for more adventures.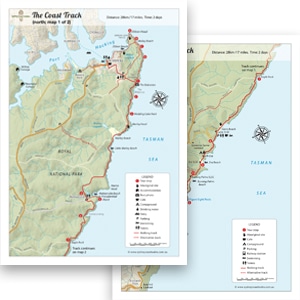 Jibbon Map Information Points
Alternative Stop A: Jibbon Head You are here
Alternative Stop B: Shelley Beach coming soon
Alternative Stop C: Wave Rock coming soon
Alternative Stop D: Canadian cave coming soon
The map follows the full length of Royal National Park's Coast Track.
Stop 1: The Balconies coming soon
Stop 2: The Waterrun coming soon
Stop 3: Wedding Cake Rock
Stop 4: Wattamolla coming soon
Stop 5: Providential Point coming soon
Stop 6: Curracurrang coming soon
Stop 7: Eagle Rock
Stop 8: Little Garie Shack Community
Stop 9: Era Shack Community
Stop 10: Burning Palms coming soon
Alternative Stop E: Figure 8 Pools
Stop 11: Palm Jungle coming soon
Stop 12: Werrong Lookout coming soon
How Do We Know This Aboriginal History?
We – the writers – are not Indigenous Australian. We have learned what we know about the Jibbon Aboriginal site specifically, and about Aboriginal history and culture generally, through many in-depth conversations with Dharawal people, respected Aboriginal elders and academic research from trusted sources.
Our special thanks go to Les Bursill OAM, Dharawal historian and author who so generously shared his time and expertise with Ian on more than one occasion. He will be missed.