Curracurrong Falls, or Eagle Rock in Royal National Park, is one of those rare waterfalls that sometimes looks like it's flowing upwards. It can happen when the wind is strong enough to blow the water droplets back up before disappearing as mist. The waterfall is impressive after sustained rainfall and an extra special sight in windy conditions.
That's Eagle Rock in the top right of the video. Can you pick out the shape of the eagle's beak? It's the iconic imagery on signs for Royal National Park.
Such a large overhang is a rare sight. The heavy Hawkesbury Sandstone usually needs supportive rock underneath or adjoining blocks to lock it in place.
But Eagle Rock is unsupported so it's a ticking time bomb before – boom – gravity takes its toll and it smashes into the water below (like this one at Sydney's North Head). So yeah, not a great idea to go off track and sit on it.
This vantage point of Eagle Rock from the cliffs at Curracurrong Creek is about an hour's walk south of Wattamolla on the Coast Track in Royal National Park. Eagle Rock is Stop 7 on the Royal National Park map.
How to get to Eagle Rock, Sydney
There are three ways to get to Eagle Rock in Royal National Park. They're much of a muchness in terms of time and distance: all about a two hour return walk.
You can walk via:
Wattamolla
Curra Moors Track
Garie Beach
Our favourite track to walk to Eagle Rock is via Wattamolla – it's the most scenic and follows the Coast Track for extraordinary coastal views.
Curra Moors Track is a fairly uninspiring fire trail, but the birdlife and wildflowers are exceptional.
And finally walking to Eagle Rock via Garie Beach – while the most challenging route – offers the tempting summertime reward of a swim at the start or end of the loop walk. So it's up to you…
Getting to Wattamolla
This walk starts from the top car park at Wattamolla (the car park furthest away from the lagoon area). Wattamolla is in Royal National Park, accessed via Sir Bertram Stevens Drive, then Wattamolla Road.
The car park can become very crowded on sunny summer days or public holidays, and is completely closed by authorities once full (check whether Wattamolla is open).
There is no regular public transport to Wattamolla but you could try your luck with a private shuttle bus on Thursdays – Sundays. Check the bus schedule before you go.
Walking Directions to Eagle Rock from Wattamolla
First, grab our easy-to-read Coast Walk map for directions on how to get to Eagle Rock.
From Wattamolla's top car park, the trail is sign-posted "The Coast Track". Walk south, passing the first inlet called Curracurrang. Continue up and over the next headland. The track on the northern side (heading up the hill) is metal grates, so may be slippery in the morning from dew or after rainfall.
Looking south, enjoy the views of Wollongong and surrounds in the distance. If you're lucky, you may catch sight of a second waterfall at Curra Brook that appears only after rain.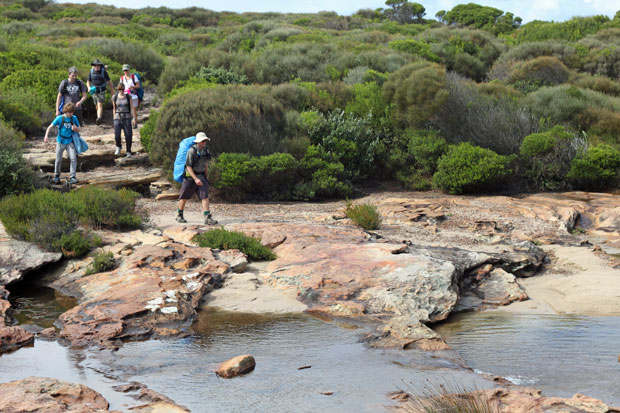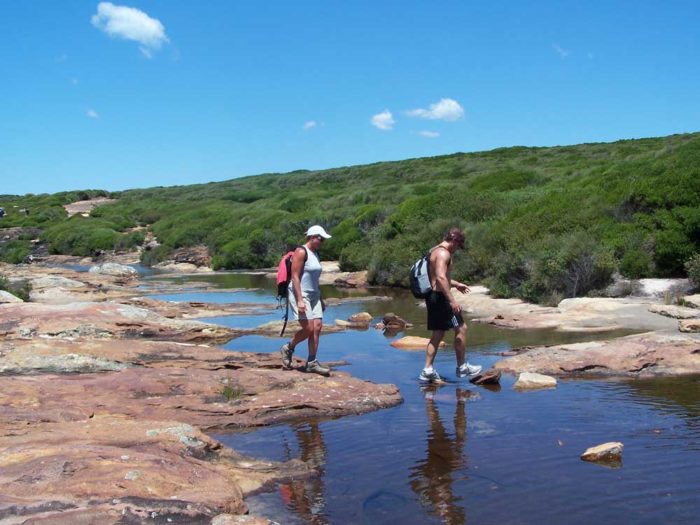 Cross Curracurrong Creek. There are no permanent stepping stones. Your feet will probably stay dry but the crossing will be more challenging after heavy rainfall so be prepared for wet feet.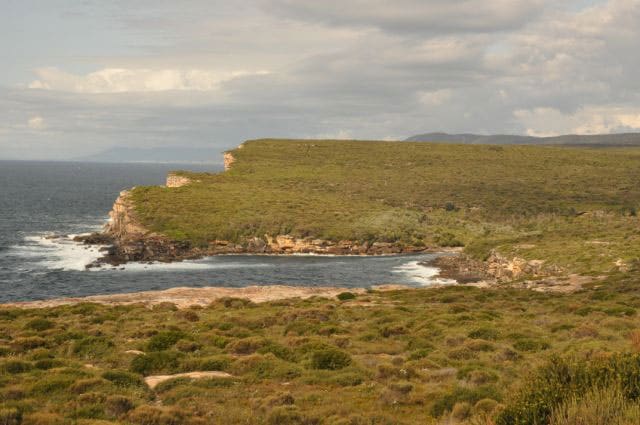 Follow the track around to where it meets the fire trail. Then turn to look back north for a great view of Eagle Rock.
To enjoy an even better vantage point, head underneath the rock overhang that you're now standing on. Follow a little path between the shrubs down towards the creek (don't go anywhere near the rocky edge).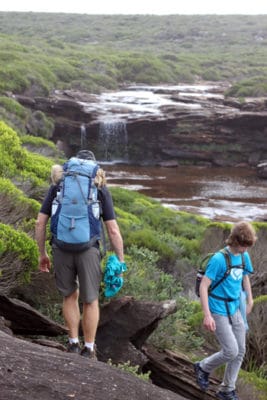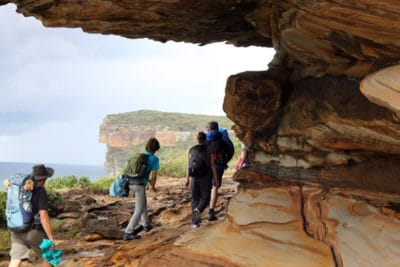 You'll find a cool shelter from sunny weather with a view from the top of Curracurrong waterfall, to it crashing into the ocean down below. It's a refreshing spot to stop for lunch when it's warm, but can get a bit damp on windy days with spray from the waterfall.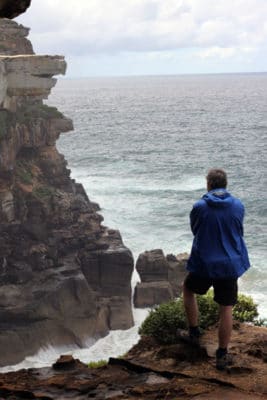 The only way back is to re-trace your steps. The 'there and back' walk to Eagle Rock will take you about an hour each way from Wattamolla, so allow about two and half hours including breaks.
Walking Directions to Eagle Rock from Curra Moors Track
First, grab our easy-to-read Coast Walk map to see how to get to Eagle Rock.
There are two entries to the Curra Moors Track from Sir Bertram Stevens Drive in Royal National Park, but only the southern access-point has car parking. If you see a locked gate, and only enough room for one car to pull-over, that's not it. This is what you're looking for.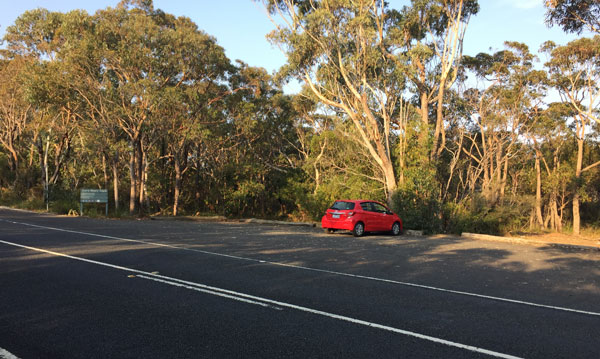 The Curra Moors track starts as a bushwalk along a bush track. After about 1.5km there's an intersection, meeting a fire trail. Don't turn right here, instead keep going straight ahead-ish, in the same direction you were already walking. (This track to the right is also the Curra Moors Track, just to confuse things). You're now walking on a fire trail.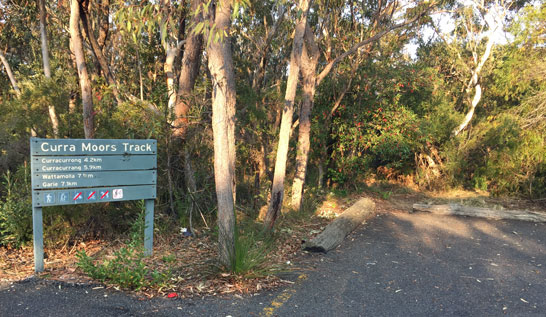 The Curra Moors Track remains a fire trail nearly until Eagle Rock itself. While we don't particularly enjoy walking on these dirt road-like trails, Curra Moors is wonderful for bird-spotting and wildflowers. You may notice green re-growth after the January 2018 bushfires.
After another approximate 1.5km, you'll reach a Y-shaped intersection. This time, you are keeping right, again keeping the coast on your right.
About the same distance again, the Curra Moors track intersects with the Coast Track. Turn left on to the Coast Track. You're just about at Eagle Rock.
As we explained above in the directions from Wattamolla, it's worth heading underneath the rock overhang for a sheltered lunch spot and a great view of Curracurrong Falls and the rock itself.
You may like to head a little past Eagle Rock (if approaching from the south from the Curra Moors Track) to enjoy a cool-off in Curracurrong Creek before heading back.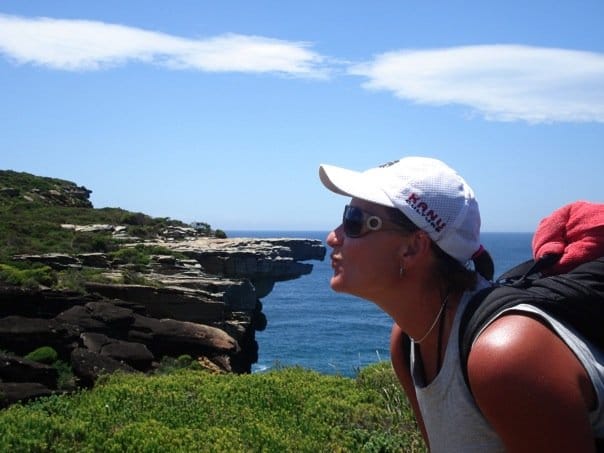 Walking Directions to Eagle Rock from Garie Beach
You can see on the Royal National Park Coastal Track map that walking to Eagle Rock from Garie Beach is as straightforward as following the Coast Track north. Like walking south from Wattamolla (see directions above), this walk will take you about two hours return.
But unlike the walk from Wattamolla, there's one long stretch of soft sand walking and one big, steep headland to walk up and over. That's a 113 metre ascent straight up from sea level. Think of it as training for a charity event walking challenge. And think of the swim at the lifesaver patrolled surf beach of Garie as your reward!
Walking from Garie Beach to Eagle Rock is metal boardwalk the whole way. This part of the track doesn't offer much shelter and can be quite hot and exposed depending on the weather. But it offers amazing views south from Garie North Head, hugs the coastline the whole way and is good for wildflower spotting and whale watching.
Eagle Rock in Sydney is a great taste of the scenery in Royal National Park. If you like what you see, explore more Royal National Park walks.