During late winter and early spring, the bushland in and around Sydney comes alive with wildflowers: Australian native flowers growing wild in nature. They are not planted or tended to by people.
Best Locations for Wildflowers Sydney
There is an abundance of wildflowers in Sydney wherever you find native bushland.
Generally speaking, national parks are ideal, including Royal, Lane Cove and Ku-ring-gai Chase National Parks.
Read on to discover specific places of where to see wildflowers in Sydney, with some of the most popular Australian wildflowers you'll find in NSW detailed below.
A quick glossary to get started:
Heathland is found right near the coast: areas with a shallow layer of sand on a sandstone slab.
Dry sclerophyll forests are found on sand, in gullies and on ridges. These forests are characterised by dense undergrowth of hard leaved shrubs, like Acacia, Boronia, and Grevillea.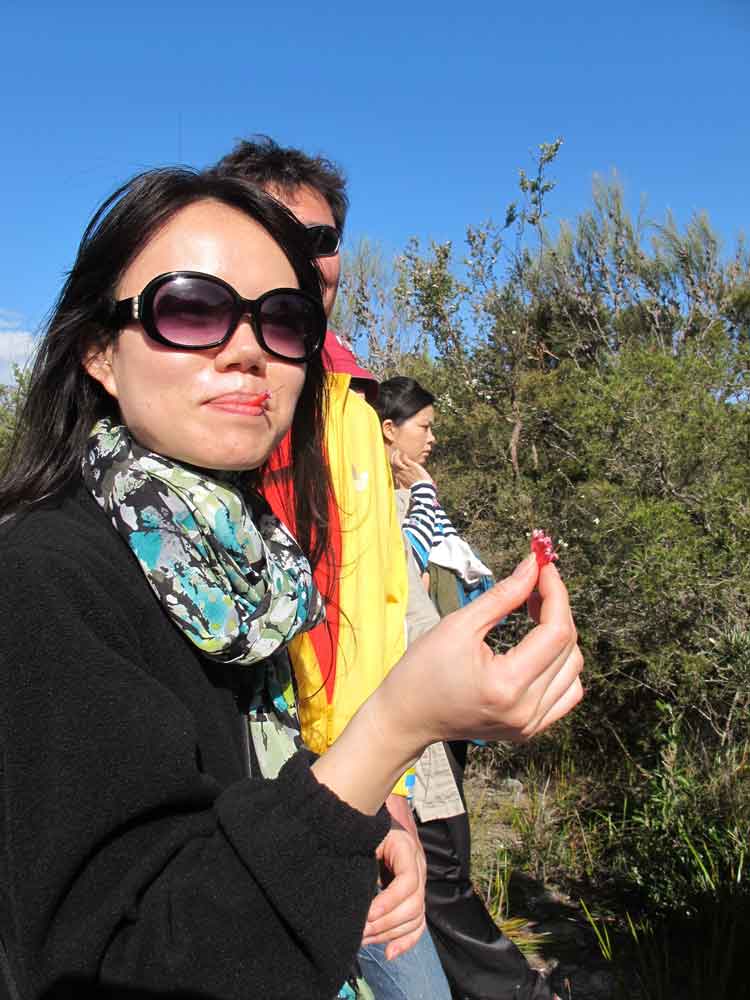 Waratah
Telopea speciosissima
The NSW national flower makes a statement. It's big – 15cm across – and only flowers for two months every year. It grows on a long, tall shrub up to 2 metres high.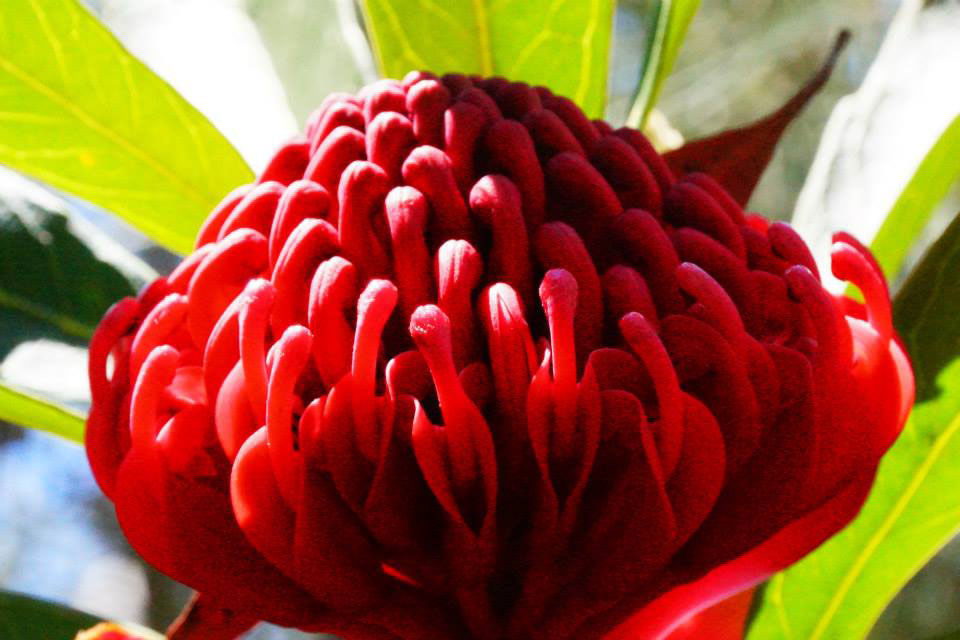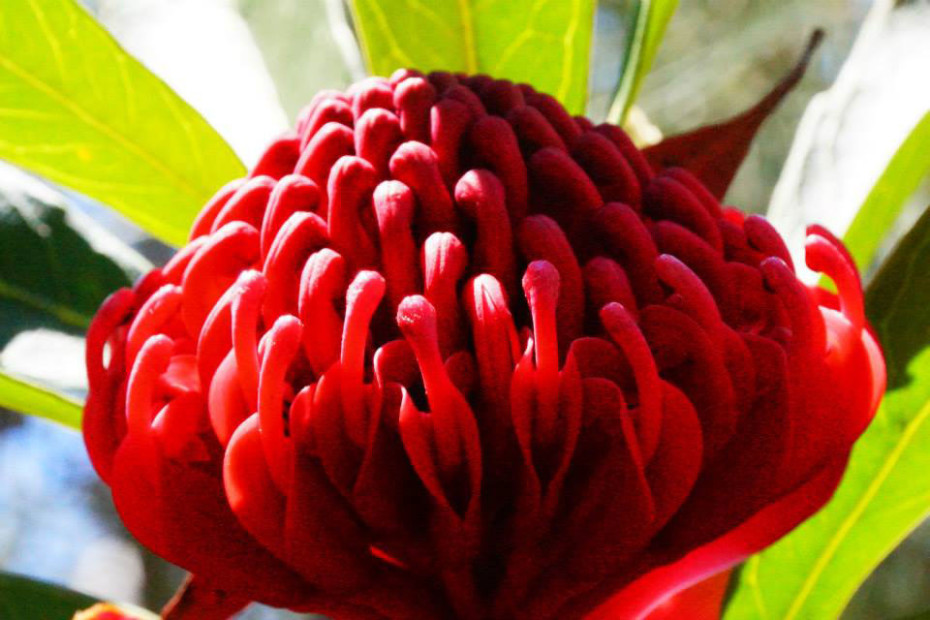 Its Greek/Latin name means "most beautiful (flowers) seen from afar", which is a direct translation from the meaning of the Aboriginal word ''waratah'. Aboriginal people prized nectar from this flower and to see it flowering from afar promised sweet reward.
The naming of the Waratah is one of the few times the original Aboriginal name has been retained.
When does the Waratah flower?
September to October.
Where to find Waratahs?
Rocky places with dense undergrowth in dry sclerophyll forest.
There are usually some Waratahs growing close to the road to Garawarra Farm carpark, access point to Figure 8 Pools and alternative route via the Burgh Track to the Coast Track.
Heath Banksia
Banksia ericifolia
A bright, 20cm long orange flower on a large, bushy shrub or small tree.
In late winter or early spring, look for drops of nectar glistening in the sunlight. Enjoy the sweet aroma and drink the flower's nectar. Run your finger between the rows of petals and lick the sticky sweetness from your finger.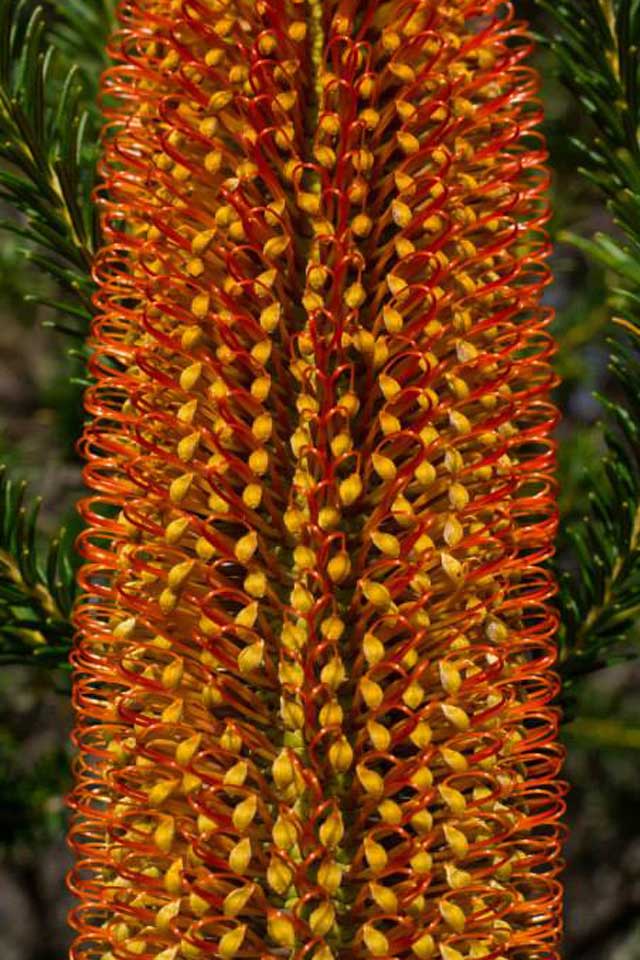 The old dead-looking flowers were used as fire-sticks by the coastal Aboriginal peoples of Sydney (Dharawal, Dharug and Kuringgai) because they burn for a long time and can be easily carried.
When do Banksia flower?
June to August (nectar in September).
Where to find Banksia?
Heathland and dry sclerophyll forest on sandy soils.
It is prolific in Sydney's coastal bushland. A favourite spot for many types of Banksia is on Dobroyd Head, in Sydney Harbour National Park, as there are more than 220 recorded plant species on this one headland.
Flannel Flower
Actinotus helianthi
The creamy white flannel flower is beautifully soft to touch, thanks to its downy hair-like covering.
Along with its pale grey leaves, the hair helps reduce water loss by reflecting sunlight, perfect for dry conditions.
When do Flannel Flowers flower?
Flannel flowers bloom between August to January, with a peak in spring.
Where to see Flannel Flowers?
There's a particularly amazing patch of flannel flowers on the Spit to Manly walk in Sydney Harbour National Park, near the Grotto Point Aboriginal engraving site.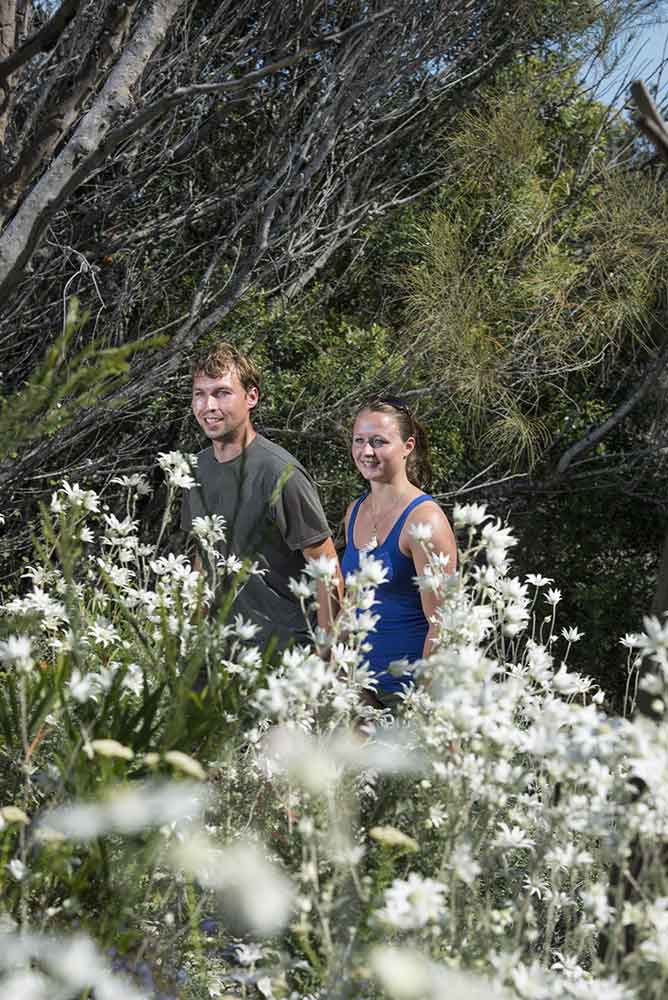 Sydney Golden Wattle
Acacia longifolia
A tall shrub or small tree up to 4m high covered in cylindrical clusters of tiny yellow flowers.
This wildflower is like a bush calendar for Sydney's coastal Aboriginal people. It coincides with the annual whale migration, so when it flowers in June it means the whales will be here soon.
Acacia seeds were also an important source of protein for Aboriginal people.
When does Wattle flower?
June to November.
Where to find it?
Well drained sandy soils on heathland and in dry sclerophyll forest.
Nodding Greenhood, or Parrot's Beak Orchid
Pterostylis nutans
A terrestrial orchid up to 30cm high with a solitary green flower that, not surprisingly, resembles a nodding green hood or a parrot's beak.
Sydney is blessed with a wide variety of orchids. I chose this because the flower is completely green where a lot of orchids are partially green.
This one only flowers for two months so you need to time it right. It is a quite common orchid species that hangs out with its mates in damp sheltered areas.
When does it flower?
August to September.
Where to see native orchids?
Sheltered damp locations amongst leaf litter in dry sclerophyll forest.
Did You Know?
It is really hard to find a green flower. The green parts of plants are full of chlorophyll to perform photosynthesis, ie transform sunlight into food and energy.
Flowers are part of the reproductive cycle whose purpose is to attract birds and insects to help pollinate the plant. Brighter, more distinct flowers attract more pollinators.
Blue Dampiera
Dampiera stricta
A small, spindly shrub up to 40cm high with 2cm flowers. This native wildflower is so blue it nearly looks out of place in the Sydney bush.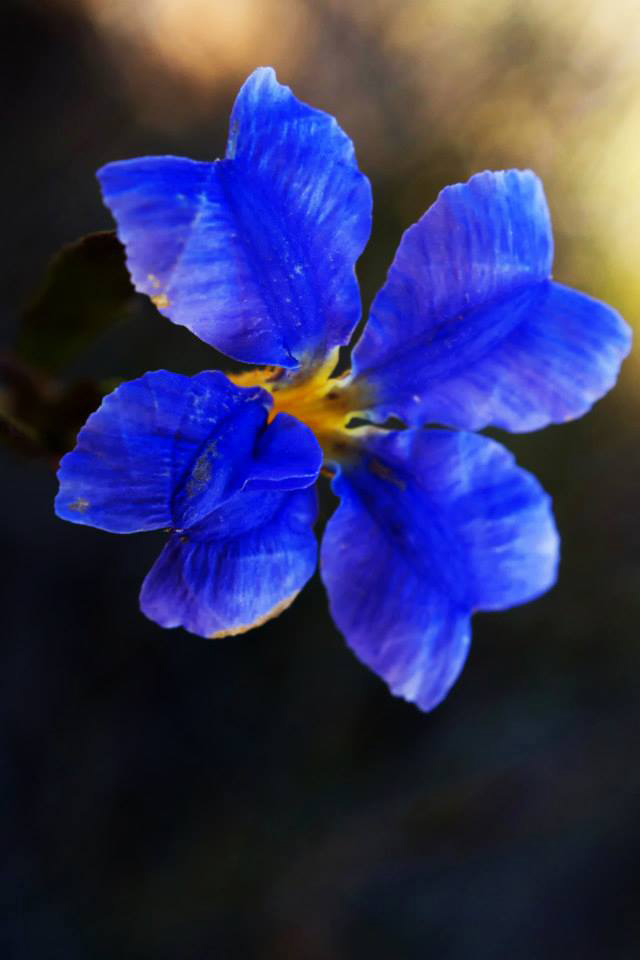 Named after William Dampier, keen botanist, pirate and first Englishman to explore Australian waters. Despite being pursued by the Spanish, marooned on a deserted island and nearly wrecked in a storm in Indonesia, Dampier was able to preserve his collection of Australian plants to publish on his return to England.
When does it flower?
August to January.
Where to find it?
Sandy soils on heathland and in dry sclerophyll forest.
Silky Purple Flag or Native Iris
Patersonia sericea
A three petaled flower growing from a small shrub approximately knee high.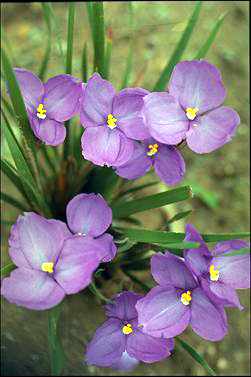 When you see it take a closer look at the plant. You might be lucky to find the larva of an Iris Skipper butterfly feeding in a silky shelter woven between the leaves.
Named after Lt. Col. William Paterson of the NSW Corps, who collected and sent plant specimens to Joseph Banks, the father of Australian botany, in London.
When does it flower?
July to December.
Where to find it?
Dry sclerophyll forest and heathland.
Paroo Lily
Dianella caerulea var. producta
A sprawling herb up to 1m high with flowers growing on a leafy stalk projecting from the clump.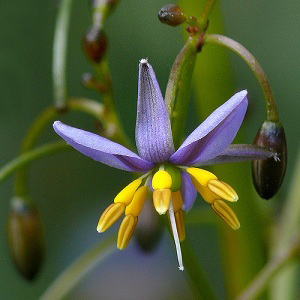 This variation is the most common and was called the 'snake whistle' by Aboriginal people. Its leaves were used to make a whistle which had a pitch similar to a wren's call. This attracted snakes which could then be caught for food. Leaves were used to weave into baskets and mats or stripped to make into rope.
The bright blue/purple berries were also eaten when ripe in late summer.
When does it flower?
October to February.
Where to find it?
Dry sclerophyll forest and heathland on sandy soils.
More Sydney Wildflowers
Images courtesy of Australian Plant Society: Sutherland Group
If you're trying to identify a plant you've seen in Royal National Park or coastal Sydney and it doesn't appear here, check out this online search tool. The Australian Plants Society: Sutherland Group developed it as a summary to their immensely helpful Plants of the Royal National Park CD.
No Sydney wildflowers were harmed in the writing of this blog post. Please don't damage the plant in the process of admiring it. Photos are the best souvenir.
Find Out More About Wildflowers
We are affiliates for Booktopia, which means we may receive a small commission if you buy from our link, at no extra cost to yourself.
Hopefully, this has just got you wanting to know more about Sydney wildflowers. While there are numerous books on Australian native flowers, I recommend this book as the best focusing only on Sydney's wildflowers: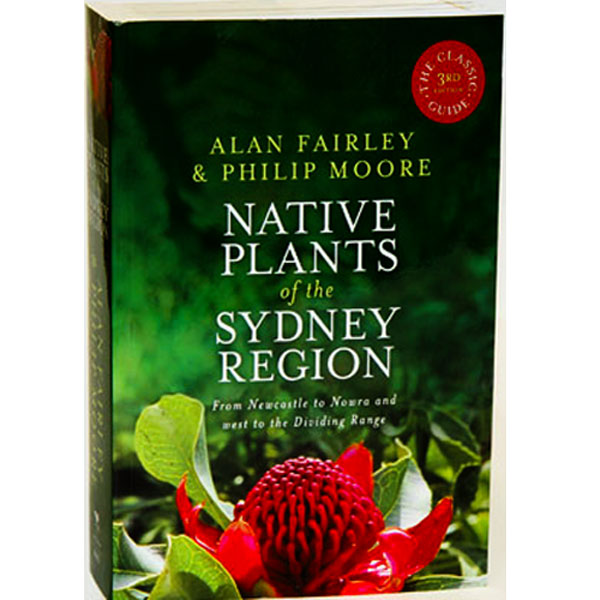 Native Plants of the Sydney Region by Alan Fairley and Philip Moore.
If you'd prefer a more formal learning experience than simply getting out into the Sydney bush, then try events put on by the Royal Botanic Garden, Sydney.
Header images: flowers courtesy of Australian Plant Society: Sutherland Group. Image of couple with Flannel Flowers, Actinotus helianthii, taken on the Spit to Manly walk.