The new guidebook by Sydney Coast Walks' Tara Wells, The Bondi to Manly Walk, is the definitive guide to Sydney's stunning coastline.
A spectacular 80 km track – Sydney's newest multi-day harbour walk – connects the iconic beaches of Bondi and Manly, and will have you winding through secluded bays, protected bushland and the glittering harbour city along the way.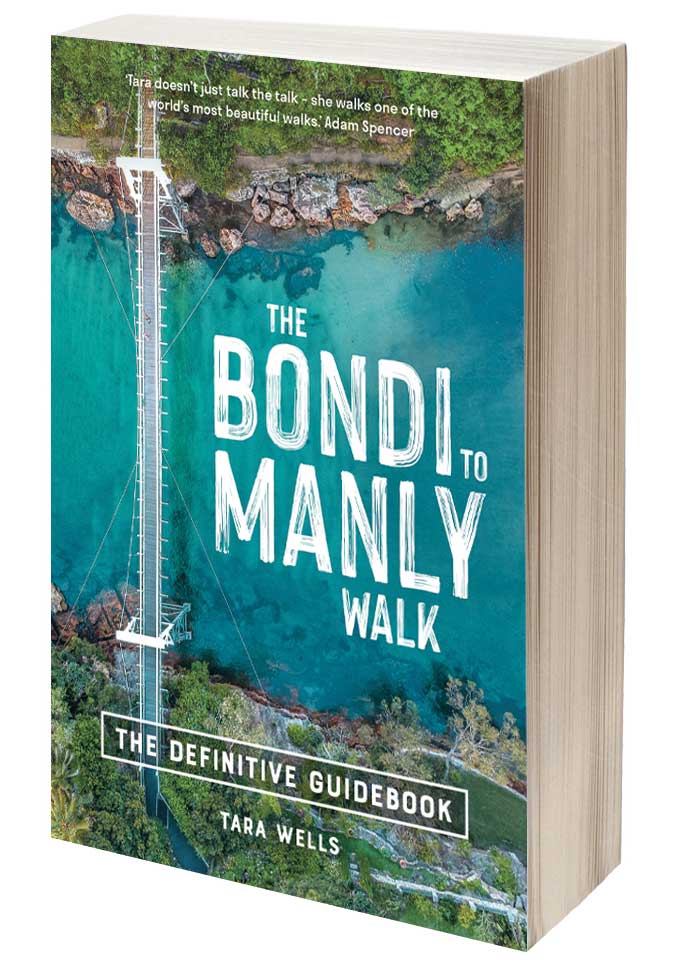 Publisher: NewSouth Publishing
Released: September 2021
ISBN: 9781742237411
A must-have for Sydneysiders and visitors alike, the guide will surprise and delight even the most familiar walkers, combining fascinating local and natural histories with clear instructions.
Covering every bay, beach and headland between Bondi and Manly, day walkers can also choose from 12 feature walks, including:
Federation Cliff Walk near Vaucluse
Hermitage Foreshore Walk near Rose Bay
South Head at Watsons Bay
Manly's North Head
Easy-to-use, The Bondi to Manly Walk contains track notes and maps for casual day walkers and multi-day hikers alike. With accommodation and detailed itineraries for those wanting the challenge of inn-to-inn style hiking, as well as notes for families and dog walkers, it truly has something for everyone.
Where to Buy
The Bondi to Manly Walk is in all good Australian bookstores. Please support your local independent bookstore, many of whom have been especially effected during COVID-19, with some now delivering locally in areas that are still locked down. Or choose an Australian-owned online store, like Booktopia.
Sydney Coast Walks have long been supporters of Booktopia because they're Aussie with a flat-rate delivery Australia-wide. We also receive a small commission for any purchases made from our affiliate links. It helps keep this website up and running.
Here's The Bondi to Manly Walk Guidebook at Booktopia.
Borrow it from a Library
Australia has the coolest system that means the government pays a small amount to authors in recognition of income lost through free multiple use of books in public and educational lending libraries.
That means go right ahead and borrow away!
If your library doesn't already have a copy of The Bondi to Manly Walk Guidebook, you can usually request that they purchase it. It's a library's mission to meet the needs of its community so they typically say yes … and at no charge to the person who requested it. (You may need to know the ISBN: it's 9781742237411.)
The Story Behind the Bondi to Manly Walk Guidebook
If you've ever wondered what it takes for a book to go from idea to publication, then you'll love the behind-the-scenes story of The Bondi to Manly Walk Guidebook.
It was a ten year genesis involving a honeymoon, a false start and (multiple) lockdowns. Author Tara Wells shared the whole back story, with photos, over on the story behind The Bondi to Manly Walk Guidebook.
A quick word about me (and why I wrote the guide book)
I'm Tara: a writer with a Master of Arts in Journalism. I worked as a TV and radio presenter and producer, then left the world of news to pursue a love of travel, operating an award-winning tourism business guiding walks in Sydney's national parks with my husband (ahem, that'd be Sydney Coast Walks).
A love of storytelling brought me back to writing. The business transitioned to a blog so I now help others discover Sydney's best natural beauty on foot through my writing.
I also freelance as a travel journo (in fact, I've written about the Bondi to Manly Walk for Great Walks magazine and for the New Zealand Herald).
Thanks for your support! Now read everything we know about the Bondi to Manly Walk.