The new guidebook by Sydney Coast Walks' Tara Wells, The Bondi to Manly Walk, is the definitive guide to Sydney's stunning coastline.
Now available as a book, ebook and audiobook!
A spectacular 80 km track – Sydney's newest multi-day harbour walk – connects the iconic beaches of Bondi and Manly, and will have you winding through secluded bays, protected bushland and the glittering harbour city along the way.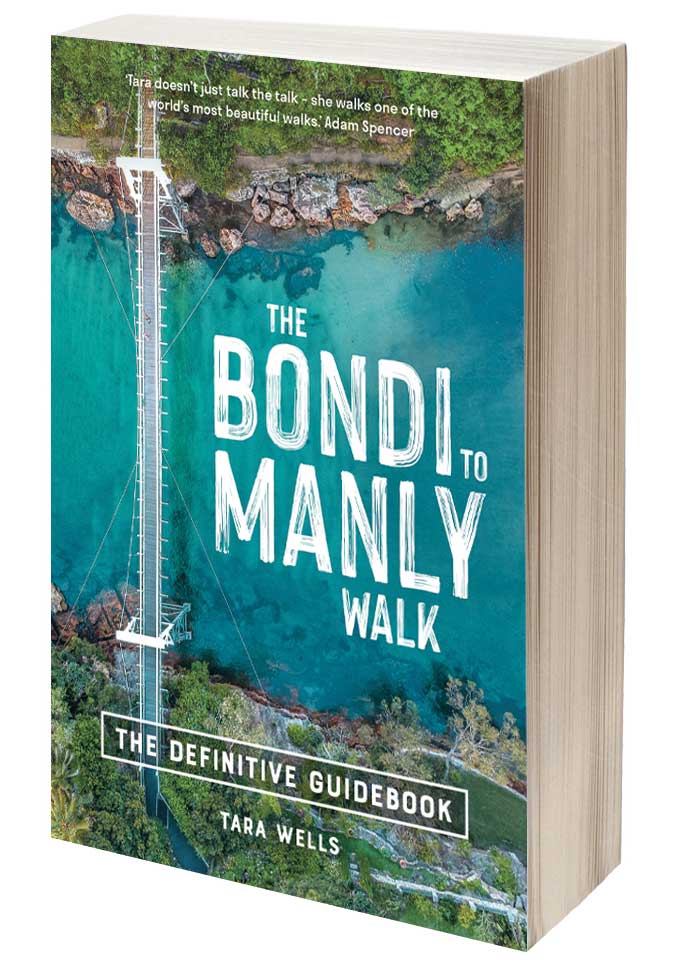 A must-have for Sydneysiders and visitors alike, the guide will surprise and delight even the most familiar walkers, combining fascinating local and natural histories with clear instructions.
Covering every bay, beach and headland between Bondi and Manly, day walkers can also choose from 12 feature walks, including:
Federation Cliff Walk near Vaucluse
Hermitage Foreshore Walk near Rose Bay
South Head at Watsons Bay
Manly's North Head
Easy-to-use, The Bondi to Manly Walk contains track notes and maps for casual day walkers and multi-day hikers alike. With accommodation and detailed itineraries for those wanting the challenge of inn-to-inn style hiking, as well as notes for families and dog walkers, it truly has something for everyone.
Where to Buy
The Bondi to Manly Walk is in all good Australian bookstores. Please support your local independent bookstore or choose an Australian-owned online store, like Booktopia.
Sydney Coast Walks have long been supporters of Booktopia because they're Aussie with a flat-rate delivery Australia-wide. We also receive a small commission for any purchases made from our affiliate links. It helps keep this website up and running.
Here's The Bondi to Manly Walk Guidebook at Booktopia, available as a book, ebook or audiobook.
Book, eBook and Audiobook
Should you get The Bondi to Manly Walk as a book, ebook, or audiobook? The choice is up to you.
No matter which form it takes, you'll want to read some before you go, as there is plenty of information there to help you prepare. Then you want to take the book with you because the walk is broken down into easy-to-read track notes to ensure you know where you are, literally every step of the way. These walking instructions and maps are accompanied by interesting tidbits of stories and information about the places you see along the way, as well as where to eat.
Book
Nothing compares to holding a book in your hands! Great to flick through and easy to pop in a bookmark, the book version is still light enough to carry in your daypack. It weighs just 460 grams – less than half a kilo – and considering how much information is packed in, it's worth it's weight in walking gold!
But right now, the book version is only available in Australia and New Zealand. If you're in another country, you'll want to buy …
Ebook
Super easy to carry with you, especially if you already walk with a device, like your phone. You can zoom in on maps too.
Most importantly, the eBook is available internationally! Here it is on Amazon as well as the Australian-owned Booktopia.
Audiobook
Typical guidebooks are often just a bunch of attraction listings. Useful, but not a great read or listen. But The Bondi to Manly Walk is written as if it's a friendly tour guide in your pocket. That means, as an audiobook, it sounds more like an audio tour. The duration is 5 hours and 40 minutes. Here is the audiobook on Amazon, available internationally (you can buy it from Australian retailers too, like Booktopia).
Borrow it from a Library
If your library doesn't already have a copy of The Bondi to Manly Walk Guidebook, you can request that they purchase it. A library's mission is to meet the needs of its community so they typically say yes … and at no charge to the person who made the request. (You may need the ISBN: it's 9781742237411.) Win!
The Story Behind the Bondi to Manly Walk Guidebook
If you've ever wondered what it takes for a book to go from idea to publication, then you'll love the behind-the-scenes story of The Bondi to Manly Walk Guidebook.
It was a ten year genesis involving a honeymoon, a false start and (multiple) lockdowns. Author Tara Wells shared the whole back story, with photos, over on the story behind The Bondi to Manly Walk Guidebook.
Love reading hiking books?