Castle Rock Beach is a quiet Sydney Harbour beach near Clontarf and Manly that can only be accessed on foot.
Below are two options of getting to Castle Rock Beach, either as part of the Spit to Manly walk, or driving to nearby streets.
Castle Rock Beach is Stop 7 on the Spit to Manly Walk, as seen in the downloadable Spit to Manly Complete Guide and Map.
Castle Rock Beach
See that big freestanding boulder on the beach? Looks a bit like…?
Enjoy the seclusion of one of Sydney's smallest sandy beaches and, after rain, its own little waterfall too.
This gently sloping, south facing beach is a sheltered swimming spot and perfect place to revive while enjoying the view across to Balmoral.
Be aware there are no lifeguards, no shops, no water, no toilet, no nothing. Just a lovely quiet beach.
How to Get to Castle Rock Beach via the Spit to Manly Walk
Approaching on foot from Clontarf Beach and Clontarf Pumping Station… on entering Sydney Harbour National Park, enjoy views of Middle Harbour through the Angophora costata, or Sydney red gums (a closely related genus to Eucalyptus).
There are a few sets of steep, worn-stone stairs, as well as smaller stairways down to water-side rock ledges where you could have a quiet break.
We recommend continuing on to a T-junction and taking the right turn to a long, steep stairway down to Castle Rock Beach. It's a short and worthwhile detour.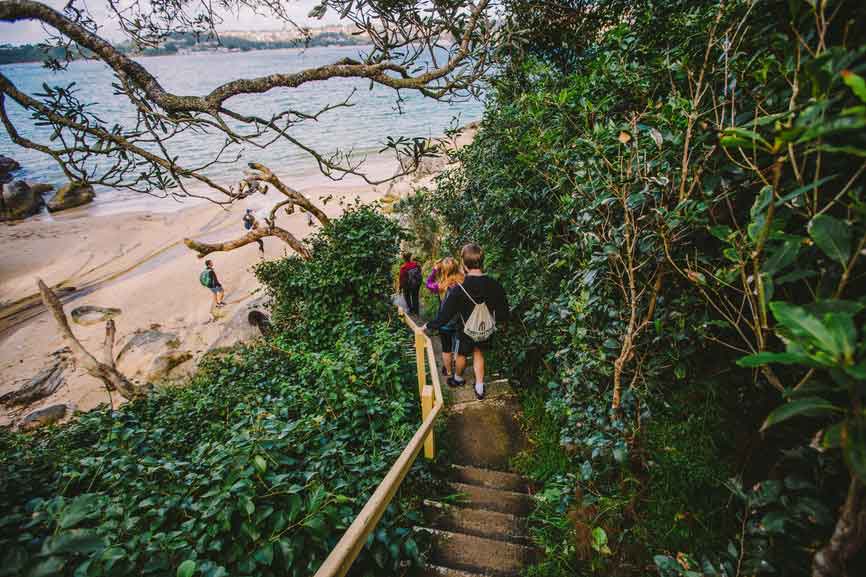 (If you choose not to go down to the beach, still turn right at the T-junction but instead of going down the stairs, turn left to enter Sydney Harbour National Park.)
Parking at Castle Rock Beach
If you're not walking from The Spit to Manly, then there is very limited street parking on Ogilvy Road in Clontarf. There's a walking track from near the end of the Ogilvy Road cul de sac, signposted "MSW" (Manly Scenic Walkway).
If you can't find any parking in Ogilvy Road, you could also try Cutler Road, as it runs parallel to Ogilvy and has more space. Near 45 Cutler Road, you'll again see a sign for walkers to "MSW".
The walking track from here down to Castle Rock Beach should take less than ten minutes.
Where to go next on the Spit to Manly Walk?
Climb back up the stairs and, at the top, turn right to enter Sydney Harbour National Park.
This is our favourite part of the walk. The aquamarine of Middle Harbour is framed by the orange to deep pink of Angophora costata's trunk and green leaves. Look for sleeping Tawny Frogmouths (often confused with owls, but more closely related to nightjars) and brushturkeys scratching among leaves.
The Grotto Point Lighthouse track junction is another optional detour: either turn right for the lighthouse, or continue straight for Manly.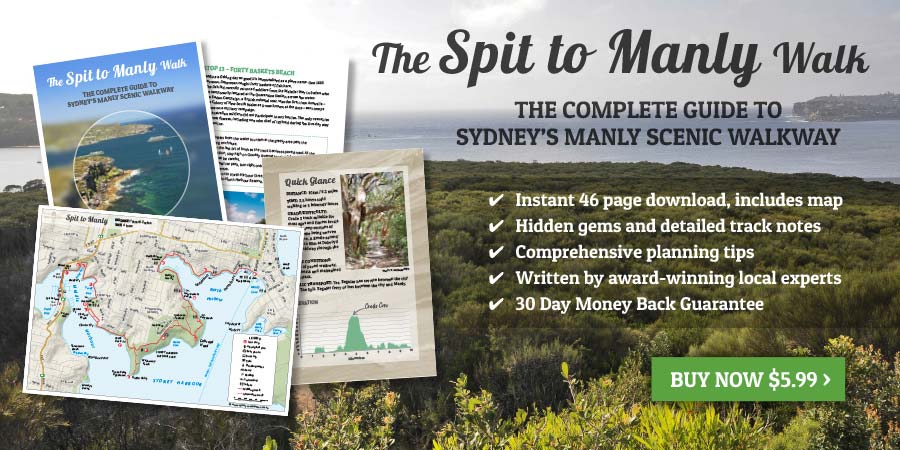 Read more about the Spit to Manly Walk.
Get everything about the walk (track notes, stories, map, getting there, and more) by downloading the Spit to Manly Complete Guide (includes map). Or just grab the Spit to Manly Coastal Walk Map.
Jump to any stop by clicking on the name below.
Stop 1: Ellery's Punt Reserve
Stop 2: Fisher Bay 'Midden'
Stop 3: Fisher Bay Houseboat
Stop 4: Sandy Bay, Hawkesbury Sandstone
Stop 5: Clontarf Reserve
Stop 6: Clontarf Pumping Station
Stop 7: Castle Rock Beach – you are currently on this page
Stop 8: Grotto Point Lighthouse
Stop 9: Grotto Point Aboriginal Engraving Site
Stop 10: Crater Cove
Stop 11: Dobroyd Head
Stop 12: Reef Beach
Stop 13: Forty Baskets Beach
Stop 14: North Harbour Reserve
Stop 15: Fairlight House
Stop 16: Manly Wharf