Crater Cove is Stop 10 on the Spit to Manly Walk, as seen in the downloadable Spit to Manly Complete Guide and Map.
How to get to Crater Cove Lookout
If walking from the Grotto Point Aboriginal engraving site… Continue up the stairs after exiting the engraving site. Levelling out, the trees subside and you'll come across a rock ledge with an expanse of harbour and ocean on your right. This is Crater Cove.
Tania Park
Crater Cove can also be accessed by car. Find your way to Dobroyd Scenic Drive in Balgowlah Heights. It's a loop road around Tania Park with parking spaces scattered along it. If you really want the view but don't want to get out of the car, that's possible too.
There are public toilets near the children's playground at the vehicle entry to Tania Park. For walkers, this is a big detour to leave the walking track and cross to the other side of Tania Park. But, if you can't wait…
Crater Cove
From here you can see North Head and a hint of Manly to the left. To the right is South Head with the distinctive red and white stripes of Hornby Lighthouse; the larger of the two beaches is Camp Cove. Closer, Middle Head near Balmoral juts in front of the distant city skyline.
During the last ice age, sea levels were 100 metres lower than today, making the coastline several kilometres east of where you're standing now. You would have been looking at a tree-lined gorge, like the modern day Blue Mountains.
It wasn't until around 6,000 years ago when sea levels rose to their current position that Sydney's famous coastline and harbour were formed.
Crater Cove Cabins
Now look down to the water; tucked in to the left of the cove are small cabins.
The first cabin was built in 1923 by fishermen using driftwood washed into the cove. From there, more sturdy dwellings were constructed of stone cut from the site and corrugated iron carried through the bush.
Numerous shack settlements were built around Sydney at this time, most popular during the Depression when people left the city for a rent-free life of fishing and hunting. These, and the cabin communities in Royal National Park, are the only remaining examples.
By the 1940s the cabins were used as weekenders but in the 1960s and '70s the community became a haven for creatives who lived here permanently. Unlike their Depression era counterparts who were forced to find a simpler way of life, this generation was searching for it.
By the 1980s only a handful of the seven cabins scattered along the narrow sandstone shelf were lived-in full time. Huts were simple off-grid dwellings; at least one had solar panels, chook run and vegetable garden.
In 1975 this area became part of Sydney Harbour National Park. Similar to Royal National Park where the shacks preceded national park status, the government had to reconcile buildings in a declared natural area. The approach was a lengthy court case, eviction and planned destruction.
The original decision to demolish the huts was overturned. Volunteers with links to the Crater Cove cabins look after the area. There is an unmarked track although NPWS discourages visitors, citing safety risks and vandalism issues.
Where to go next on the Spit to Manly Walk
Follow the track around to the right to a small fenced area with a seat to enjoy the view.
Further along is a turn-off to Arabanoo Lookout. Although another great view, it's accessible by car, more crowded and no better than what you see from the walking track. Instead, continue on the track to Manly.
Your first reveal of Manly comes 100m past this track junction. Pause to enjoy it before passing another track junction (to Beatty Street).
Go straight until you see a steel handrail and lookout on the right, just off the track. This is Dobroyd Head Lookout.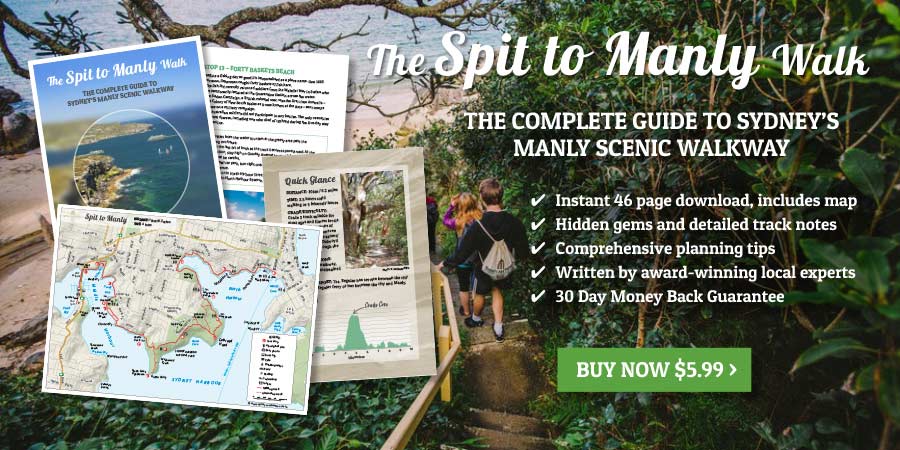 Read more about the Spit to Manly Walk.
Get everything about the walk (track notes, stories, map, getting there, and more) by downloading the Spit to Manly Complete Guide (includes map). Or just grab the Spit to Manly Coastal Walk Map.
Jump to any stop by clicking on the name below.
Stop 1: Ellery's Punt Reserve
Stop 2: Fisher Bay 'Midden'
Stop 3: Fisher Bay Houseboat
Stop 4: Sandy Bay, Hawkesbury Sandstone
Stop 5: Clontarf Reserve
Stop 6: Clontarf Pumping Station
Stop 7: Castle Rock Beach
Stop 8: Grotto Point Lighthouse
Stop 9: Grotto Point Aboriginal Engraving Site
Stop 10: Crater Cove – you are currently on this page
Stop 11: Dobroyd Head
Stop 12: Reef Beach
Stop 13: Forty Baskets Beach
Stop 14: North Harbour Reserve
Stop 15: Fairlight House
Stop 16: Manly Wharf
Discover Sydney's Best Coastal Walks
Get inspired with a free guide to the six best coastal hikes.
* Only the best, hand-picked tracks (all free to walk)
* Includes walk times, distances, map and more helpful resources
* Driving or public transport - we have you covered
* Five page PDF, easy-to-print or save to device for inspiration on the go.