The whale watching season in Sydney is between May and November each year but some times are better than others to increase your chances of seeing whales.
We've been walking Sydney's coastline for years, so here are our tips on how to take advantage of nature to get the best out of your whale watching time.
Watch the video below or scroll down for the full transcript.
In this video you'll learn:
The best two weeks of the year for whale watching Sydney… every single year;
The perfect time of day to spot whales;
Where the whales are going, so you know which direction to look for them;
The benefits of whale watching early in the season compared to later; when they are closest to shore;
How to spot a whale;
The best places in Sydney for whale watching and what makes these vantage points to great;
Tips for what to take, and more!
Scroll down for the full transcript if you'd rather read our tips for the whale watching season.
Links and resources mentioned in this video
Whale Watching Season Sydney
Best Time for Whale Watching?
In Sydney, the whale migration goes between May and November.
But the absolute best time to see them is late June and early July – probably the last week of June and the first week of July, around about the winter solstice.
What time of day is the best time to see them?
They're always swimming past night and day, but the best time is in the mornings; sometimes their blow or their spout is back lit which makes them easy to see, or late morning / early afternoon when the sun's a bit higher in the sky and there's less glare.
The Whales are Going Where?
During May, June and July, the whales are heading north from Antarctica, and they're heading to warmer waters in tropical north Queensland. During the month of approximately August they're sticking around the breeding grounds of far north Queensland.
September, October and November, they're heading south again back to Antarctica.
When they do head north, they're closer to shore than when they're coming south, and that's because there's the eastern Australia current that runs like an expressway heading southbound.
They definitely don't want that on their way up, but when they're coming back they're trying to get that current so they're a few more kilometres offshore… except for the mums and bubs who sometimes are a little bit closer to shore if they're concerned about any predators in that eastern Australia current.
How to Spot a Whale?
The easiest way to spot a whale is to look for its spout or its vertical spray, and you'll see that silhouetted against the water or the sky.
Another way to see them is if you see a big splash, then you probably just missed a breach.
On a day like today when there's no white caps, pretty much any disturbance in the water that's not a boat is going to be a whale. So just look for the white caps and choose your day.
If it's a really windy day they're much harder to spot but on a day like today, you'll see them coming for miles.
Where to See Whales in Sydney?
The best place in Sydney to see whales are the places that are nice and high, with good elevation and sticking out east into the ocean.
Have a look on Google maps and find a headland that has height and it projects out east into the ocean. That's a really good start.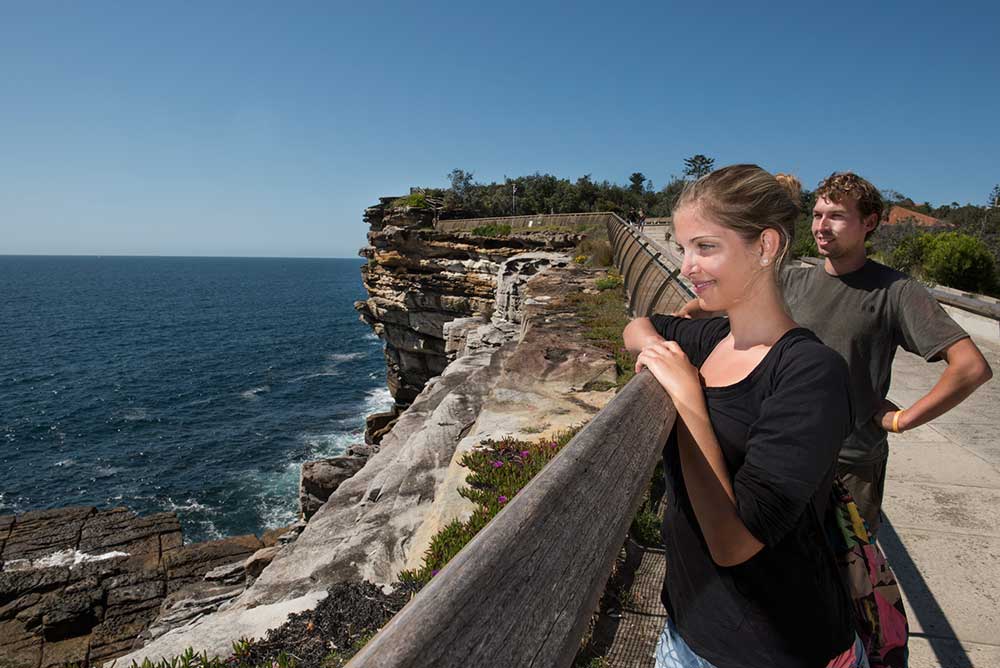 If it also has deep water, you'll see a really good chance of a whale breaching because the whale needs to gain lots of momentum to get up and breach out of the water. They need depth of water to do that.
Places like Watsons Bay, or Barrenjoey Headland are great whale watching walks.
But even if the water depth is not there, you'll still see them lob tailing or fin slapping which is pretty cool.
We've put together a video and information about the six best whale watching spots in Sydney.
You can also get the Wild About Whales app. They track the whales all the way up the coast. And if you see one, you can even put it on the app yourself.
What to Pack in Your Bag?
When you go whale watching, take the obvious thing like a bottle of water. But take a blanket. You're going to be sitting along the coastline for as long as you've got, so you want to be comfortable.
Also, take a lot of patience. They're wild animals so there are no guarantees.
You're going to see more whales without binoculars – but when you do see them you can zoom in on them and get a closer look.
Happy whale watching.