Karloo Pools is an oasis in the bush and one of the best natural swimming holes Sydney has to offer. They are a group of natural rock pools a short walk east of Heathcote Train Station in Royal National Park, Sydney.
Karloo Pool, the main pool, is around 20m long and 10m wide, with a small waterfall dropping into it. There's room to swim laps, float around or look for resident yabbies.
It is quite deep so stick to the rock ledges on the side if you're not a good swimmer.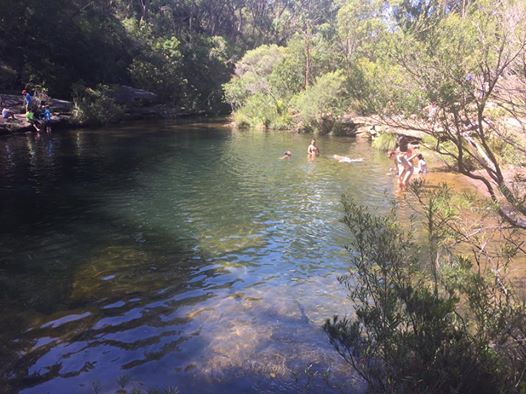 Karloo Pools lies at the junction of Kangaroo Creek, Heathcote Brook and The Karloo Walking Track.
How long is the walk to Karloo Pools?
Distance
6km round trip
Time
2 hours return
The walk to Karloo Pools is less than 3km and should take no more than one hour, one way.
It is downhill on the way to the pools and uphill on the way back, so leave yourself a bit more time on the return walk up the Karloo Track.
Difficulty
Grade 3 – Suitable for most ages and fitness levels. Some bushwalking experience recommended.
Typical of a grade 3 track, there are short steep sections and a rough surface (it's bush track).
Track Conditions
Karloo Walking Track is a mix of sandy bush track, some steep sandstone sections and slippery rock ledges when you cross Kangaroo Creek at Karloo Pools themselves.
Quick Start Guide
Public Transport
Heathcote Train Station is close to the start of the Karloo Track. Heathcote has regular services to and from the city.
Water
There are no places to refill water along the Karloo Pools Track. Take as much water as you need, at least 1 litre each, more on hot days.
It is possible to refill from Kangaroo Creek or Karloo Pools but you should treat your water. Here's how to purify water while hiking.
Toilets
There are toilets at Heathcote Train Station. There are no other toilets along this walk.
Mobile phone reception
There is good mobile phone reception for most of this walk, although you may not have reception at Karloo Pools.
How do I get to Karloo Pools?
The shortest and quickest way to walk to Karloo Pools is to follow the Karloo Walking Track east from Heathcote Station.
Exit the station on the eastern side – that's the side you get off if you're coming from Sydney – and walk out the car park gates. Turn right and continue past the Rural Fire Service (RFS) building on your left.
There are some obvious shortcuts starting near the RFS building but if you've never walked the Karloo Pools track before, stay on the road until you see the sign on your left.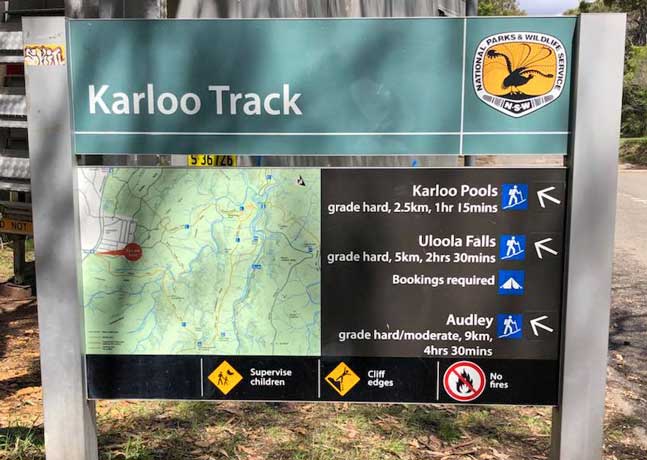 Follow the signed track for several hundred metres behind the RFS building and some houses until you see another signed track junction on your right. Turn right and follow Karloo Walking Track.
There are no more signs but don't worry, once you are on the Karloo Walking Track it will take you to Karloo Pools.
Can I always swim in Karloo Pool?
There is enough water to swim all year round in Karloo Pool but you might not want to…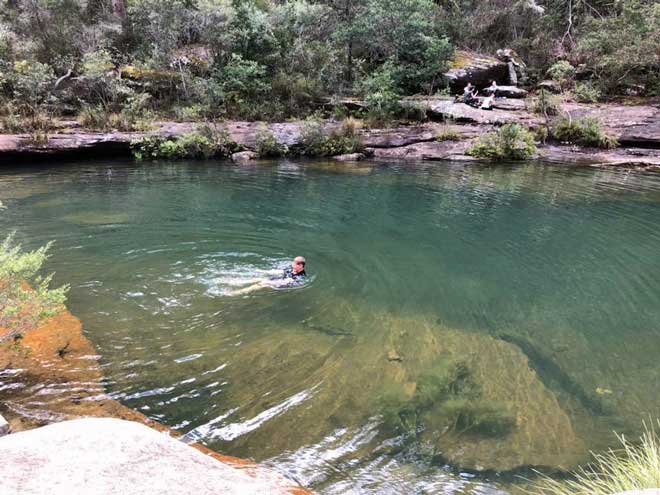 On a nice day and after a good spell of rain, Karloo Pool is one of the best bush swimming holes in Sydney. However, like all natural swimming pools in Australia, it becomes stagnant and smelly after long periods without rain.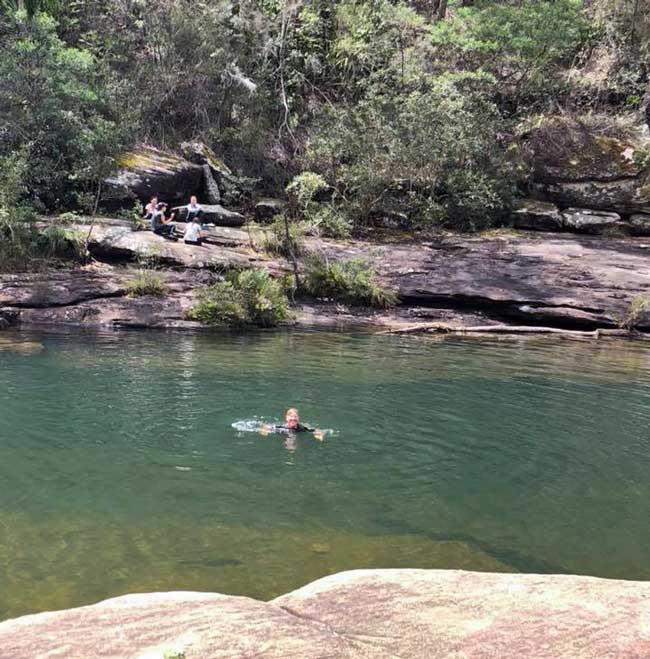 On the flip-side, if you walk to Karloo Pool just after a prolonged, heavy downpour you may not be able to cross where the Karloo Walking Track meets Kangaroo Creek. Water flows across the ledge pretty fast before it drops into Karloo Pool and can be dangerous.
Karloo Pool receives a few hours of direct sunlight in the warmer months so pack a picnic and make a day of it.
There is plenty of space on the rock ledges on both the sunny and shady sides of the pool, so you can get as much sun as you like in summer.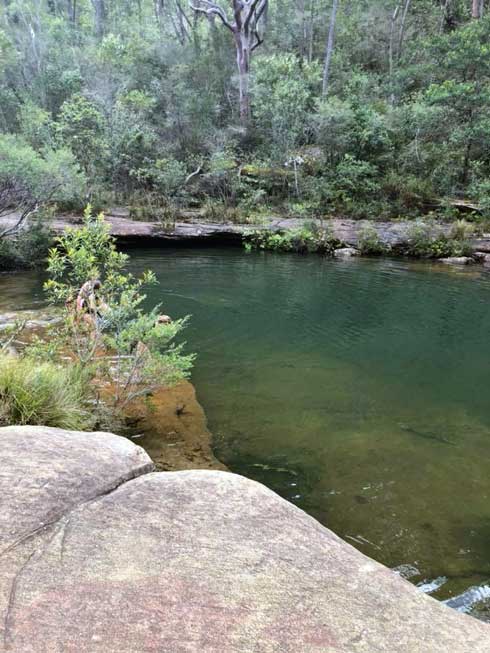 The sun dips below the tree covered ridge to the north in the colder months and Karloo Pool is shaded.
How many pools are at Karloo Pools?
As well as Karloo Pool there are plenty of other places to swim or sit in the water (unlike the very popular Figure 8 Pools).
Follow Kangaroo Creek downstream, east towards Audley, or south towards Waterfall for more natural swimming pools. They aren't as big or deep as Karloo Pool.
Swimming in Karloo Pools
To make you day trip to Karloo Pools as memorable as it should be, please remember these important points:
Don't dive into the pools.
When you're walking over wet, slippery rocks; walk low to the ground, keep your hands out wide for balance and place your feet carefully.
Sunscreen washes off in water despite how 'waterproof' it is. Please don't wear sunscreen in Karloo Pools. It may harm this delicate ecosystem.
Remove all your rubbish. Take it back to the bins at Heathcote Train Station
What else is there to see near Karloo Pools?
Stop on the way to Karloo Pools to enjoy the view over Kangaroo Creek. It's deceptively high and at one point you are nearly 150m above the water below you.
Just before you start to descend, head off the track to the right for fantastic views of the valley below you to the south east.
Continuing on to Uloola Falls
As an alternative to walking to Karloo Pools and back as a loop walk, you may want to consider continuing on to Uloola Falls. It's another hour up the track and quite nice, although not as scenic as Karloo Pools.
The benefit to continuing on to Uloola Falls is to turn your half day day walk into a through-walk. And it's one of the few Royal National Park half day bush walks that starts and ends at public transport.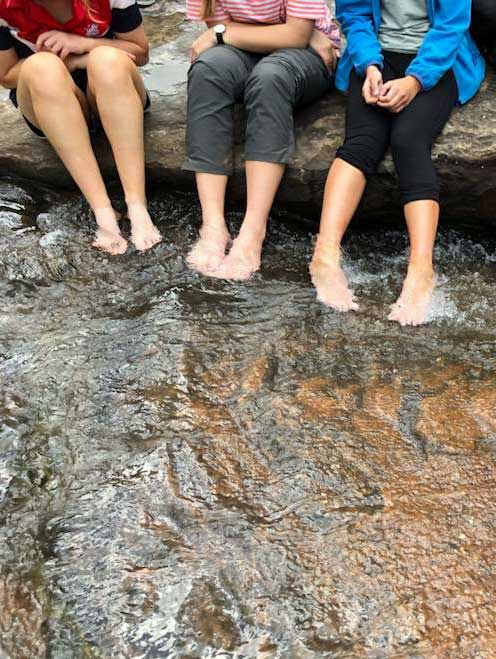 From Karloo Pools, continue on the Karloo Track to Uloola Falls, then follow the Uloola Fire Trail to Waterfall Train Station.
This makes it roughly a three hour walk: an hour to Karloo Pools, under an hour to Uloola, and just over an hour to the train.
However, if you are planning this through-walk combining Karloo Walking Track with Uloola Falls, we recommend doing it in the opposite direction. That is, start at Waterfall and finish at Heathcote.
There is no shade on the Uloola Fire trail and walking west with the midday or afternoon sun beating down is hard work. The walk up Karloo Walking Track from Karloo Pools is more shaded.
(Map Geek Note: Topographic map 9129-4N PORT HACKING and Google Maps shows the track between between Heathcote and Karloo Pools as Karloo Pools Walking Track West and the track between Karloo Pools and Uloola Falls as Karloo Pools Walking Track East. NPWS now just refer to it as The Karloo Track all the way between Heathcote and Uloola Falls.)
The Karloo Walking Track is a terrific bush walk, accessible to most people, with a worthwhile natural swimming hole.
You May Also Like…
More Reading
If swimming in natural waterholes is your thing, we recommend this book for more inspiration. Wild Swimming is your new go-to.
This post contains affiliate links meaning we may receive a small commission – at no cost to yourself – if you make a purchase from our recommendation. It helps keep this website running, so thanks in advance!