A true creator sees what isn't there, then makes it appear. And so it was with Wendy Whiteley, already an established Australian artist, when she looked over the mess of invasive weeds and tangled lantana filling the neglected escarpment near her door.
In her mind's eye she could see it. A sanctuary to escape the busy city, to breathe again, to sit in a beautifully natural refuge. It would be a garden. Wendy's secret garden.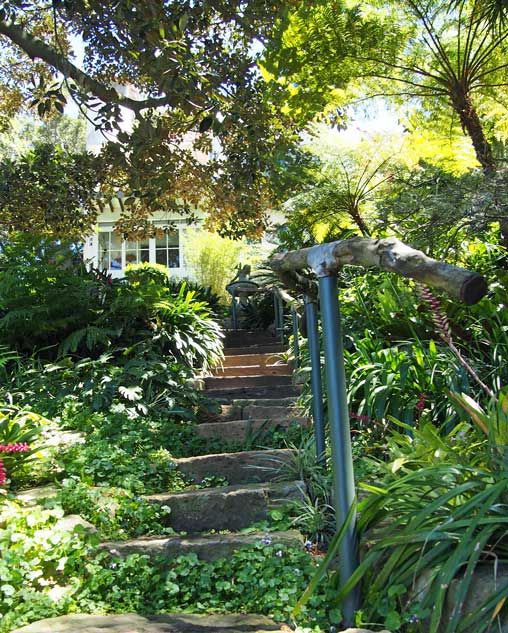 There was just one tiny problem. It was not Wendy Whiteley's land. It was government property, butting hard up against a railway line.
Wendy's Secret Garden has been literally growing since the mid-1990s, and is now one of the most beautiful public gardens in Sydney. It finally became official in 2015, along with security of tenure from the new owners, the local council.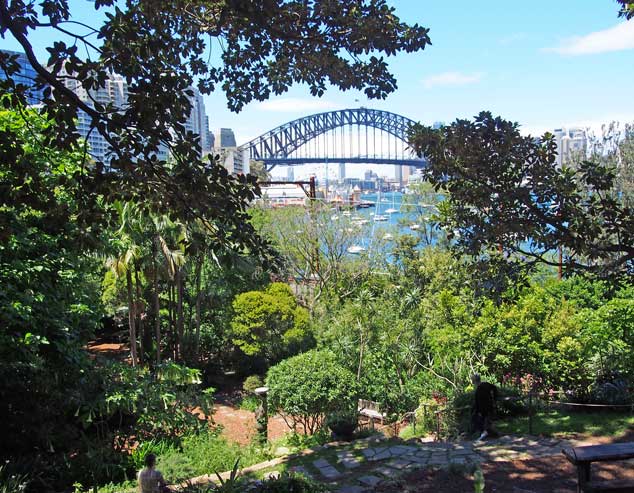 In between were decades of creating a passion project, one that locals came to passionately appreciate. It is now, as Wendy herself says, a not-so-Secret Garden.
The garden was envisioned and financed by Wendy Whiteley, with two full-time gardeners putting in hours of labour, plus a team of volunteers.
One of the gardeners – I don't know if it was Corrado or Ruben – patiently answers a visitor's question about the garden's native lilies that quickly segues into questions about her own roses at home. This garden is loved, and it attracts those who appreciate what it takes to make something out of nothing.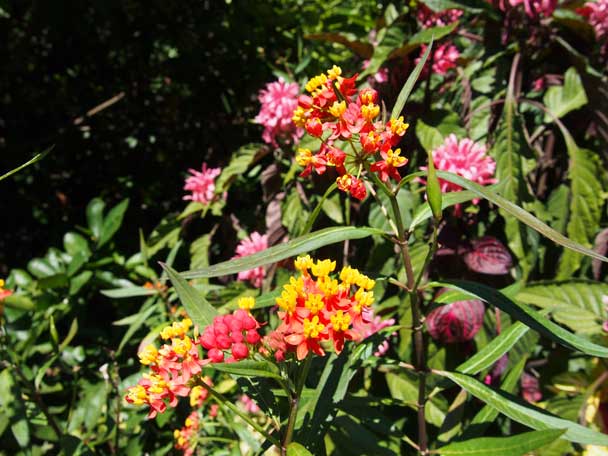 On the day of my visit, it is hair-whippingly windy on the short walk from Milsons Point train station to Lavender Bay. But the garden is a sanctuary in more ways than one. Only a gentle breeze flows through the more open sections of the tiered gardens. The giant Moreton Bay fig is as solid as ever, the Bangalore palms unfazed, and the brush turkey doesn't even pause in its pecking.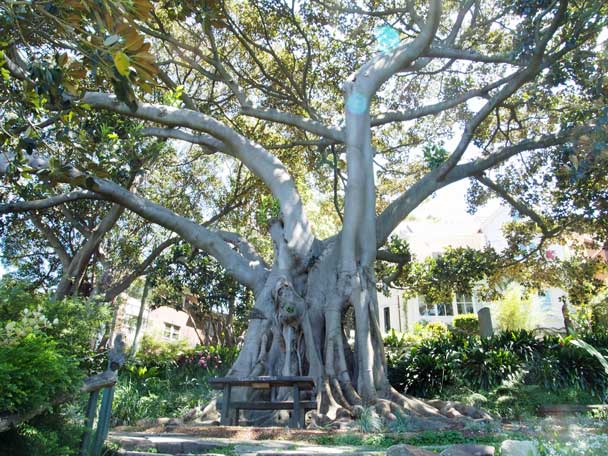 It is a popular destination even on a weekday. I'm in the Secret Garden for the walk and for the connection with nature. Others are here for a soul-refreshing lunch break, or a business meeting at the picnic tables. Some have come for views of Sydney Harbour and the bridge, or for the art (sculptures, including one by the famed Margaret Olley are scattered about) and some simply for the garden itself.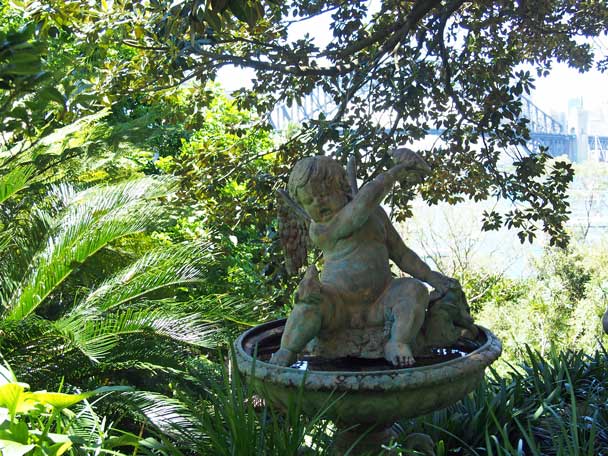 As a Sydney local, it was my first time at Wendy's Secret Garden – not my particular backyard, you see, too far north, east, whatever – but it won't be my last. This is a secret worth sharing.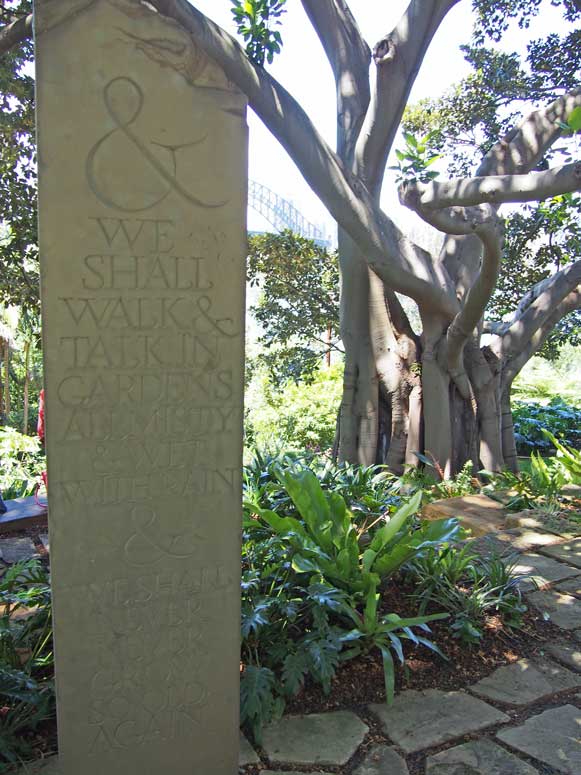 How long does it take to walk around Wendy Whiteley's Secret Garden?
Not long, perhaps 5-10 minutes from one end to the other, up, down and up again.
But you probably won't walk; you'll meander, choosing one winding path then doubling back to explore another path missed earlier. Where could it go? This garden invites you to be curious.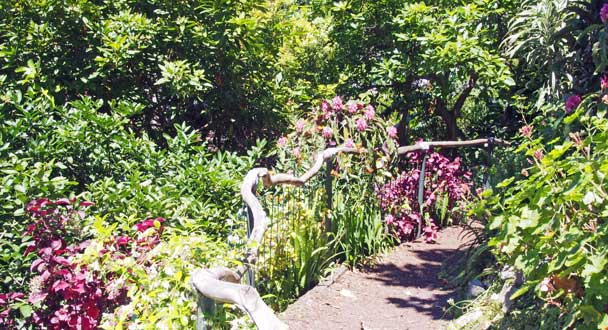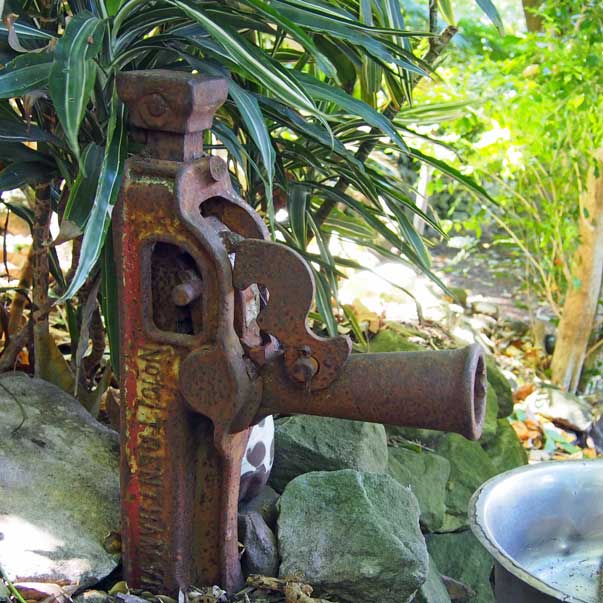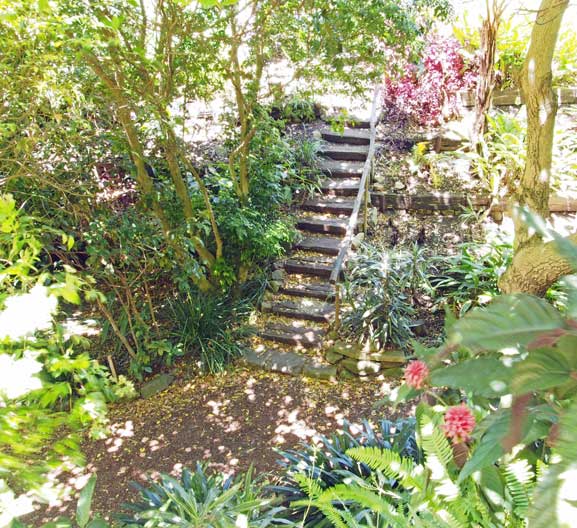 Are there other walks nearby?
Absolutely. The beauty is in exploring this part of Sydney Harbour on foot.
A satisfying day out would be to start from The Rocks in the city, walk over Sydney Harbour Bridge to Milsons Point, then continue another six minutes or so to get to Lavender Bay, home to Wendy's Secret Garden.
One for the wish list is the Sydney Harbour High Line. Taking the lead from Paris and New York, once the rail line next to Wendy's Secret Garden becomes redundant (it's currently only used for shunting and storage), all levels of government have agreed they'll turn it into a walk from Lavender Bay to Waverton station.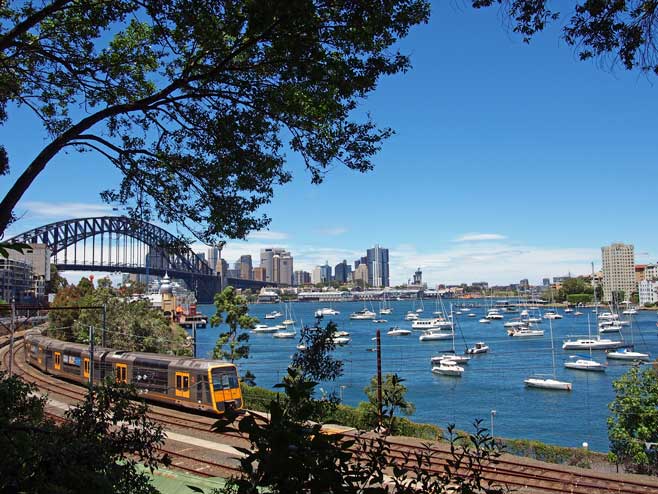 Not since the recent announcement that the Manly to Bondi Walk is going to be a "thing" have governments agreed on something! But hold tight; timelines haven't been announced.
How do I get to the garden by public transport?
Too easy. Train or ferry to Milsons Point, then a 5-10 minute walk to Lavender Bay.
From Milsons Point ferry wharf (only five minutes across the harbour from Circular Quay), turn left after alighting to follow the public pathway hugging the harbour shoreline. Walk past Luna Park, with lovely views of Lavender Bay. Go through the tunnel passing under the rail line and up the stairs to get to Wendy's Secret Garden.
Milsons Point is serviced by both public ferries on the Opal Card, as well as the Hop On, Hop Off Harbour Explorer (a 24 hour sightseeing ticket).
From the train station, it is quicker to turn right onto Alfred Street, left onto Lavender Street and walk through to the western edge of Clark Park to access the top of Wendy's Secret Garden from near Wendy Whiteley's house.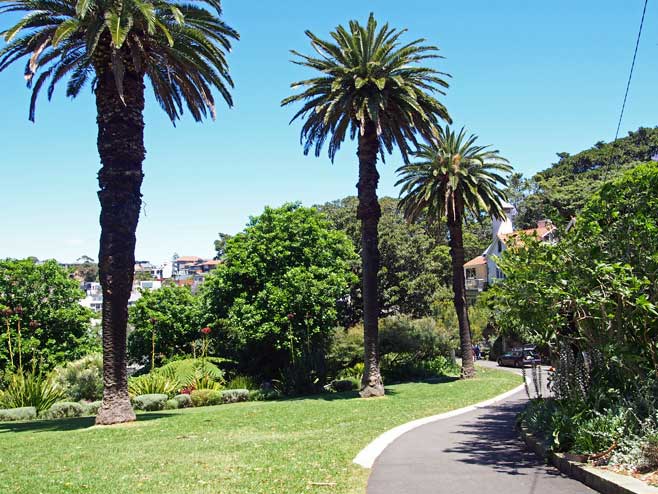 The street way is also best if you want to grab coffee or food from a local cafe. Alternatively, turn left onto Alfred Street out of Milsons Point station, head downhill to walk along the foreshore, near the ferry wharf.
Is there parking nearby?
There is two hour metered parking in nearby streets, and some unmetered street parking. May the Parking Gods Be With You to find a spot.
There is also a paid parking station at nearby Luna Park.
How much does it cost?
Free! Open all day, every day.
Can I picnic in the gardens?
Yes. There are various arrangements of tables and chairs within Wendy's Secret Garden, seating two – six people in one spot. If you have a large group, try Clark Park instead, overlooking the Wendy Whiteley garden.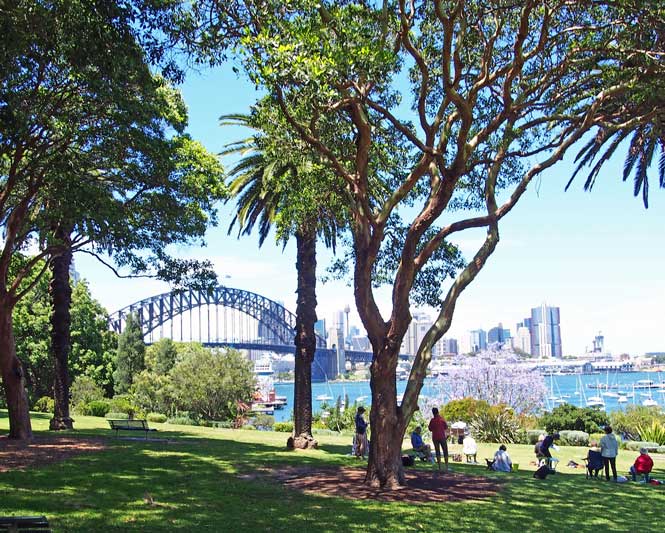 There are no barbecue facilities, and nowhere to buy food or drink. And no garbage bins. So bring your own food, and be prepared to take your rubbish back out with you.
Where can I eat near Wendy's Secret Garden?
Sidana Cafe has an extensive all day breakfast menu and a wall of second-hand books. Try the truffled oil eggs.
Kirribilli Club overlooking the garden. There is a fancy restaurant and a more casual cafe within the club.
Are there public toilets at Wendy's Secret Garden?
There are no toilets in the Secret Garden. The nearest are either opposite Lavender Bay jetty in Quibaree Park, or back at Milsons Point train station, both 5 – 10 minutes walk away.
Read the book Wendy Whiteley and the Secret Garden
Visit Wendy's Secret Garden virtually with the beautiful photos and extraordinary history of the garden, Wendy Whiteley, Brett Whiteley and the Sydney artist scene, in this book by journalist Janet Hawley.
Find out more about Wendy Whiteley and the Secret Garden [affiliate link]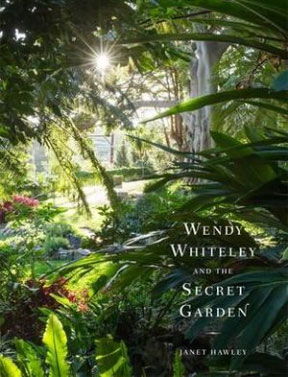 You May Also Like…