Cemetery walking tours give fascinating insight into the people and society that came before. Because in death, there are enduring signs of life.
While Sydney may not be home to famous cemeteries like Cimetière du Père Lachaise in Paris or the Old Jewish Cemetery in Prague, still the old cemeteries of this relatively modern city reveal how early Sydney lived and died.
Here are the Sydney cemeteries that offer either a cemetery tour, or can be explored as a self-guided cemetery walking tour.
Let's talk of graves, of worms, and epitaphs – Richard II, William Shakespeare
This post contains affiliate links which means we may receive a nominal commission – at no cost to yourself – if you make a purchase using a link found on this page
Waverley Cemetery, Bondi
Waverley Cemetery's dramatic cliffside setting makes it one of the most scenic cemeteries in Australia. Panoramic views of the Pacific Ocean are also enjoyed by walkers passing through on the Bondi to Coogee coastal walk.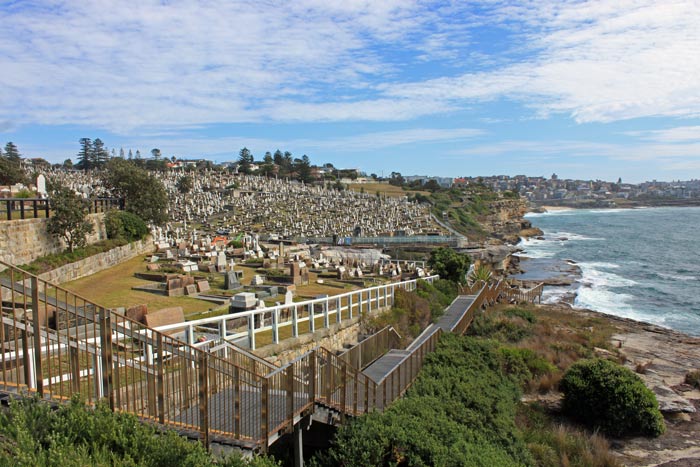 The Bondi cemetery was opened in 1877 and is one of the oldest continually operating cemeteries in Sydney.
Expect to see Victorian and Edwardian era memorials made from white marble, granite and sandstone. (Hawkesbury sandstone is ubiquitous in Sydney – see it in nature at Wedding Cake Rock or Sandy Bay on the Spit to Manly walk.)
Not only the seaside setting makes it a worthwhile cemetery walking tour, but also because it's the resting place of many significant women and men who contributed to Sydney and modern-day Australia.
Graves of Famous Australians at Waverley Cemetery
The Arts: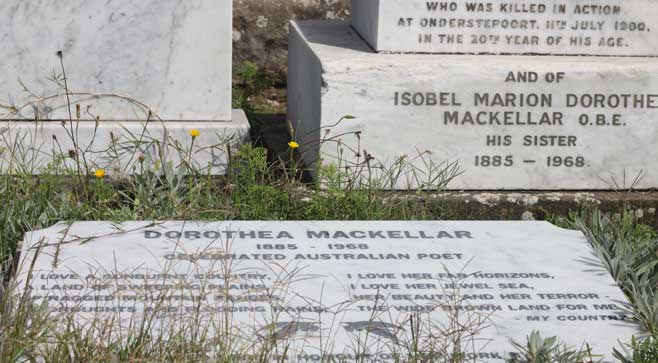 The Sports:
John Fingleton OBE – Australian cricketer & 'Bodyline' veteran.
Sarah (Fanny) Durack – swimmer and the first Australian woman to win an Olympic gold medal.
Victor Trumper – Test cricketer.
Business people:
Edmund Resch – Beer brewer.
George & Charlotte Sargent – Meat pie bakers.
John Sands – Greeting card manufacturer & stationer.
William Dymock – Book seller.
And more:
Lawrence Hargrave – Aviator and inventor
Sir (Arthur) Roden Cutler – A Victoria Cross winner and the longest-serving Governor of New South Wales
Waverley Cemetery Walking Tours
Guided Tours
The Friends of Waverley Cemetery conduct cemetery tours on most Saturdays.
These volunteer-led cemetery walking tours are approximately 90 minutes and cost $24.18 per person (which goes towards monument restoration). Bookings required.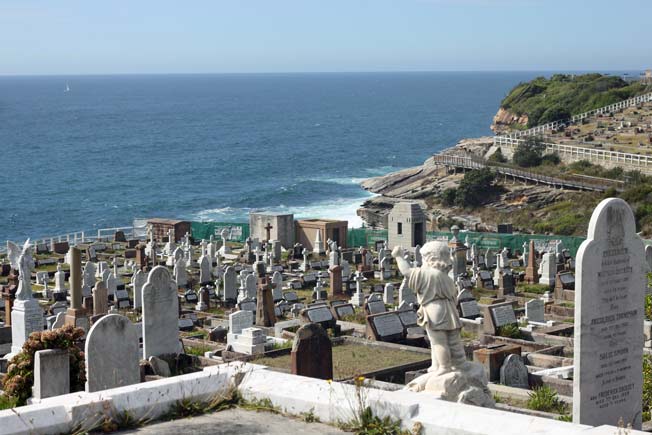 Self-guided Tours
See the Bondi to Coogee Walk for how to incorporate the Bondi cemetery into a longer walking tour enjoying the area.
Waverley Cemetery Grave Search
For the Waverley Cemetery grave search, download the free app iCemetery via Google Play or the Apple app store. You can search graves by name. If you're at the cemetery, the app will guide you to the requested gravesite using your GPS location.
Remember, Waverley Cemetery is still an active operational cemetery. Visitors are asked to behave in a quiet and reverent manner.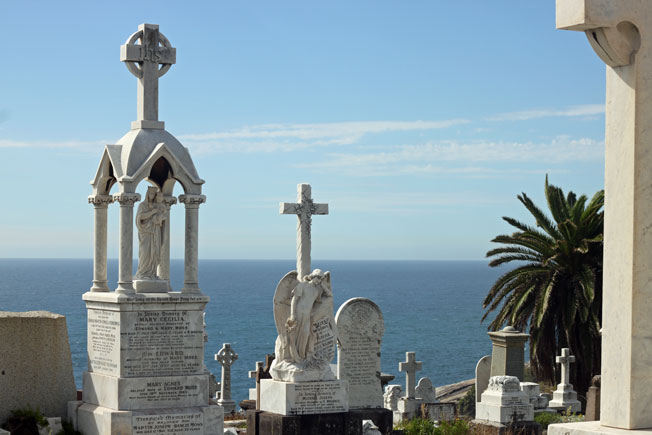 Rookwood Cemetery Tour, Lidcombe
There have been more than one million interments at Rookwood Cemetery, the world's largest Victorian era cemetery still in operation.
The Necropolis was created in 1868 and followed the European trend to place cemeteries at what was then outside the city's perimeters.
Sydney's multicultural society is reflected in the many denominational areas within its 314 hectares.
Rookwood also contains a number of memorial shrines including those dedicated to victims of the Holocaust, as well as the Sydney War Cemetery, formed after World War II. The War Cemetery contains the graves of Australian military personnel and other nationalities.
Graves of Famous Australians at Rookwood Cemetery
The Arts:
Kenneth Slessor – Poet.
Peter Dodds McCormick – Songwriter ("Advance Australia Fair").
John Fairfax – Newspaper proprietor.
Business people:
John Gowing – Retailer.
David Jones – Retailer.
James Toohey – Beer brewer.
And more:
Louisa Lawson – suffragette (and mother to poet Henry Lawson).
Jack Lang – former Premier of New South Wales.
Joseph Cahill – former Premier of New South Wales.
Abe Saffron – Sydney businessman and "underworld figure".
Rookwood Cemetery Walking Tours
Guided Tours
The Friends of Rookwood conduct cemetery tours on the first Sunday of every month, except December.
There are general tours of the Heritage areas and also themed tours including 'Ships and Shipwrecks', 'Murder and Mayhem', and 'Our ANZAC / Military Heritage'.
These volunteer-led cemetery walking tours are approximately two hours and cost $15 per person (which goes towards restoration projects).
Get more details of Rookwood Cemetery Walking Tours.
Self-guided Tours
Friends of Rookwood produce a self-guided walking tour booklet, A Rookwood Ramble, as well as self-drive pamphlets, for purchase at the Rookwood Trust office (in the cemetery grounds).
The free annual outdoor sculpture exhibition in one of the oldest sections of Rookwood Cemetery is worth seeking out. It's held from early September to early October each year. Find out more about Hidden: The Rookwood Cemetery Sculpture Walk.
Rookwood Cemetery Grave Search
Use Rookwood Cemetery's online search engine.
North Head Cemetery, Manly
Also known as the Third Quarantine Cemetery, the cemetery at North Head near Manly came about in 1881 as a direct result of its proximity to Sydney's original quarantine station that was in operation between the 1830s and 1984.
What the North Head Cemetery lacks in terms of well-known people, it makes up for in compelling stories from often unmarked graves.
Amongst the final resting place for at least 241 people, North Head Cemetery includes the first person to die of the bubonic plague in Australia.
Guided Tours
The Harbour Trust offers cemetery tours for groups by appointment only. Tours cost $10 per adult. Read more about a guided cemetery tour.
To discover similar stories and North Head's history, Q Station – the converted quarantine station – offer tours every weekend. Tours cost from $18 for adults for 45 minutes – 2 hours. Read more about quarantine station history tours.
Q Station also offers a range of ghost tours at night. I. Can't. Do. It. But maybe you can. Read more about Q Station ghost tours.
Self-guided Tours
The Third Quarantine Cemetery is part of the loop walk around North Head. Plan your North Head visit.
Further Reading
This post contains affiliate links meaning we may receive a small commission – at no cost to yourself – if you make a purchase from our link. It helps keep this website running, so thank you in advance.
Sydney Cemeteries: A Field Guide by Lisa Murray, City Historian at the City of Sydney Council.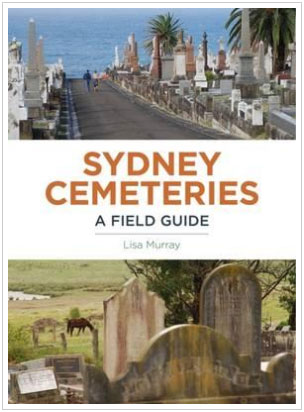 Ghost Tours
As well as Q Station Ghost Tours at Manly, there are two more walking tours focused on ghosts and hauntings.
In the historic Rocks area of Sydney, try Sydney Ghost Walking Tour or The Rocks Ghost Walking Tour with Guide Sydney (check prices and availability for both ghost tours here).
More Cemetery Walking Tours
Many cemeteries offer special events during the National Heritage Festival, usually held between April – May each year. Read our blog post on Sydney walking tours that are part of the Australian Heritage Festival.
Oh, and while we're on the topic, here are 1001 walks you must do before you die (four of them are in Sydney).