As born and bred locals, we want to help you scratch the city's surface to discover a whole other side: that of towering gum trees, dramatic sandstone cliffs and secret bush enclaves.
Depending how long your stay is, even six of the best walks might be stretching it a bit, so here are some tips to help decide where to explore if you have a limited time (and you could knock off a few of the world's 1001 best walks in the process!).
24 Hours to Explore Sydney's Outdoors
Only time for one walk:
Sydney City Walk. All the big ticket sights – the Opera House, Sydney Harbour Bridge, The Rocks, and more – but from the greenest, most natural, and coastline-hugging way to walk around the city.
OR
Sydney Harbour Bridge Walk. There's a completely free walk along the Harbour Bridge pedestrian walkway with outstanding harbour and Opera House views. We detail how to walk across Sydney Harbour Bridge, and compare walking up the Pylon Lookout with Bridge Climb.
Half a day free:
… can still squeeze in another afternoon activity or evening show.
Bondi to Coogee (or Bondi to Bronte there and back, depending how much time you have). Australia's iconic beach, laidback 'surfie' culture and stunning coastal views.
Spit to Manly Walk A quick ferry trip to a world away from the bustle of city life – protected bushland, native animals, sweeping harbour views, beaches and more.
One whole day to get away:
… and no deadlines that night.
Wedding Cake Rock (The Coast Track day trip option) The perfect taster of Sydney's most untouched and wild coastline. Possible to access via public transport.
Figure 8 Pools (another Coast Track day trip option) You've seen it on social media, now see this natural phenomenon for yourself. Tip: difficult to access via public transport.
One Day Itinerary to discover Sydney's Outdoors
For keen beans, let's combine some of those ideas into a one day itinerary to get the most out of your Sydney visit.
Sydney Walking Itinerary One
Morning: Sydney City Walk for lots of sights in a relatively short time, or the Sydney Harbour Bridge Walk just for the bridge and harbour views.
Lunch: Head straight to Watsons Bay for either fish and chips from Doyles on the Beach (either takeaway to picnic in the park or enjoy a sit-down restaurant meal), or Aussie 'pub grub' (burgers, steak, pizza) from Watsons Bay Hotel, or delicious High Tea from Dunbar House (as fancy as it sounds, but I've done it in hiking boots…)
Afternoon: Watsons Bay walk around South Head. An easy stroll to pretend you're burning off lunchtime calories.
Dinner: Either return to the city for restaurants galore, or take advantage of the west-facing Watsons Bay for a gorgeous sunset over the harbour. (If you stay for dinner, you may prefer to have had lunch in the city before the walk, just to mix it up a bit.) Check the ferry timetable as you may have to return by bus as ferries don't alway run late. It's just as easy, but not as scenic (traffic, ugh).
Tip: Start walking no later than 9:00am. Begin the route from the point nearest your accommodation to save time (or if staying outside the city, start from Circular Quay). And don't feel you have to do the full circuit. You can easily swap morning and afternoon walks, but by doing Watsons Bay in the afternoon you may be lucky to get a lovely sunset.
Sydney Walking Itinerary Two
Morning: Bondi to Bronte walk. Start at Bondi and retrace your steps back from Bronte. To combine this with an afternoon walk, and allowing for travel time, you won't have time to start from Coogee.
Lunch: There are a myriad of cafes at Bondi Beach – try further back from the beach for less touristy, local favourites. But loved by locals and visitors alike is the extraordinary view (and pretty good food) from Bondi Icebergs. Upstairs is swanky, fashionable and expensive. Downstairs is 'all welcome' and good value.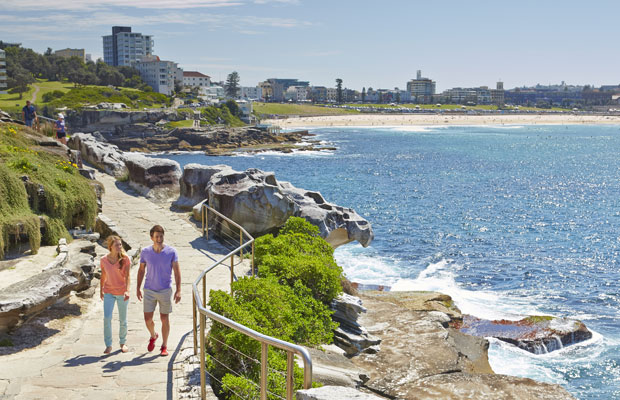 Afternoon: Sydney City Walk or the Sydney Harbour Bridge Walk
Dinner: Anywhere you choose as you'll have time to go back to your hotel before dining.
Tip: Again, you can do these walks in either order but I love the freshness of the beach in the morning. You can then start the Sydney City Walk from any point. Use the Transport TripPlanner to work out your public transport options – from Bondi I recommend heading to Circular Quay for The Rocks, Sydney Opera House and Harbour Bridge, or to Town Hall for access to Darling Harbour.
Sydney Walking Itinerary Three
Morning: Bradleys Head walk for a quick but beautiful ferry trip across the Harbour and picture-perfect views of the Sydney skyline.
Lunch: There's a nice cafe at Taronga Zoo near Bradleys Head that you can access without paying entry to the zoo itself. Otherwise, the best bet is to return to the city. I recommend some of the smaller cafes hidden in The Rocks (like The Fine Food Store, or Le Renaissance Patisserie Cafe) rather than the bustling waterside eateries at Circular Quay… but it's hard to argue with that view.
Afternoon: Sydney City Walk or the Sydney Harbour Bridge Walk
Dinner: Anywhere you choose as you'll have time to go back to your hotel before dining.
Tip: Swap morning and afternoon walks over, no worries.
Now that your 24 hours in Sydney are organised with these walking itinerary suggestions, here are some tips on where to say in Sydney to go walking.