By guest Cecilia Temperli, Sydney
I recently did the Wattamolla Hiking Tour (two days – Bundeena to Otford) with Sydney Coast Walks and it was my third walk with this tour operator. I was so impressed that I booked my fourth walk, a day-hike, a few days later.
The coast track runs just about the whole length of Royal National Park and is overlooking spectacular coastal scenery. Depending on whom you ask and small detours made, the track is between 26km and 31km long.
I decided to have the overnight luggage transported to the camp site and I was glad I did. For me, a lighter day-pack allowed an easier hike to enjoy the beautiful coastal scenery without being burdened by stuff I only needed for the night.
I found the first day quite easy and the walking pace just right. Carrol was a wonderful guide with plenty of stories to tell and great local knowledge. It was obvious that she too enjoyed the walk and this enthusiasm spread throughout the group, adding to a great shared experience.
Arriving at the Wattamolla campsite brought an immediate smile to my face; a marquee with a table and white table cloth awaited us and we enjoyed a pre-dinner glass of wine and nibblies. While the walkers were chatting Carrol prepared a delicious dinner, including a lovely dessert!
The tents were set up and, like in a good hotel, our overnight bag was neatly placed inside the tent. I am sure I fell asleep smiling! Once the park gates are locked and all day-visitors gone, Wattamolla becomes an exclusive camp site for this group only. What more could you want?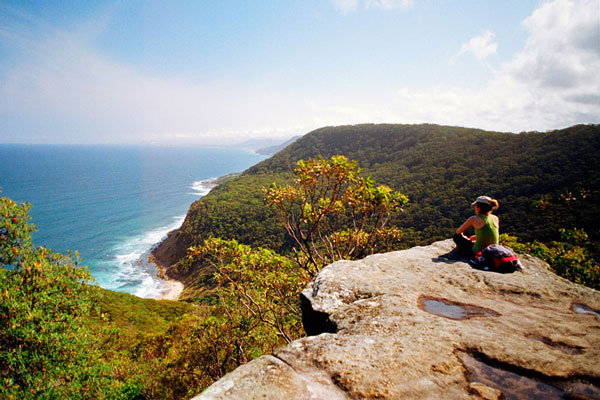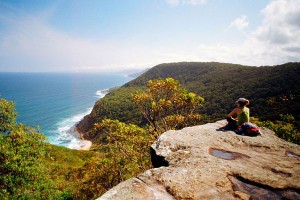 I found the second day also pretty easy; some sections of the track are on elevated steel grates. There are ascents and descents which some people may find a bit hard on knees and muscles, but the walking pace is such that they are manageable for reasonably fit people. The walk up to Otford is all uphill but, again, if you take it easy it is manageable.
For footwear I usually wear what the guides wear: hiking boots. The track is uneven and can be wet in some places. However, as mentioned on the website, trainers or joggers with a good sole are fine too. The Bundeena to Otford track is not a city stroll and if you have hiking boots I would suggest to wear them.
Don't be discouraged or disappointed if rain is forecast. As on my first hike with Sydney Coast Walks, it rained on the first day. Bring a rain jacket and enjoy the difference. Listening to and watching huge waves thunder onto the beaches is an experience not to be missed and often only happens on or after rainy days.
I am looking forward to the next hike and will do this Bundeena to Otford hike again one day.