The fence is staying. There will be no more access to ‪Wedding Cake Rock‬. Ever again. The drone footage shows why.
It's been a favourite of ours for years, but since becoming a hashtag phenomenon on social media, the number of people visiting the site has exploded – bringing its safety into question with NSW National Parks and Wildlife Service.
Whatever you know it as – #weddingcakerock, Tofu Rock, the White Cliffs of Marley – the fence that went up in late May 2015 is now a permanent fixture.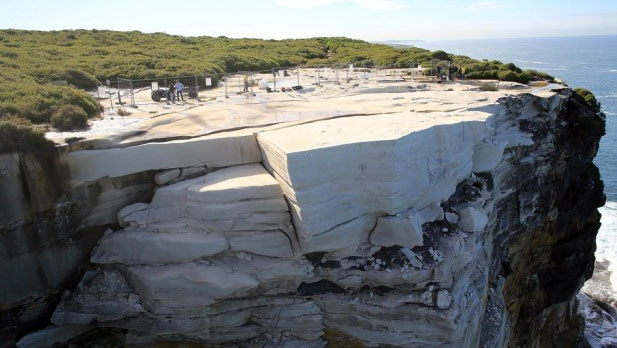 You can still see Wedding Cake Rock. You just can't walk on the actual rock. (That photo of ours above? Yeah, it was taken before the fence went up.) Here are our easy step-by-step directions to Wedding Cake Rock.
The video by National Parks includes extraordinary drone footage of the White Cliffs. The Wedding Cake Rock drone footage shows the underneath of the rock that you can't see when you do the walk yourself.
We can't help but feel sad that we'll never get to be right up close to this unique sandstone formation again, but once we saw the footage and heard the geotechnical experts… well, it's hard to argue otherwise. Worst case scenario – that it collapses while people are on it – is too awful to risk – and the best case scenario could only be to create a story more compelling than the London Bridge rock structure collapse on the Great Ocean Road in 1990 (still shaking my head at the survivor's memories of the day).