If you're new to Sydney or your mates or partner aren't the bushwalking type, don't feel you have to walk alone. You'll never hike solo if you don't want to (besides, is it even safe to walk alone in Sydney?).
There are different types of walking groups Sydney to suit your style.
Here's how to find someone to team up with:
Bushwalking Clubs
Free walks with low-cost annual membership, located all over Australia. Find a NSW club near you. (It's the closest you'll find to the Ramblers in the UK).
Hint: Like any volunteer organisation, you'll find the activities and culture vary between clubs, and even over time, as different group members become more active.
If at first you don't find a Sydney hiking club that gels with you, try another.
National Parks Association
The NPA is a not-for-profit organisation aiming to protect natural areas. It's a bit like the Sierra Club in the US, with conservation at its core.
They also regularly organise bushwalks for members.
Hint: You're most likely to find like-minded walkers if your personal beliefs align with NPA's values.
Meetup Groups
Again run by volunteers but with varying levels of expertise, safety measures and professionalism. Search Meetup for a hiking group with good reviews and activities that match your interests.
Hint: Watch out for groups that do not limit event attendees. More than 50 people on a single bush track will probably not be a great experience for you or others hoping to connect with nature.
Be aware that walk leaders do not have the same training or standards that bushwalking clubs insist on.
Walking Events
Sydney's walking event calendar is full year-round. Look for challenging team events, like Coastrek or Oxfam Trailwalker, where small groups are compulsory. These events usually have forums where solo walkers can find others to match up with and form a team.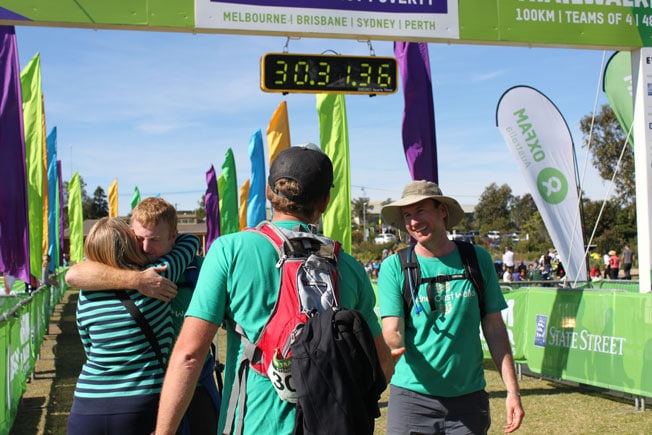 Hint: When searching for potential team mates, make it clear what your ability and expectations are.
Training for the walk is where friendships and teams are really made, so look for people who want the same level of commitment as you. If all goes well, you may score yourself walking buddies for after the event too.
Guided walks
Joining a tour or paying extra for a private one-on-one experience combines hiking with stories and passion that bring the land to life. Read the description to work out if it's a genuine walk, or simply a bus tour with a stroll to a nature lookout.
Hint: In NSW, tour operators using national parks (like Royal National Park) must be licensed by National Parks and Wildlife Service (look out for their Ecopass license), which means they also need industry accreditation.
Even if the tour is not in a national park, operators or tour guides should maintain basic professional standards like having Public Liability Insurance, first aid qualifications and emergency communications. If they can't prove this, best avoided.

Walking for Health
Thought we better mention this community walking initiative by the Heart Foundation, with walking groups all over Sydney and Australia.
Note that the main aim of these groups is regular physical activity, rather than connecting with nature on a bushwalk. But that may be exactly what you're after.
Hint: Search for a group that suits your age and interests.
Walking Groups Sydney
Here are six easy ways to find like-minded people to bush walk with.
If you're clear about what you want out of your hiking trips – adventure, friendship, teamwork, discovering something new or sticking close to home – then you can find other walkers who want the same.
Here's to new adventures!
Now you just need to work out the best time of year for walking in Sydney, and the all important one – where to walk in Sydney!
If you still prefer your own company while walking, find out if it's safe to hike alone in Sydney.