It's not often a human will stand by the front door, frantically yapping, possibly running in circles, because somebody said the word, "walk". But dogs… Yep. If you have to spell it out, then check out our guide to the best dog-friendly walks in Sydney.
Dog Friendly Walks in Sydney
We'll add to this list of best dog walks in Sydney as we continue exploring. Most of our walking so far has been in national parks, which means they can't be included here. Sorry dogs.
While dogs are not allowed on any of the beaches, they can be on a lead along the Bondi to Bronte and the Bondi to Coogee walks. There is a timed off-leash area at Marks Park, Tamarama (just go up the stairs off the beachside walk) between 4:30pm and 8:30am daily (except during the annual Sculptures by the Sea event).
This is a dog-sniffing playground, but no big open areas to run in (the nearby parks are better). The volunteers who make this secret garden free for all to enjoy ask you to not let dogs run through the garden beds and beg: please clean up after it.
Your on-leash dog will welcome this patch of green on this very short walk linking Central Station and Darling Harbour.
Surprising Places You Can and Can't Walk Your Dog
Like learning how to spell (think: i before e, except after c), there are some general rules for places that are good for dog walking. But no sooner have you learnt them, you discover there are exceptions.
Here are the rough rules to learn, and then un-learn.
National parks are doggy no-go zones
This rule tends to be true most of the time. That means popular bush walks near civilisation like the Spit to Manly are out (unless you completely cut out Dobroyd Head, which is possible). And Barrenjoey Lighthouse is out (Station Beach, at the foot of the walking track had a recent off-leash trial, results pending).
Bundeena is a village surrounded on three sides by Royal National Park and water on the fourth (nice, huh?). Technically, it's not in the national park, so dogs are allowed. Even better, Horderns Beach near the ferry wharf allows dogs off leash all day, every day in winter (May to August), with stricter restrictions the rest of the year (Mondays-Fridays only, off-leash between 4:30pm-8:30am and on-leash during the day).
Don't think that means you can head to Jibbon Beach and its nearby walking track to the Aboriginal carvings with your dog. That's well and truly no dogs allowed.
Just to confuse you – but liberate your dog – here are some national parks in Sydney's surrounds and regionally where dogs are allowed.
Urban areas are dog-friendly… unless they're not
Throw up some buildings, whack in a concrete footpath: dogs are fine. Right? Yeah but nah. We were surprised to discover that the Sydney Harbour Bridge Walk is definitely not dog-friendly. Not allowed on or off-leash.
The bridge walk is part of the longer Cahill Walk that begins (or ends, depending on your direction) in the Royal Botanic Gardens, where dogs are also not allowed.
But dogs like history too…
If it's a built-up area or even urban parkland, it should be good. But these historic Sydney sites, managed by the Sydney Harbour Trust, are leave-the-dog-at-home: nope to the North Head Sanctuary at Manly, no to Cockatoo Island, and no to Macquarie Lighthouse at South Head (Hornby Lighthouse, also at South Head, is in a national park, so that's a "no" too).
But the good news is that dogs are welcome on a leash at Headland Park – Georges Heights, Middle Head and Chowder Bay. Just be careful, because adjoining land is either council-owned or national park, so you (or your dog) may not get a clear run.
More Dog Friendly Walks
With all due respect to Monty, the terrier mutt Tara's family rescued from the pound when she was a girl, we didn't set out to find Sydney's best bush walks for dogs. In fact, a dog in our life right now would make most of our walking adventures too tricky.
This post contains affiliate links that means we may earn a small commission if you make a purchase from our recommendation. It keeps this website running, so thank you in advance.
But some people are dedicated to the task of finding Sydney's best dog-friendly walks. Grab a copy of Sydney for Dogs for 234 pages of where and when dogs can be taken and walked around Sydney.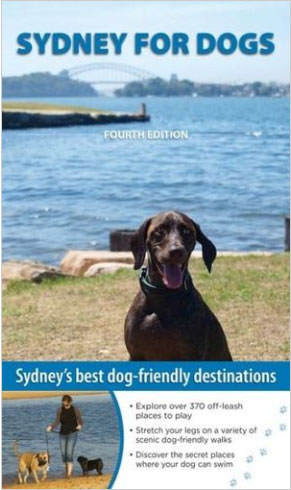 We hope to bring you more details soon from Narrabeen Lagoon which is dog-friendly, as well as Manly Dam.
Image: @bambe1964 on Flickr