There is much to love about accommodation along the Bondi to Manly walk route: it offers a travel style and budget range to suit everyone.
The happiest inn-to-inn walker will be content to splurge some nights and save on others. Be canny about walking distance between accommodation, especially on the harbour's north-side.
It's also possible to make your money to stretch further, or stick to a certain style of accommodation.
First, I list Bondi to Manly walk accommodation by budget and travel style. Then I list all options by area from south (Bondi) to north (Manly).
This is a comprehensive list (truly, it's looong) so click the headings below to skip ahead.
[This post contains some affiliate links, meaning we may receive a small commission if you make a purchase. It helps keep this website running, and it's one way to show your thanks if you've found this information useful, so thank you!].
By Budget or Travel Style
Budget / Hostel
Mid-range Hotels
Luxury Accommodation
Short-Stay Rentals (Air BnB)
For Families or Groups
Self-Catering
Our Personal Recommendations
By Location
Bondi
Watsons Bay
Vaucluse
Double Bay
Rushcutters Bay
Woolloomooloo
Potts Point
The Rocks/Circular Quay
More City Centre
Kirribilli
North Sydney
Neutral Bay
Cremorne
Mosman
Manly
Bondi to Manly Accommodation by Budget or Travel Style
Budget / Hostel
Hostels and backpackers are clustered around the city centre (particularly between Central and Town Hall stations, and near Chinatown), Kings Cross (the route passes through neighbouring Potts Point), Bondi Beach and Manly.
For a taster of beachlife contrasted with city living, or an approximation of inn-to-inn walking, try the following;
Bondi for sections Bondi Beach to Watsons Bay and the side trip – Coogee to Bondi Beach
For Watsons Bay to Double Bay, either stay on at Bondi, or move to the city. A direct bus route between Kings Cross and Double Bay makes it another option.
The city centre, Rocks precinct or Kings Cross for sections Double Bay to The Rocks, and The Rocks to Mosman.
Manly for sections Mosman to Balmoral, Balmoral to Manly, and Manly and North Head.
If you were to pick just one place for the walk's duration, The Rocks is the pick of the bunch. It's close to Circular Quay's ferry wharves… but there's only one budget hostel. Sydney Harbour YHA is consistently well-reviewed but is pricier than its city centre counterparts.
There are no camping sites – tent or campervan – anywhere along the route.
Mid-range Hotels
So many choices! Oh, except not around Watsons Bay (keep on walking to Double Bay).
On the north-side of the harbour, extending your search to North Sydney (being prepared for a short bus ride) expands the mid-range options.
Luxury Accommodation
Delightful spacious rooms, charming boutique stays, abundant harbour views? Yes, take your pick. But true luxe? Five-star, perhaps a suite, fine dining at every meal? Not enough for inn-to-inn style walking.
Adding to the harbourside options around Woolloomooloo, The Rocks, and Walsh Bay, consider Taronga Zoo's Wildlife Retreat at Mosman. There are also many fine waterfront apartments and mansions on Airbnb.
Short-Stay Rentals (AirBnBs)
Airbnb entered the market promising to be a game-changer. And in some parts of Sydney, it has been. It opened up accommodation options on the north side of the harbour that typically lacked hotels. And in tourist-centric locations like the city, Bondi and Manly, every travel style and budget range is catered to.
But Airbnbs are the answer to only some of your Bondi to Manly walking prayers. In locations where harbourside mansions dominate rather than a mix of residential apartments, houses and granny flats, the price range is restricted to the higher end.
Many Airbnbs have a two-night minimum stay making an inn-to-inn style walking holiday tricky.
Attempting to stay at Airbnbs along the entire route that are roughly the same price bracket is as difficult as trying to stay exclusively in equally-priced hotels. Be prepared to mix things up a bit.
There are very limited hotels around the final sections of the walk (until the final destination of Manly) so, depending on your itinerary, it's likely you'll need to stay in an AirBnb along these section.
For Families or Groups
There's families then there's families. One kid: stay wherever. Two, hmm. Three children: be prepared to pay.
Some hotels, particularly around the city centre, North Sydney, Bondi and Manly have a very limited number of family rooms. Book well ahead to nab these, especially if travelling during NSW school holiday periods. Otherwise anticipate paying for two interconnecting rooms.
Self-contained apartments, or apartment hotels, may end up being a similar price to a large hotel room.
A family room at youth hostels is an increasingly popular option. Most have their own ensuite bathroom and variable bedding configurations (a double for the parents and bunks for the kids, or bunks for everyone). And shared kitchens lower the cost of feeding the gang.
Self-Catering
Serviced apartments are easy to find around Bondi Beach, the city centre and Manly. Another option is North Sydney: a small bus commute to walks on the north side of the harbour.
The demographic of (some) youth hostels have changed over the years. Several now offer private ensuite rooms with the advantage of a shared kitchen and laundry facilities. Try hostels that are members of YHA Australia / Hostelling International and read reviews to see if it will suit your style.
Some hotels – like Hotel Challis in Potts Point, Glenferrie Lodge at Kirribilli and Cremorne Point Manor – have a shared dining area with a fridge, microwave and toaster. Crockery and cutlery may be provided, but no saucepans. Not enough to whip up a meal, but enough to make breakfast or reheat an earlier takeaway purchase.
Watsons Bay Hotel has one room with a kitchenette.
Self-catering is helped along by supermarkets like Woolworths, Coles or an IGA (Independent Grocers of Australia).
Supermarkets that are a short walk from, or on, the route are located at Bondi Beach, Rose Bay, Double Bay, Potts Point/Kings Cross, Kirribilli, and Manly.
Major supermarkets are near accommodation in the city's centre (not in The Rocks or at Circular Quay), and North Sydney.
A short bus ride from on-route accommodation provides easy access to Neutral Bay, Cremorne and Mosman's supermarkets.
Convenience stores are dotted around.
Our Personal Recommendations
Coming soon
Bondi to Manly Accommodation by Location
Bondi
Ever-popular Bondi Beach offers a range of accommodation across budgets and travel styles; more than listed here. Airbnb hosts a similar variety.
As buses from Bondi Junction to the beach via Bondi Road are so frequent, it's possible to expand your search there.
$-$$ Sydney Bondi Beachhouse YHA
Rooftop and some rooms have views. Dorm rooms; private single/double/twins, several with ensuites.
$$ Hotel Bondi
Everything from a single bed room to family suites. Located above a popular beachside pub, noise is possible especially on weekends.
$$$ QT Bondi
Signature quirky, cool style. It's not a hotel room; it's a "luxury pad".
$$$-$$$$ Adina Apartment Hotel Bondi Beach
Quality facilities, including pool. Surrounded by favoured restaurants, you may need to request a quiet room.
Check prices and availability of all Bondi Beach accommodation.
Watsons Bay
There's only one hotel to stay here, and it's laidback luxe. Airbnbs, too, are more about stunning harbourside homes than saving a penny.
$$$-$$$$ Watsons Bay Boutique Hotel
Nails maritime chic without the kitsch in a welcoming environment. Harbourside rooms may be noise-affected from the beer garden, particularly on weekends. Check prices and availability of the Watsons Bay Hotel.
Vaucluse
There are two restored cottages within Sydney Harbour National Park managed by National Parks.
Both require a minimum two-night stay, increasing to five nights during the peak December-January holiday season.
$$$$ Gardeners Cottage
Tucked up the back of Neilsen Park, this heritage-listed sandstone building from 1851 sleeps four in two bedrooms.
$$$$ Steele Point Cottage
Privately-located weatherboard one-bedder sleeps two only. Outstanding harbour views, marred only by the cyclone fence.
Double Bay
$$$ Intercontinental Double Bay
Luxury chain with a polished, corporate feel. Fabulous rooftop pool with bar (October – April).
$$ The Savoy Hotel
Clean, comfortable rooms and friendly service. The basic room is window-less.
Check prices and availability of all Double Bay hotels.
Rushcutters Bay
$$$ Vibe Hotel Rushcutters Bay
A main road running alongside belies its calm parkside location. Modern rooms, and a rooftop pool capturing harbour views.
Woolloomooloo
$$$$ Ovolo Woolloomooloo
Strives to put character, energy and individuality into the hotel experience. Located in an impressively converted finger wharf, bayside.
$$$ Nesuto Woolloomooloo
Studios, one, two and three bedroom serviced apartments in a convenient location with friendly service. Guest reviews consistently cite the need for refurbishment.
Potts Point
As well as Challis Avenue being directly on the walking route, Potts Point – 'the Paris end of Kings Cross' – is near bus routes (324 and 325) for Double Bay, Rose Bay and Watsons Bay.
$ Original Backpackers Hostel
From 10-bed dorms to doubles with private bathroom. Friendly, social vibe.
originalbackpackers.com.au
$$ Hotel Challis
Small rooms set in a restored 1893 heritage-listed terrace home, right on the Bondi to Manly Walk route. The same owner also has near-neighbour The Maisonette Hotel, offering similar rooms and prices.
Hotel Challis Potts Point.
$$$ Simpsons on Potts Point
Restored architectural "olde worlde" heritage
simpsonshotel.com
$$$ Spicers Potts Point
An urban oasis by the same people behind luxury walk, Spicers Rim.
spicersretreats.com/retreats/spicers-potts-point
The Rocks/Circular Quay
$-$$ YHA Sydney Harbour
Built over an archaeological site, this well-considered hostel offers dorms and private rooms, both with ensuites. Rooftop views are on par with its five-star neighbours.
$$ The Russell Hotel
Charming rooms located above a pub, starting from single beds with shared bathroom.
$$ Rydges Sydney Harbour
Offering value for money, it's all about the superb location.
Check prices and availability for The Rocks and Circular Quay accommodation.
$$$ The Sebel Quay West Suites
Luxury serviced apartments with harbour or city-side views.
$$$ Pier One Sydney Harbour
A repurposed Heritage building built on and over the water. Rooms with character.
$$$$ Park Hyatt
An unbeatable harbour position looking across to the Sydney Opera House. All rooms have floor-to-ceiling glass doors opening to private balconies.
Check prices and availability for The Rocks and Circular Quay accommodation.
More City Centre
As the Bondi to Manly Walk bypasses the city centre, it's best to choose accommodation here based on public transport routes that suit the walk. For this reason, skip over the usually popular Darling Harbour.
Accommodation near Central train station offers a quick trip to Bondi Junction or Circular Quay for ferries. The new light rail route also passes by Central, heading to Circular Quay. It makes the typically cheaper areas of Haymarket and Chinatown more convenient for the walk.
Hotels near Wynyard train station work well: it's where buses to the north-side of the harbour stop, and is a short walk (or light rail ride) to Circular Quay.
$-$$ Wake Up Sydney
Offers 10 bed dorms to private double bed ensuites near Central Station and light rail stops. (Similar offerings and prices at Sydney Central YHA).
$$ Travelodge Martin Place
Great value inner-city hotel rooms with kitchenettes
$$ Meriton Suites Campbell Street, Sydney
Studio and 1 bedroom serviced apartments near Chinatown.
Check prices and availability of accommodation in the city centre.
$$$ The Grace Hotel
Clean, functional rooms in central location.
$$$$ Pullman Quay Grand Sydney Harbour
Well-appointed one and two bedroom apartment suites overlooking the harbour.
$$$$ The Fullerton Hotel
Elegant accommodation in the historic former General Post Office building, and contemporary rooms in the high-rise section.
$$$$ QT Sydney
Self-described "part art deco masterpiece, part theatre", rooms ooze character.
Check prices and availability of accommodation in the city centre.
North Sydney
$$ North Sydney Hotel
Beautifully renovated rooms with shared bathrooms or ensuites. Quiet communal area with a shared kitchenette.
$$$ Vibe Hotel North Sydney
Well-appointed, clean rooms in a convenient location. The Executive Suite has a kitchenette.
$$$ Meriton Suites North Sydney
Spacious modern one and two bedroom suites. Upper levels have stunning harbour views.
Kirribilli
$$ Glenferrie Lodge
A budget boutique surprise around the corner from Admiralty House. Rooms from single to family-size, and conveniently located near the ferry wharf.
Neutral Bay
$-$$ Neutral Bay Lodge
The heritage building has a communal kitchen, self-service laundry and is close to the ferry. Rooms have either a shared bathroom or ensuite.
Cremorne
$-$$ Cremorne Point Manor
Small but tasteful rooms (from single to family-size) in a heritage manor house, with shared bathroom or ensuite. Near the ferry wharf.
$$$$ The Penthouse – Cremorne Point Manor
Two bedroom, two bathroom apartment on the manor's top floor with views towards the Opera House and Bridge.
Mosman
For those on a budget, the 'problem' with Mosman is that it's a Very Nice Place Indeed. Either try an Airbnb, or face the fact that your accommodation may be away from the walking route. North Sydney is less than half an hour by bus.
Because of Middle Head's layout, Mosman accommodation is – with the exception of Taronga Zoo – closer to the Balmoral section of the walk.
$$$ The Albert
An 1886 Victorian home reborn as a stylish boutique hotel.
thealbert.com.au
$$$-$$$$ St Valentine's Apartments
Tastefully-furnished modest apartments. Street-facing verandahs have limited harbour views. Minimum three-day stay.
stvalentinesapartments.com.au
$$$$ Middle Head Officers Quarters
There are two semi-detached two-bedroom cottages. A minimum two day stay applies, increasing to five nights during the peak December-January holiday season.
nationalparks.nsw.gov.au/camping-and-accommodation/accommodation/middle-head-officers-quarters
$$$$ Wildlife Retreat at Taronga
An elegant eco-retreat within Taronga Zoo, overlooking magnificent Sydney Harbour. Allow time to enjoy included animal experiences and a two-day pass to the zoo.
Located separately, Taronga also offers a glamping "Roar and Snore" experience under canvas ($$$$).
taronga.org.au/sydney-zoo/wildlife-retreat
Manly
$-$$ Stoke Beach House
Refreshed hostel with 3-6 bed shared rooms and doubles with shared bathroom.
There are two beachside hotels offering similarly decked-out rooms and some serviced apartments with kitchenettes. Both Accor properties trade on their unbeatable positions.
$$$ Novotel Sydney Manly Pacific
$$$ The Sebel Manly Beach
Check prices and availability of all Manly accommodation.
$$$ – $$$$ Q Station, Manly
Sydney's original quarantine station meticulously converted into heritage accommodation. Set within the national park and with its own beach, Q Station is a fitting finale for walkers who appreciate the combination of nature and history. Rooms have ensuites or shared bathrooms; two apartments and a three bedroom cottage is also available.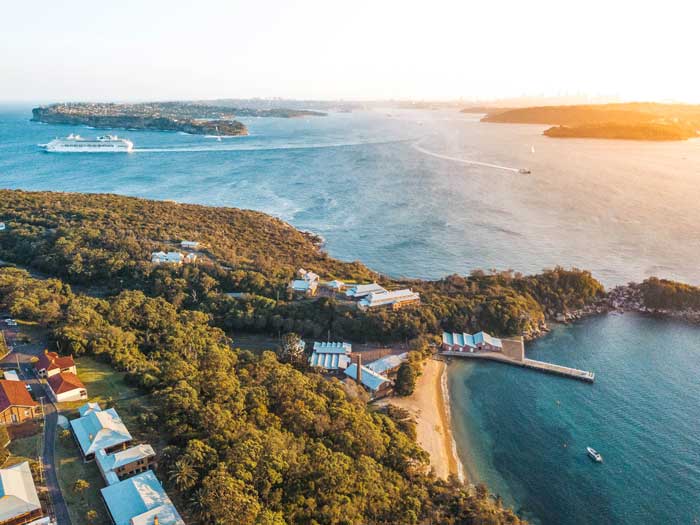 We've stayed here twice. The first time was on our honeymoon walking from Manly to Bondi (before the Bondi to Manly Walk was a 'thing'!). Read the review of our second stay at Q Station, or just check prices and availability.
$$$$ Quest Manly
Studio, one and two bedroom apartments on Manly's harbourside, opposite the ferry terminal.
Check prices and availability of all Manly accommodation, and Q Station.
You May Also Like…