It took nine months and 50km of rough ocean travelling before guests Phil and Emma found the message in a bottle. It was washed up on Bundeena's Shelley Beach in Royal National Park during their Jibbon Aboriginal Carvings tour last week.
The letter, dated June 2012, reads;
Hello,
My name is Lakelan and my brother's name is Jyedon. We are 8 and 6 years old. We live in Cowra NSW Australia. We live on a farm and my Dad flies aeroplanes and builds them.If you find this note please post a letter or email my family at [deleted].
Thank you. Lakelan and Jyedon Gourd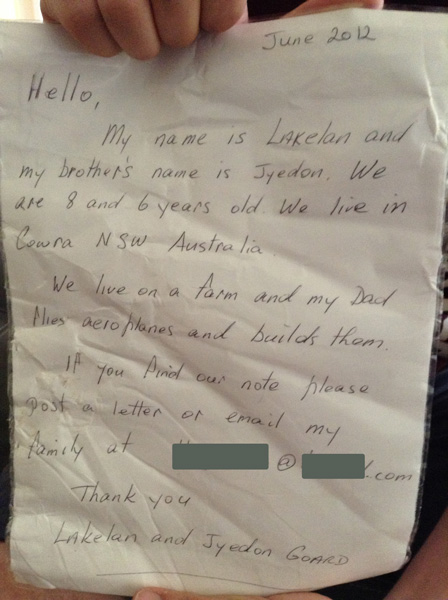 For Phil, it was an extra special find on his first visit to Australia with his girlfriend's family. He told the St George & Sutherland Shire Leader, It was the end of the tour when we spotted a bottle on the sand. I thought it was rubbish and went to pick it up and saw that there was a message inside."
"It had done well to stay in one piece. The beach is mostly rocks and it had washed over them in heavy surf without getting broken."
"We were excited. The tour guide said he had been waiting all his life to find a message in a bottle."
That's right Phil! Guide Ian has walked the mostly deserted Royal National Park beaches hundreds of times, always searching for anything interesting the ocean may throw back. We're so pleased Phil was the lucky one who, after a bit of wrestling to get the cork out, found the boys message.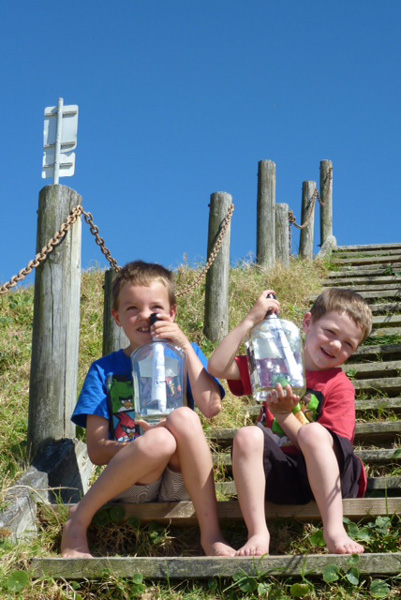 The boy's hometown of Cowra is 350km inland from Bundeena, so where was the bottle thrown overboard? Phil and Emma emailed the boys and received a happy response. And it seems, this is not the only letter the boys sent.
The boy's grandfather, Tony Sandeberg, says it took some effort to throw them away. "We threw the bottles in from Bulli beach, north of Wollongong on two occasions but they kept coming back onto the sand. We then gave them to a fisherman who took them out to sea in his boat."
Bottles? Yes, there were two thrown out to sea! So there is another message in a bottle floating out there somewhere…
Images courtesy Sydney Coast Walks, Tony Sandeberg, Fairfax Media © Lisa McMahon.
Have you ever found a message in a bottle? Or something else interesting washed up on shore while you've been out walking?