When it comes to the outdoors, Sydney excels. Think vibrant surf culture, glittering harbour and rivers, masses of park and bushland all within a stone's throw of the city centre. And Melbourne? Well it does the indoors really well – you know… small bars, intimate gigs, black skivvies… So when we discovered Neil Fahey's Bushwalking Blog: Walking Melbourne and beyond, we invited Neil to get a taste of Sydney's "beyond".
Neil joined us on our two day guided walk of Royal National Park's Coast Track from Bundeena to Otford. While we no longer offer guided tours, you can still get plenty of self-guided walking information for The Coast Track.
Here's an excerpt of his experience;
The trail between Wattamolla and Otford is even more spectacular, taking in a more hilly terrain, several beaches where we have the option of a swim, sandstone rock formations such as Eagle Rock (the emblem of Royal National Park), and an incredible variety of vegetation types.


Carrol [the guide] stops regularly to point out interesting plants, such as Gymea Lilies, Pigface, Flannel Flower, and Angophora. [Find out where to find Sydney's wildflowers.]
She tells less stories of the Dharawal than on our first day. Instead the focus is more on the natural features and the European history of the area.
For example, the heritage-listed shack communities at Little Garie, Era and Burning Palms. These communities grew during the depression, when unemployed miners moved here to survive the harsh times. Some of the shacks have been handed down through families for up to five generations.
Towards the end of the day we enter an unexpected pocket of coastal (or "littoral") rainforest, dubbed "Palm Jungle". With much of the hot sun blocked out by lush palms and tree ferns, this was the highlight of my day's walking. Weaving our way through the thick vegetation, pushing vines out of our way as we go, I can't help but be reminded of old Vietnam war movies. This is a very unusual section of coastline. Just when we thought we'd seen everything the park had to offer.
You can read more about Neil's walk with us in his Bushwalking Blog post Cliff-tops, caves, and coastline: Hiking through history at Sydney's Royal National Park.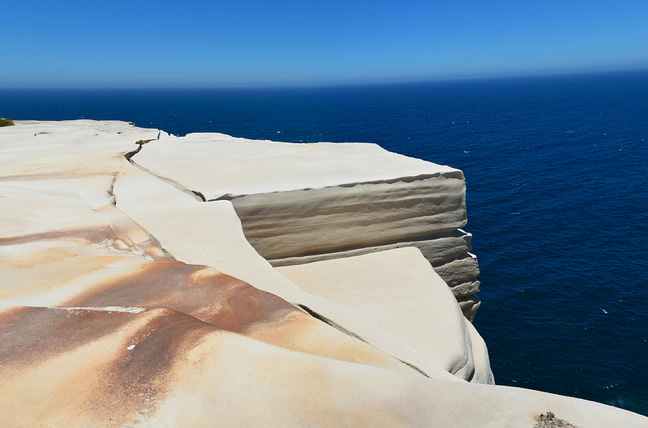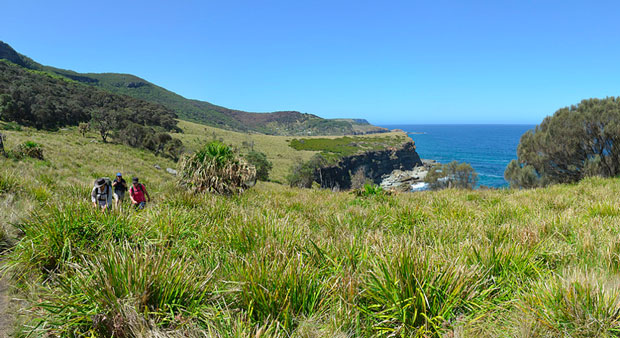 Images courtesy Bushwalking Blog.